Famous Celebrity LGBT Couples We Love
SARAH PAULSON & HOLLAND TAYLOR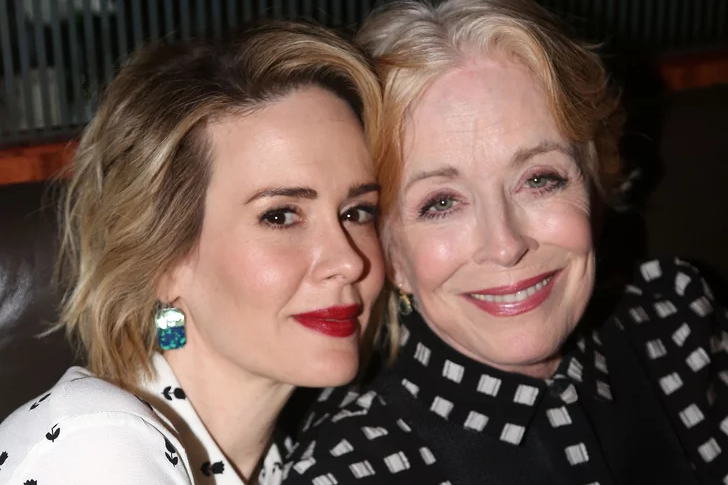 Hollywood actresses Holland Taylor and Sarah Paulson have been together for six years now, and the two went from quietly dating to proudly showing off their love for one another. The actresses first locked eyes at a 2005 party, a decade before they began dating. In 2015, they started following each other on the social media platform Twitter after working together for a women's rights organization.
Shortly after the media revealed the news that they were an item in late 2015, Paulson gave credit Taylor as her "favorite actress" after watching her performance in Ripcord in Manhattan. Since then, the A-list pair has been seen out and about in public, going on dates and running errands. They also walk hand in hand on red carpet events and parties. When asked about their 32-year age difference, Paulson said she finds it "totally fascinating." Indeed, love knows no age.
ELTON JOHN & DAVID FURNISH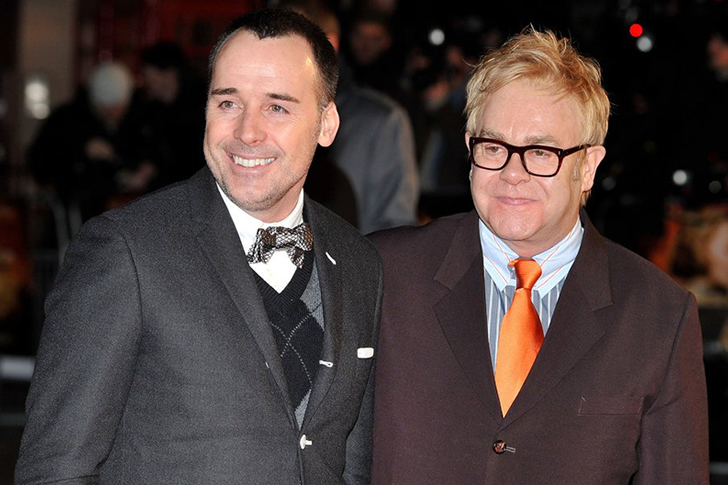 After more than 25 years together, David Furnish and Elton John has become a power couple. The Canadian filmmaker and English rock legend are red carpet regulars, attending fundraisers and events, proudly posing for photos with an arm around the other.
It all began in the early 1990s when John met Furnish, who was 15 years his junior. After hiring a moving company to live again in his Windsor, England estate, the singer decided to expand his social circle, so he invited his friends and requested to meet new people. Furnish agreed to accompany his friend to the dinner prepared by John. At first, it was a dull evening but later proved to be the night that the host and guest became acquainted, let alone sparked a budding romance. Fast forward to today, they have become doting parents to two boys, Zackary and Elijah.
RUPAUL & GEORGES LEBAR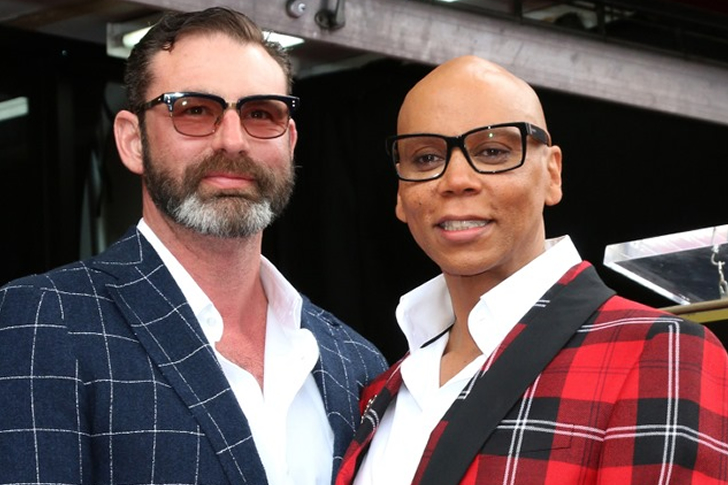 RuPaul and Georges LeBar have been an item for 25 years, and the key to their long-lasting romance is their unconventional approach to love. The pop culture icon may be popular as a six-time Emmy winner who brought us RuPaul's Drag Race, but what many may not realize is that he's also got an incredibly stable personal life. As we have said, he has been in a relationship with the rancher and what they have together is an unshakeable love.
When RuPaul first saw LeBar in a New York nightclub in the 1990s, he said he had "zero doubts" that he needed to talk to him. They met each other right on the dance flooring, and the first thing that caught the drag queen's eye was his future husband's height. At the time, they had a fling, but little did they know that it would lead to a lifelong relationship.
RICKY MARTIN & JWAN YOSEF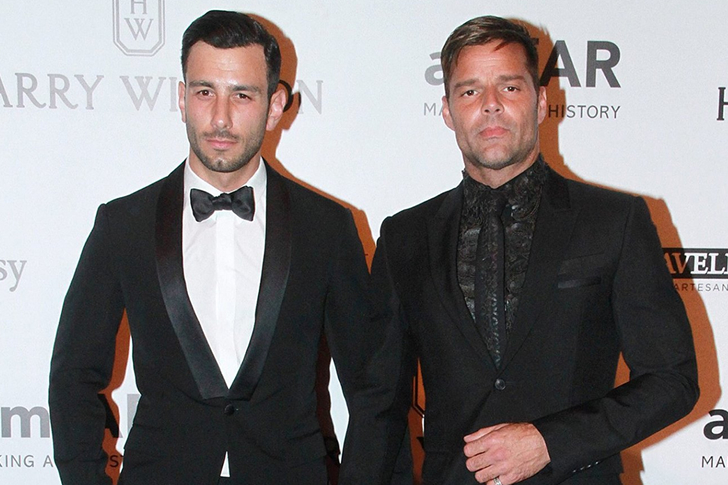 Livin' La Vida Loca hitmaker Ricky Martin has been with Swedish artist Jwan Yosef for many years. The celebrity couple's love story is one of a kind. Martin once shared in an interview that he was scrolling through the social media app Instagram when he stumbled on one of the artist's artwork, which he loved.
Martin's husband holds a Bachelor of Fine Arts degree, and his works have been displayed all over the world. In 2016, the pair's red-carpet debut as a couple happened. From that point on, things between them developed pretty quickly, with the singer opening up his heart to the painter and popped the question. Although we haven't seen photos of them tying the knot, they said they got married in 2018. Nowadays, Martin and Yosef are happily raising four kids: twins Matteo and Valentino, Lucia, and Renn.
SAMIRA WILEY & LAUREN MORELLI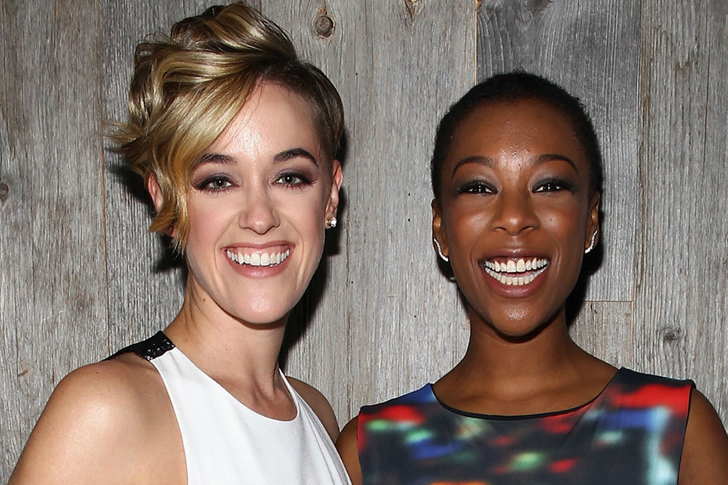 Lauren Morelli and Samira Wiley went from friends to parents. They started as friends, meeting each other on the set of Orange Is The New Black, and eventually fell in love there. Morelli was a writer, and Wiley portrayed the character Poussey Washington. The former was writing a few scenes for the latter, and after spending some time together to discuss it, they realized they had an immediate connection.
About a year into their relationship, they went on a trip to Thailand together, which helped them know they wanted to be with each other. In 2016, the writer proposed to the actress, and the following year, they exchanged vows in Palm Springs, California. They recently welcomed their first child, George Elizabeth, in May 2021. When asked what she can say about her wife, Wiley gave credit to Morelli for being "the most lovely person."
ABBY WAMBACH & GLENNON DOYLE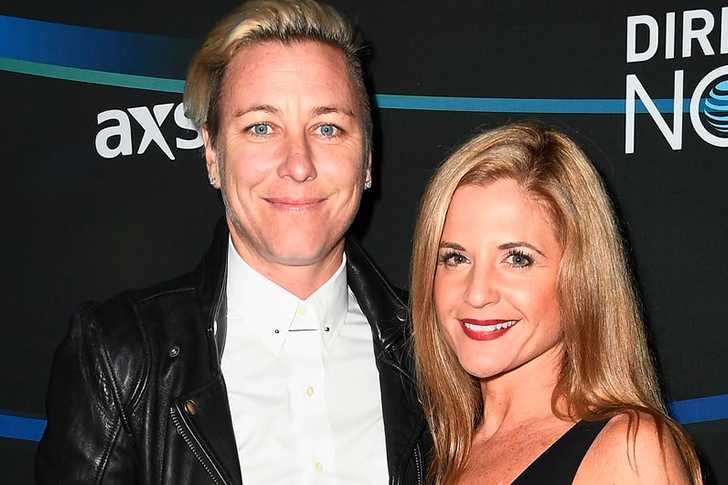 While both were already famous before meeting one another, Glennon Doyle and Abby Wambach stole the limelight when they announced their relationship in 2016 and married the following year. They're impressive for a lot of reasons, such as having powerful careers and making marriage and parenting look easy. They are also working together in partnership to change the world.
Prior to meeting Wambach, Doyle has had two book credits, which are both New York Times best-sellers. She then founded the nonprofit Together Rising, and perhaps most impressively, she later partnered with her wife. Since then, both of them have openly voiced their beliefs and put them out there to solve big problems in the world. One of their common goals is equality for all. Clearly, the two are working as a team to make the world a better place. Talk about a power couple!
JESSE TYLER FERGUSON & JUSTIN MIKITA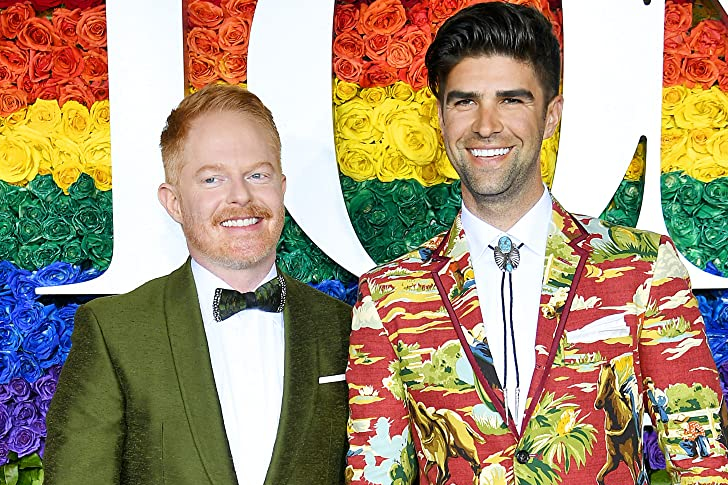 Jesse Tyler Ferguson met his future husband at the gym during the early days of the sitcom Modern Family. They were both in the locker room, and the actor was about to leave when he saw Justin Mikita, then an aspiring lawyer, who stopped to chat with him about his groundbreaking character Mitch on the show. Ferguson was immediately taken aback by how handsome he was. They stayed in touch as they messaged each other on Twitter right after their encounter.
In late 2010, they began dating, their careers and lives became intertwined. Mikita worked for the American Foundation for Equal Rights and enlisted the actor's help to further his cause. In 2012, the two launched the nonprofit Tie the Knot, and they officially tied the knot in New York the following year. They recently welcomed their first child together, Beckett Mercer.
LILY TOMLIN & JANE WAGNER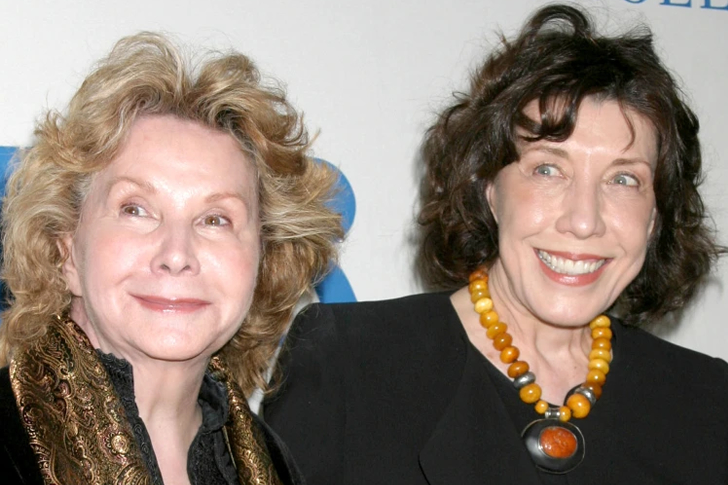 Jane Wagner and Lily Tomlin's work together has shaped a specific, irreplaceable canon in the country's social commentary. Tomlin is a legendary actress and comedian, while Wagner is a writer who has penned some of Tomlin's comedy albums and famous characters. The actress said in an interview that her wife expresses how she feels, which she has "no ability to do."
The pair's creative and romantic partnership started in the early 1970s when Tomlin reached out to the writer in hopes that she could pen a social consciousness into her character of Edith Ann. The two fell in love quickly, seemingly at first sight, while working on their collaboration on And That's the Truth. On the other hand, Wagner also gave credit Tomlin for the impact of her work and the ability to interpret her written word. She also lauded the partnership she has with the actress, which is the kind of relationship she has always yearned for.
TOM DALEY & DUSTIN LANCE BLACK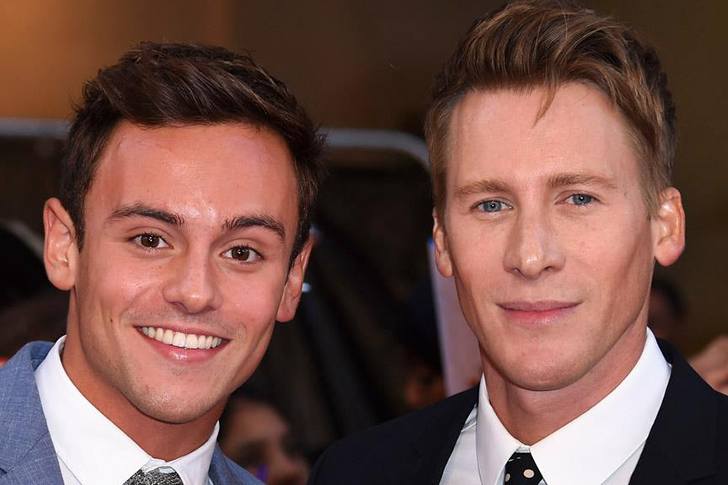 Tom Daley met Dustin Lance Black at a dinner in Los Angeles in March 2013. At the time, the swimmer was in town after winning an award, so his friend organized an event to celebrate. Black showed up to the dinner and caught Daley looking at him throughout the meal. When the screenwriter was about to leave, the athlete put his number in his phone, and they again met up the following night. They talked for hours, even discussing their hopes of wanting to get married and have children. The couple shared in an interview that they began falling in love instantly.
In fall 2015, two proposed to each other in England, but it was Daley who first got down on one knee on the flooring. Black then ran to the bathroom and took the ring he planned on proposing with as well! The couple walked down the aisle on May 6, 2017.
GEORGE TAKEI & BRAD ALTMAN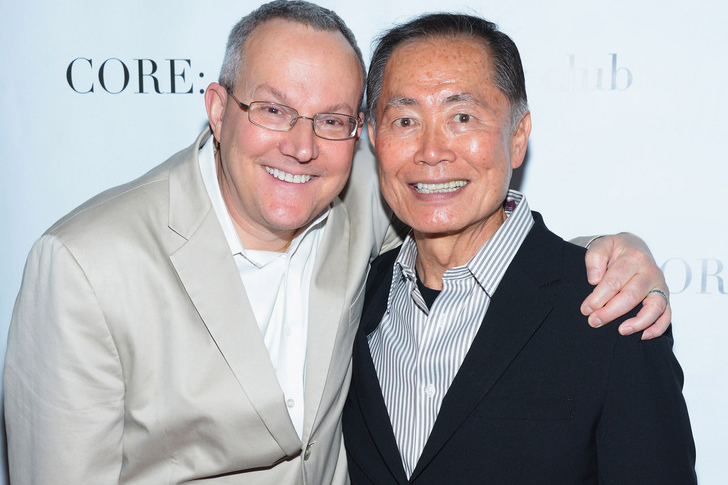 It's been over three decades since Brad Altman and George Takei first got together, but the celebrity pair is making up for the lost time in the public eye. They spent two decades hiding their romance out of fear that Takei would lose his career. They were living together in their investment property, yet they couldn't share their relationship with the rest of the world.
However, it all changed in 2005 when Takei finally came out to Frontiers magazine. He also revealed that he and the producer have been together since the 1980s and that they first laid eyes on one another at a club called LA Frontrunners. It was also him who ultimately made the first move and went up to Altman and asked him to train him for his first running marathon. The couple wasted no time starting a relationship, and they exchanged "I do's" in 2008 in Los Angeles.
CHRISTINE MARINONI & CYNTHIA NIXON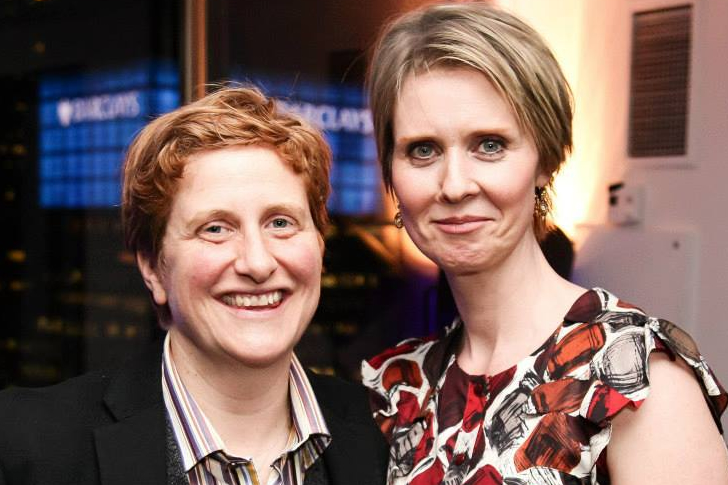 Cynthia Nixon and Christine Marinoni are undeniably a power couple. The hit show SATC has been off the air since the mid-2000s, but Miranda Hobbes, Nixon's intelligent character, remains a role model for working women. Today, the actress herself is a role model and has become involved with public service. Her work as a stateswoman is intertwined with her romance with Marinoni.
The two began publicly dating in 2004, the same year that SATC ended. Both of them share a passion for creating change wherever they are since Marinoni is a prominent activist who has worked for New York City's Department of Education. In fact, their meet-cute is astonishing, as they bumped into each other while they were both advocating for the smaller class size in New York's public school system. After a long engagement, the happy couple got hitched in 2012.
ALEX NIEDBALSKI & WANDA SYKES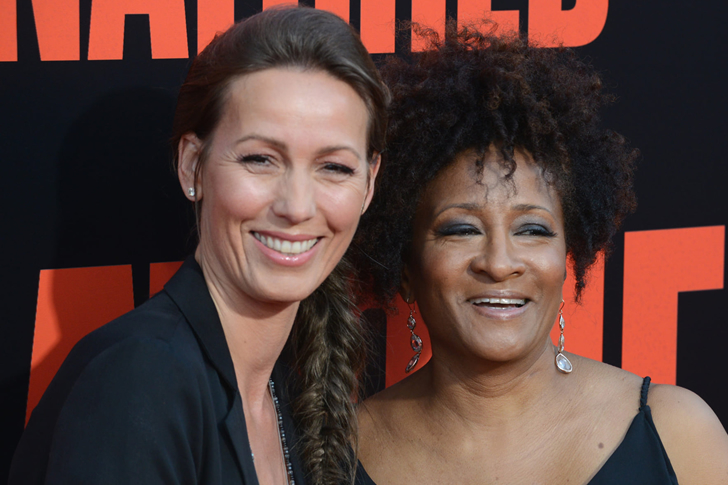 Whether you know her from her many films, standup comedy, or her celebrated work on Curb Your Enthusiasm, chances are Wanda Sykes has made you laugh. While the 57-year-old comedian is outspoken whenever she's on stage, she's actually quiet when it comes to her romantic life. In fact, her fans may not even realize that she has a wife and kids!
Sykes met Alex Niedbalski in the mid-2000s while on a ferry ride to New York City's Fire Island. According to the comedienne, it was love at first sight. The couple wed in 2008, and not long after, Sykes came out publicly. She had already come out to her friends and family, and she was surprised when her announcement made headlines. Niedbalski, who shies away from the spotlight, is a businesswoman who made investments in a Canadian kitchen company and served as its senior vice president of sales.
BRIAN HARGROVE & DAVID HYDE PIERCE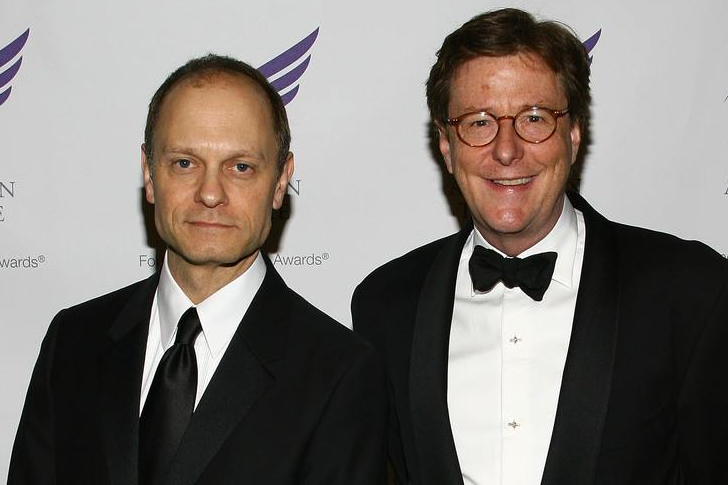 After keeping his romantic life out of the limelight for years, actor David Hyde Pierce has opened up about his marriage to his longtime partner Brian Hargrove in 2009. The Frasier star spoke candidly in an interview with ABC's The View. Proudly wearing a wedding band, the actor revealed that he got hitched "very quietly" with Hargrove in California in October 2008.
Pierce and Hargrove, a producer, are legally wed despite the California Supreme Court's decision to uphold Proposition 8 that year. It's a great thing that the two didn't need any lawyers anymore at the time since they have made the cut. These challenges also made them stronger together. In 2007, Pierce delivered his speech at the Tony Awards, thanking Hargrove for being a great partner of more than 20 years and for being his inspiration in winning the award.
RAINER ANDREESEN & VICTOR GARBER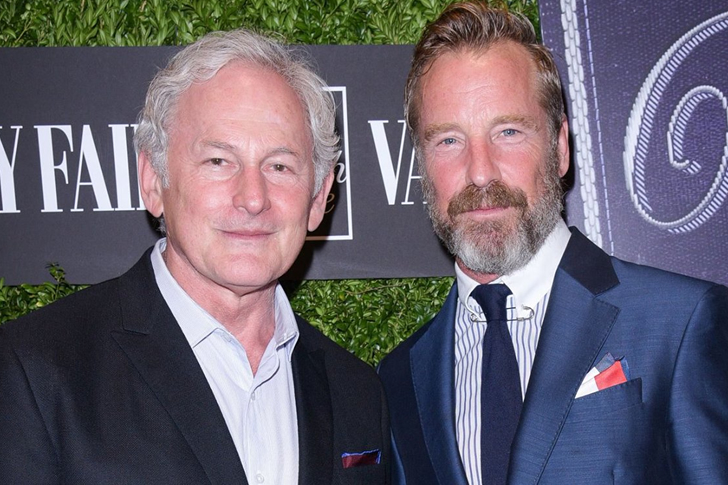 In 2013, Argo actor Victor Garber confirmed that he's a gay man. He also revealed he has been quietly living with his longtime beau, artist Rainer Andreesen, in New York City. Garber first shared his relationship with the artist to blogger Greg Hernandez, who pressed him to publicly confirm whether he's a gay man.
On his blog, Hernandez detailed the interaction, which took place in Pasadena, California, and described how he asked Garber if his partnership with Andreesen had been made public to some degree. The blogger also noted that the Alias star seemed surprised by the question. Garber said that he may not really talk about it, but "everybody knows." He added Andreesen, the face of the Perry Ellis ad campaign, is even attending the SAG Awards with him. Anyway, the handsome couple has been together for over two decades now.
RICHARD BUCKLEY & TOM FORD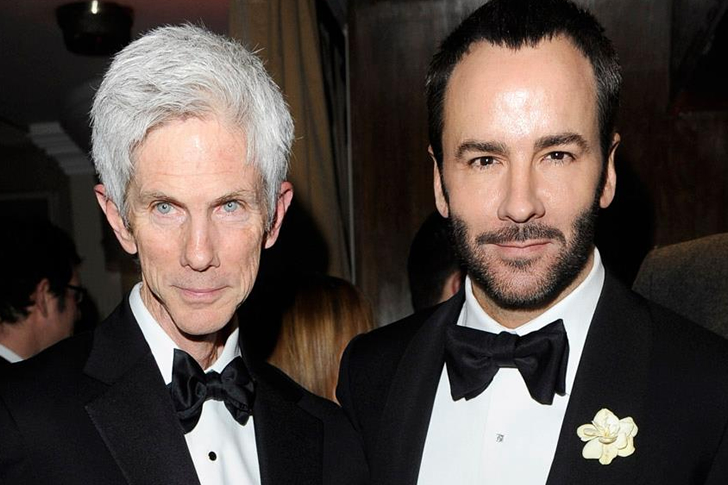 Designer Tom Ford met his husband Richard Buckley in the 1980s at a fashion show, and the twosome eventually wed in 2014. In a posthumous letter, Buckley recalled his first date with his husband in the last piece he wrote before his passing. He penned in his column that supporting his partner over the years was difficult, but it was worth it. In another paragraph from his final piece, he also spoke about his Fork's work ethic, giving credit to him for having a high standard of beauty.
The pair most recently lived in New York, London, and Santa Fe, and they are devoted parents to their eight-year-old son Alexander John Buckley Ford. Back in 2016, Ford reflected in People magazine on the moment he fell for his husband. He said their eyes locked, and just within a month, they were living together and had been together ever since.
TODD SPIEWAK & JIM PARSONS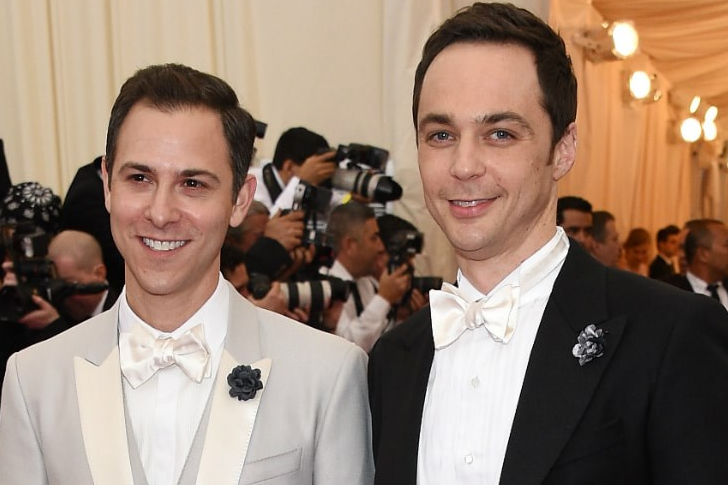 Jim Parsons' relationship with longtime boyfriend-turned-husband Todd Spiewak began several years ago. That was even before the actor became a household celebrity in the film Boys in the Band. Their love story shows that blind dates can sometimes lead to happy relationships. Yes, we should sometimes rely on our friends to set us up on dates. Not always, but sometimes.
According to an Instagram post by Parsons, everything changed for him on November 15, 2002. He agreed to have his friend set him up on a blind date with Todd Spiewak. The night was the first of many times for the pair. They went out bar hopping before meeting up for a proper date a few days later. For more than 20 years, Spiewak has been by Parsons' side. They love and support each other's career investments. The couple continues to inspire us to use the hashtag #couplegoals!
ANDERSON COOPER & BENJAMIN MAISANI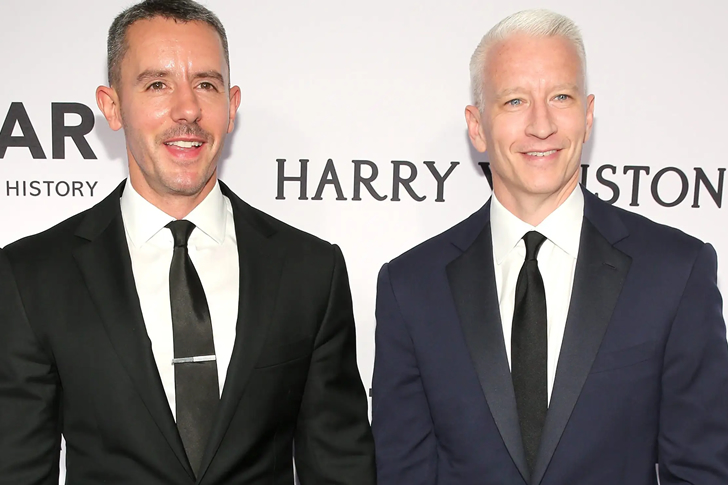 Anderson Cooper has a reputation for keeping his personal life quiet to some degree. Despite being out to friends and family for many years, he did not officially reveal his orientation until 2012. He's kept silent about his boyfriends since then, only addressing rumors on rare occasions. However, as we know, Cooper has been in a relationship with Benjamin Maisani for years now. Rumors say they broke up. He has been silent on the topic, but reports have circulated that he has moved back in with him.
Not until the journalist announced the birth of his son, Wyatt Morgan Cooper. Wyatt was born via surrogacy. The couple agreed to restart their rekindle before he was born. Indeed, they reconnected and are making plans for the future. Maisani limits his nighttime activities to spending more time with Anderson and the baby. They announced that he and Maisani are living together in 2021 and are being good parents to Wyatt.
QUEEN LATIFAH & EBONI NICHOLS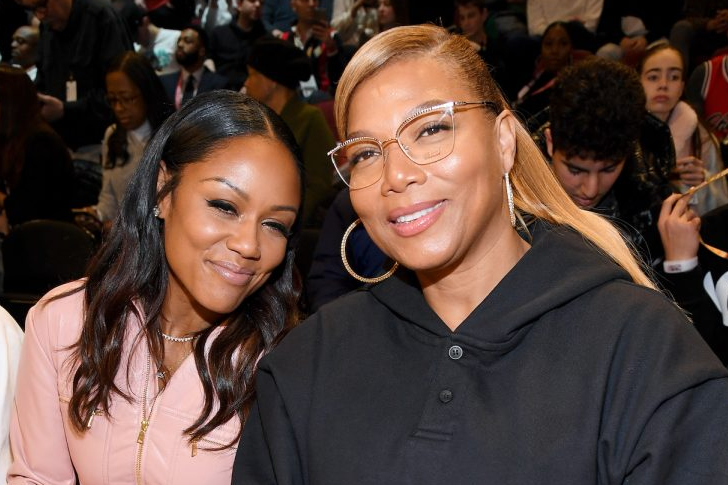 Throughout her career, Queen Latifah has ruled the music charts, award shows, and box office. The rapper's debut album All Hail to the Queen debuted in 1989 and sold over one million copies. In 1995, her smash track U.N.I.T.Y. earned her her first Grammy. Latifah even earned an Academy Award nomination for her credit in the film adaptation of the musical Chicago. Despite discussing societal issues, the award-winning actress has avoided questions about her personal life. However, she stunned the nation when she honored her reported girlfriend, Eboni Nichols, while winning the Lifetime Achievement Award at the 2021 B.E.T. Awards.
Nichols is a choreographer in Hollywood who began her career as an L.A. dancer. She has worked with artists such as Beyoncé, Aaliyah, and Jennifer Lopez after leaving the Lakers. They met on set for Dancing With the Stars, and the two reportedly married in 2013. Their first kid, a boy named Rebel, was born in 2019. Although it is unknown what role Nichols and Rebel have in Latifah's personal life, it is clear that they are important to her.
Ellen Degeneres & Portia de Rossi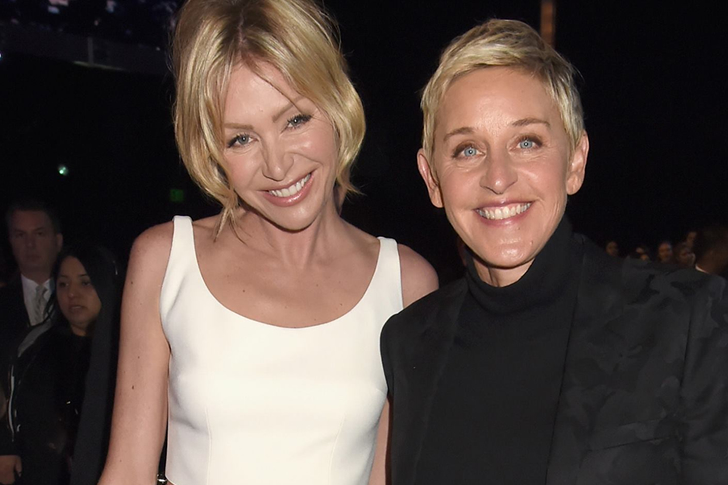 In the world of showbiz, it's no doubt that Ellen DeGeneres takes credit for being one of the most popular figures around. Beginning her career as a comedian, performing in more than a couple of stand-up comedy gigs, she eventually got her first shot to fame, portraying the titular lead of the sitcom Ellen. Nowadays, though, she is arguably most recognized as the host of The Ellen DeGeneres Show.
Another thing fans know about DeGeneres would be that she is happily married to Portia de Rossi. Beginning her career with minor roles, de Rossi eventually garnered widespread recognition when she landed a part in Ally McBeal. Since then, she has worked on other shows such as Better Off Ted, Nip/Tuck, and Arrested Development. Outside the acting scene, though, de Rossi has also found success as the CEO of General Public, an art company she founded.
Lance Bass & Michael Turchin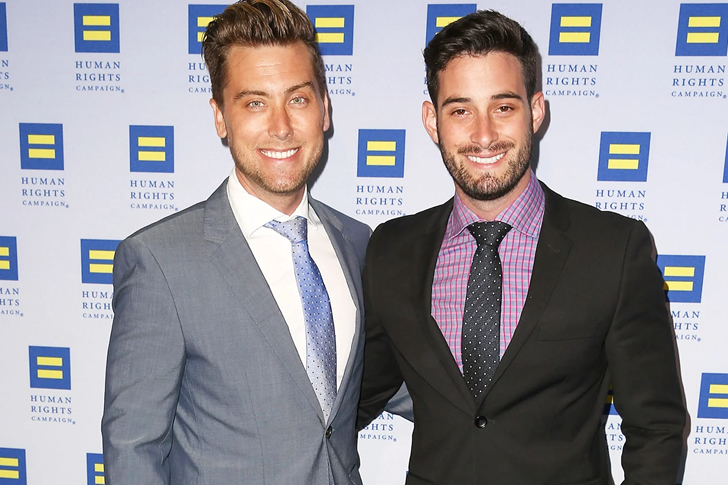 Besides solo artists, the music industry has also introduced us to numerous bands and groups over the years. With that said, one such example would be the boy band NSYNC. Beginning their journey in 1995, NSYNC then garnered a skyrocketing degree of praise right after they released their debut eponymous album. While most of the members have since ventured on to new projects, that hasn't stopped them from reuniting for more than a couple of concerts and events.
With that said, one such member that helped make NSYNC one of the most iconic boy bands in the music industry would be Lance Bass. Besides music, he has appeared in plenty of shows and movies, including Dancing with the Stars, Tropic Thunder, and My Kitchen Rules. His greatest achievement, though, would be meeting and marrying his now-husband Michael Turchin, an actor who has worked on projects like White Dwarf and First Period.
Neil Patrick Harris & David Burtka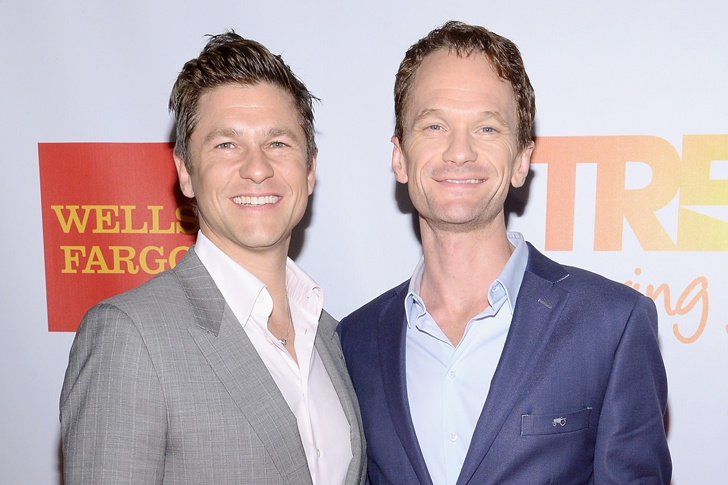 While his parents found a career as lawyers, Neil Patrick Harris had his eyes set on the acting scene. With the makings of an entertainer already apparent during his childhood, he got his first gig as a child actor. Well, since then, he has become one of the industry's most popular figures, and that fame rose to even greater heights thanks to his near-decade stint on the series, How I Met Your Mother.
Along the way, Harris met – no, not his mother – David Burtka. An actor just like him, Burtka has found success both on stage and the screen, having worked on titles such as The Play About the Baby, It Shoulda Been You, and Annie and the Gypsy. With that said, the two finally made things official in 2014 and got married. Since then, along with being one of Hollywood's favorite couples, they're now also loving parents of two kids.
Nate Berkus & Jeremiah Brent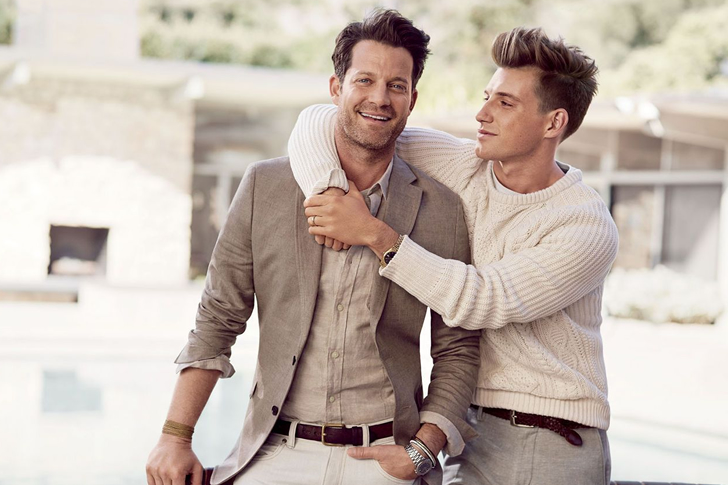 Right after finishing high school, Nate Berkus began his journey in the designing business. Even so, that doesn't mean he stopped his studies right then and there. Along with learning the ropes and marking his place in the industry, Berkus graduated with a degree in Sociology and French a year before he founded his very own company, Nate Berkus Associates. With that said, he has also found his way into reality shows, with the most notable being the design series Nate & Jeremiah by Design.
The second name on the previously-mentioned show belongs to Berkus' husband, Jeremiah Brent, also an interior designer. He is also an experienced actor and producer who has worked on other projects such as The Rachel Zoe Project, Home Made Simple, The Ode, and Say I Do. Above all these endeavors under the spotlight, one can't deny that the couple's crowned jewels would undoubtedly be their two kids.
Zachary Quinto & Miles McMillan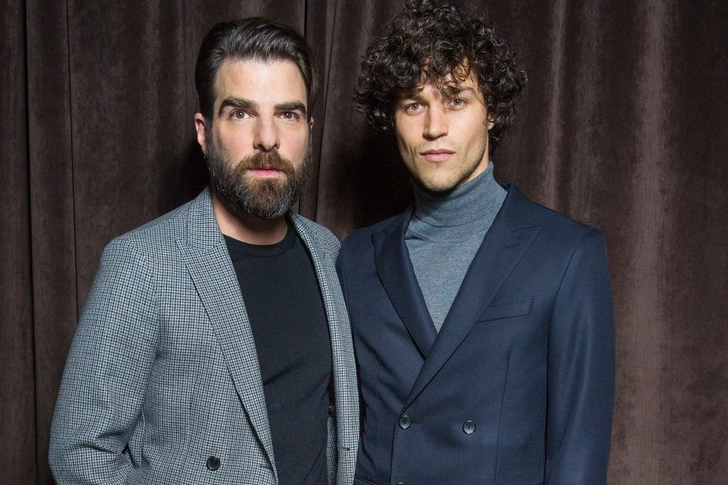 Among the many fan bases spread across the world of entertainment, one of the more vocal and popular ones would arguably be from the sci-fi community. With that in mind, it's safe to say many stars have since garnered widespread recognition among the many supporters of the genre. Well, such is the case for Zachary Quinto.
Beginning his career with small roles for TV shows, Quinto eventually got his first shot to fame starring in the series Heroes. Not long after, that popularity rose to even greater heights thanks to his acting credit as Spock in the Star Trek movies. Outside the acting business, Quinto once had a relationship with model Miles McMillan. Besides modeling, McMillan has also tried his hand at painting and, more recently, acting. By the looks of it, though, it wouldn't hurt to assume that the two parted ways on good terms.
Jodie Foster & Alexandra Hedison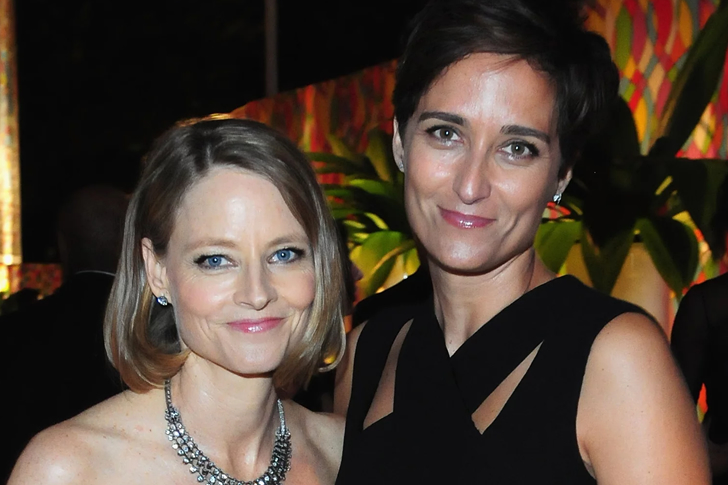 It's no secret that marking one's place as one of Hollywood's most iconic is no easy task. Even so, that hasn't stopped people from trying. Beginning her career at three years old, Jodie Foster got her debut acting gig around three years later: it was for the 1968 sitcom Mayberry RFD. After finishing her studies with a Bachelor of Arts degree, Foster shifted her sights to more serious projects. Thanks to that, she later landed the opportunity to star in the now-beloved psychological horror film, The Silence of the Lambs.
Since then, while still active in the acting business, Foster has also tried her hand at behind-the-scenes work. Perhaps a portion of this move is thanks to her wife, Alexandra Hedison. Although she has acting experience, Hedison focuses most of her time behind the camera. Along with her directorial efforts, she is also a fine art photographer who has presented her work in more than a couple of exhibits.
Elliot Page & Samantha Thomas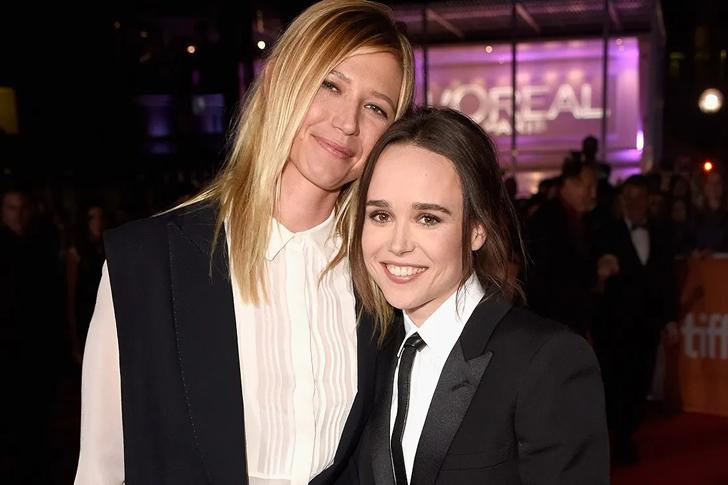 For his start in acting, Elliot Page got his first on-screen gig at ten years old, taking on the role of Maggie Maclean for the TV movie Pit Pony. Suffice to say, the experience opened up plenty of opportunities for him. Well, since then, Page has had the chance to work on projects such as Trailer Park Boys, the X-Men movies, Inception, and more recently, The Umbrella Academy.
For a time, the actor was in a relationship with Samantha Thomas. Fans of Page had the chance to see Thomas when he brought her along on a couple of red-carpet events. With that said, Thomas is a talented artist who particularly enjoys structural and modern abstract pieces, not to mention oil painting – many of her work was presented in more than a few exhibits. She is quite the sporty soul who loves golfing and, most of all, surfing.
Megan Rapinoe & Sue Bird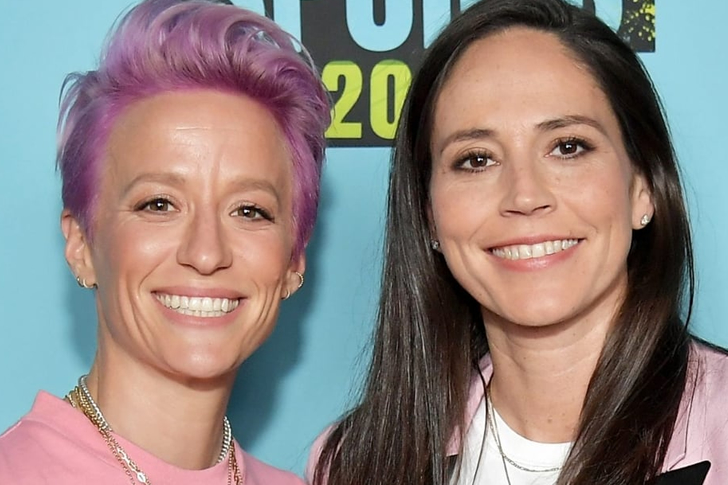 Soccer is a sport that has developed quite a fan base over the years. With that said, one such player that has garnered a high degree of recognition for her skills on the field would be Megan Rapinoe. Beginning her training during her high school years, she has since been regarded for her impressive play style. Along with that, she's now also a Ballon d'Or Féminin winner, among other achievements.
Meanwhile, the athlete's partner – and soon-to-be wife – Sue Bird is a basketball player. Like Rapinoe, she started working on her skills on the court during her school years. By 2002, she finally started her career in the big leagues. Since then, along with being a reliable teammate for WNBA's Seattle Storm, Bird has also played in the EuroLeague Women, the FIBA World Cups, and the Olympics. Speaking of which, she is one of two Olympic players to have won five gold medals.
Kendrell Bowman & Anthony Wayne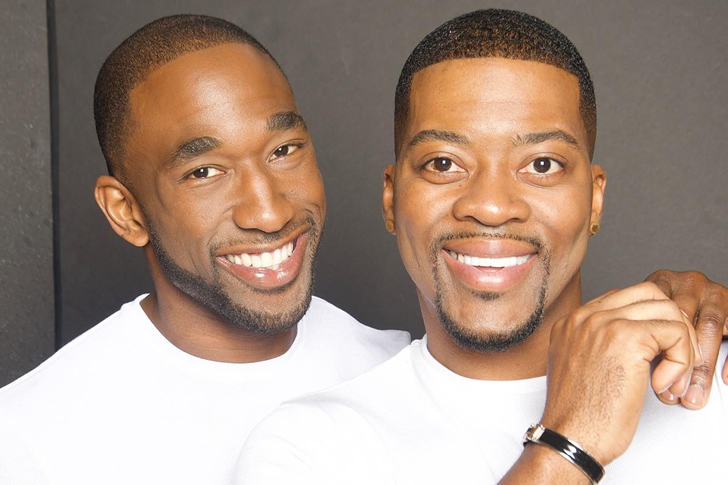 Before any investments were made in cinema and TV, the theater was one way for people to see various old and new stories be brought to life. Suffice to say, its reputation as one of the most sought-after sources of entertainment hasn't dwindled even in more recent years. With that said, let's look at two talented figures in this side of the business: Kendrell Bowman and his partner Anthony Wayne.
While the duo may have been born in different parts of the country, they eventually connected through their passion for the stage. Wayne has garnered widespread praise for his performance in numerous productions, including Mighty Real: A Fabulous Sylvester Musical, which he co-wrote and co-created with Bowman. Meanwhile, Bowman is regarded for his work as a theatrical director and producer. Besides impressing critics and audiences, the two also give aspiring artists a chance to shine through their AnthonyKen production company.
Miles Brock & Milan Christopher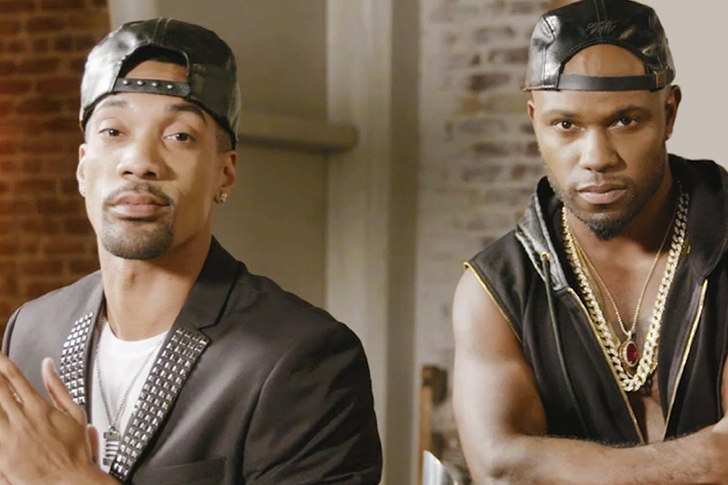 Producers and studios have spent significant portions of their investment money creating all types of movies and shows. Besides the usual scripted projects, another genre they have dabbled in many times would be reality shows. Among the titles that have graced the screens through the years, one example worth noting would be Love & Hip Hop: Hollywood.
An installment of the Love & Hip Hop franchise, the show revolves around the day-to-day life of several hip hop artists in the Hollywood area, two of which are the now-former couple Miles Brock and Milan Christopher. A rapper, model, dancer, and actor, Brock got his first shot to fame under the spotlight as a member of the R&B group Marz Boiz. Meanwhile, Christopher has since dabbled in other projects besides music. This includes his try at creating his very own comic book series centered on the superhero Ragneron.
Adam Lambert & Sauli Koskinen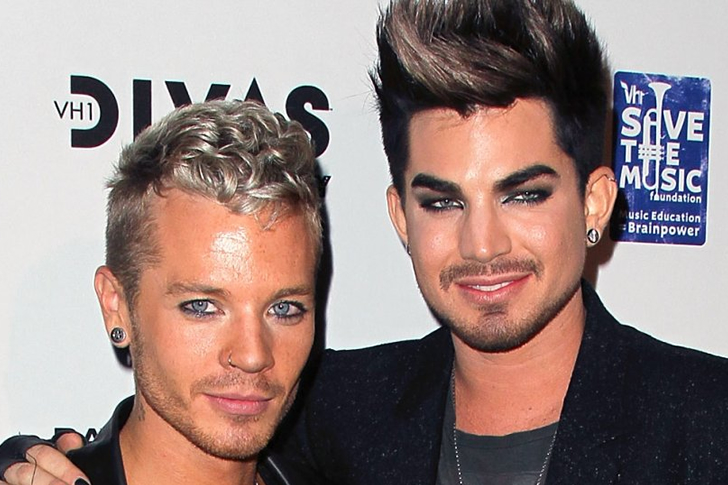 A music artist's career can begin in various ways. One such example would be through competing on talent show competitions such as American Idol, which just so happened to be how Adam Lambert found his place under the spotlight. Since finishing his stint on the show as a runner-up, the singer has graced the airwaves with albums such as Trespassing and For Your Entertainment. Along with his solo career, he now also takes credit for being the new vocalist for Queen – their most recent endeavor is their 2020 album Live Around the World.
For a time, Lambert had a relationship with reality star Sauli Koskinen. Initially working as a clothing store clerk, Koskinen eventually got his big break when he landed a spot on the Finnish version of Big Brother. Since then, he has dabbled in other projects, often as an entertainment reporter or host.
Amber Heard & Tasya van Ree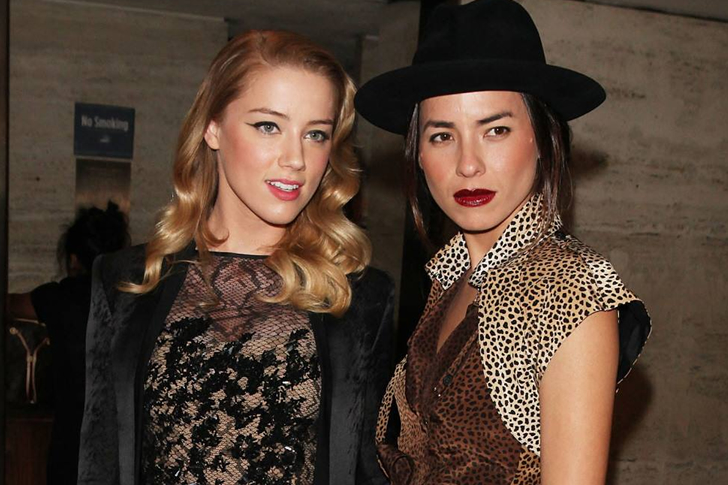 If you have kept up to date with events taking place under Hollywood's bright lights, perhaps it's safe to say Amber Heard is an actress you've already heard of a couple of times at this point. With her acting career beginning with appearances in music videos, she eventually found her way to small- and big-screen projects. Since then, she has landed an acting credit for titles such as Never Back Down, Aquaman, and The Rum Diary.
For a time, the Justice League actress had a relationship with photographer Tasya van Ree. Often recognized for her fashion sense, not to mention her iconic hat, van Ree has had the chance to photograph celebrities such as Matt Dallas and Michelle Rodriguez. Besides snapping photos, though, she has also tried her hand in other mediums, notably painting and pencil drawings. With that said, many of her pieces have since been presented in exhibits around more than a couple of cities.
Chely Wright & Lauren Blitzer

At a young age, Chely Wright already had quite a fascination for music. A good portion of this would be due to the times she spent singing along with her parents, who were huge fans of the country genre. A few years later, Wright learned how to play the trumpet and piano and even worked on her vocals by performing with singing groups. Suffice to say, these experiences ultimately became the first set of investments she made for her career.
Wright got her first big shot to fame in 1997 thanks to her hit record Shut Up and Drive. Since then, the musician has released other albums such as Lifted off the Ground, I Am the Rain, and Revival. Still, it goes without saying that Wright's greatest success took place outside the music industry. That would be when she met Sony Music's marketing director Laurent Blitzer in 2010. A year later, the two finally got married.
Sara Gilbert & Linda Perry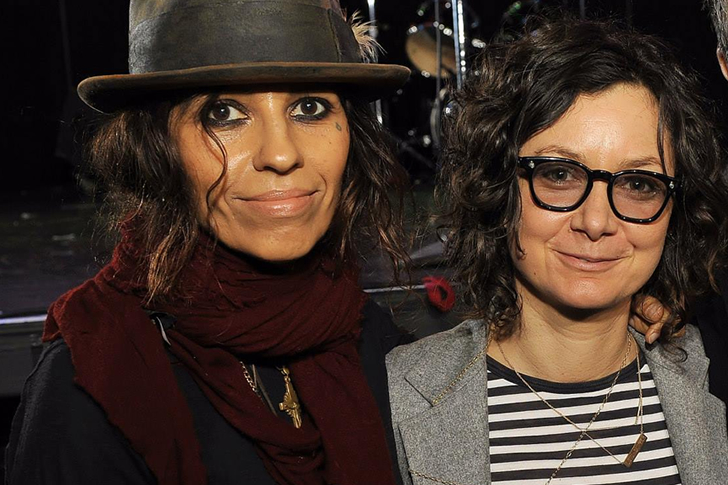 It's no doubt that art plays a big part in Sara Gilbert's life. Starting her career under the spotlight at a young age, most of her earlier on-screen gigs were for TV movies and commercials. By the time she was 13 years old, she had landed a role on the show Roseanne, portraying Darlene Conner. She then reprised that character in 2018 for its spin-off series, The Conners. Other projects the actress has worked on include The Talk, Will & Grace, Private Practice, and The Big Bang Theory.
For a while, the actress and director had a relationship with Linda Perry. While Gilbert often dabbled in movies and shows, Perry found her niche in the music industry. After humble beginnings, working a couple of side jobs here and there, the musician has since made quite a name for herself under the spotlight. Along with performing with bands, Perry also takes credit for composing and producing other artists' songs, including Alicia Keys and Adele.
Colton Haynes & Jeff Leatham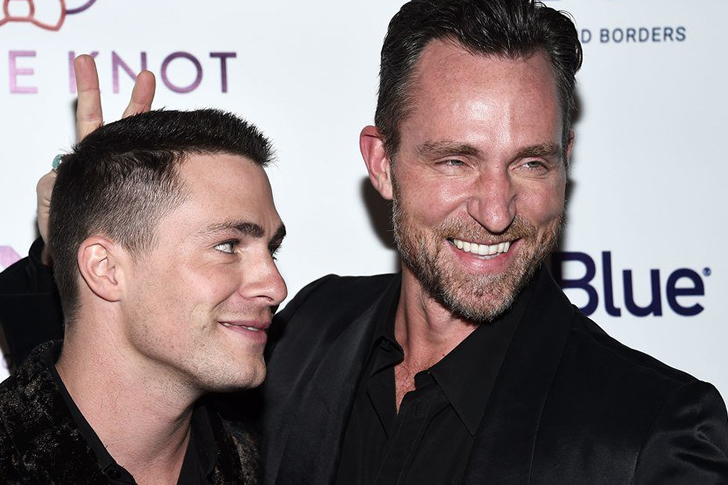 Throughout childhood, Colton Haynes and his family called for a moving company's services more than a couple of times. Despite having lived in various places throughout that period, it sure didn't look like it stopped him from pursuing his dreams. At 15 years old, Haynes landed his first modeling gig. After a couple more stints posing for magazines and commercials, he finally made it into the acting scene. Beginning this journey around the mid-2000s, he has since become most known for starring in projects such as Arrow and Teen Wolf.
Like the Teen Wolf actor, Haynes' former husband, Jeff Leatham, began his career under the spotlight as a model. While that route may have been a good choice, Leatham eventually shifted his sights to floral designing. Suffice to say, the move was worth it. Since then, along with collaborating with big-name fashion brands, Leatham has also worked as a creative director and helped design several hotels around America.
BILLY PORTER & ADAM SMITH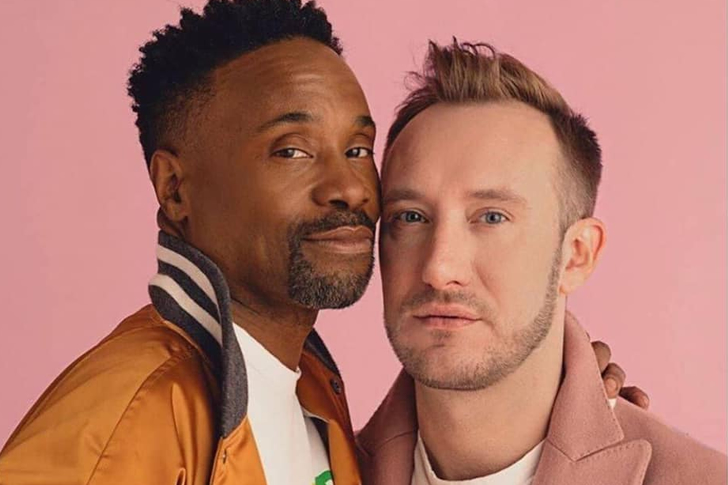 Billy Porter has been recently nominated for an Emmy Award under the Best Actor in a Drama category, and supporting by his side is none other than his beloved husband, Adam Smith. The pair have been married since 2017, but their romantic story goes way back to 2009. It all started when the Pose actor spotted his future husband during a dinner party they attended at a restaurant in New York City. After he laid eyes on Smith, Porter made it his mission to sit next to him.
The spark and electricity kind of feeling was mutual, as Smith also revealed he was enamored with the actor "from the beginning." They started seeing each other, briefly went on a break, but rekindled their love and got engaged in 2016. Weeks later, the duo happily tied the knot at a friend's New York penthouse.
ANTONI POROWSKI & KEVIN HARRINGTON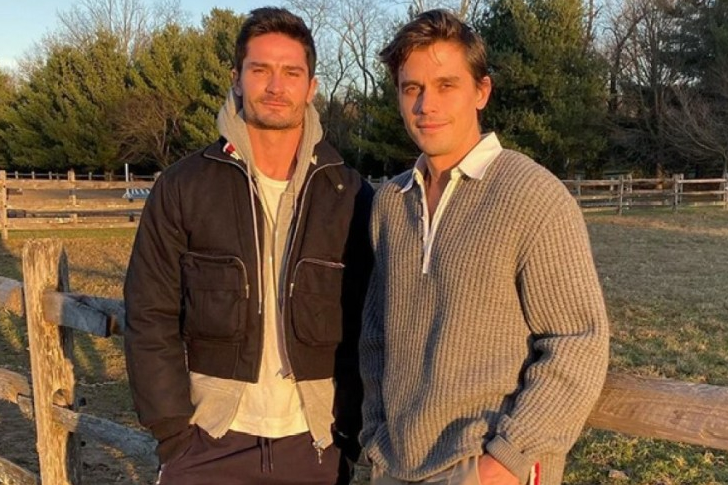 The Queer Eye cast members spent so much time and investment in teaching us about self-love, but outside of the show, the Fab Five have all been busy with their loved ones. Our favorite chef and food enthusiast, Antoni Porowski, is currently loved by his boyfriend, Kevin Harrington.
To those who don't know yet, Harrington is a strategic planner who hails from New York and is currently employed at an advertising agency called Johannes Leonardo. The lovebirds have been linked since October 2019, and their romance reportedly started after they slid into each other's direct messages on Instagram. Porowski and Harrington were first rumored to be dating when they made an appearance at Bette Midler's annual Hulaween charity bash. Subsequently, they were pictured at another Halloween party organized by Heidi Klum, wearing their couple's fancy yet spooky costume as Blockbuster employees.
MATT BOMER & SIMON HALLS

Matt Bomer, star of the Netflix series The Boys in The Band, has made a name for himself with his Golden Globe-winning performance in the movie The Normal Heart. He is married to Simon Halls, a founder and a partner at Slate PR who earned his degree at the prestigious University of Southern California.
The pair are now approaching the decade mark since tying the knot in 2011. They now share three sons together: Henry, Walker, and Kit. Kit is now 15 years old, while Walker and Henry are 12-year-old twins. The family of five has been spotted enjoying quality time together, and during award ceremonies, the sweet couple makes it a point to thank each other, briefly recounting the love and partnership that exist in their relationship. In Hollywood, where several marriages only last a couple of months, to be approaching ten years is already an accomplishment.
BEN PLATT & NOAH GALVIN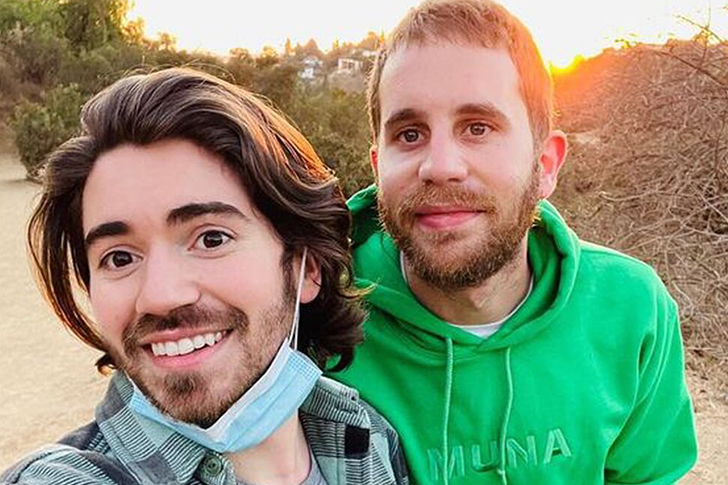 The Real O'Neals' Noah Galvin and Dear Evan Hansen's Ben Platt are currently dating. The two have been good friends for five years, but they didn't get together until 2020. Platt recently opened up about their relationship in an interview, and he couldn't help but gush about his new romance. He admitted on The Kelly Clarkson Show that he and Galvin had gotten together for a year and a half.
Platt also revealed that they lived together with his parents in his childhood home. He also credits his relationship with Galvin as "a beautiful time," saying that at first, he didn't realize Galvin was "the guy" for him. It took him half a decade to reflect on his attraction to the actor. Clarkson, the talk show host, went on to describe that their relationship sounds like a movie, and we definitely agree!
BEANIE FELDSTEIN & BONNIE CHANCE ROBERTS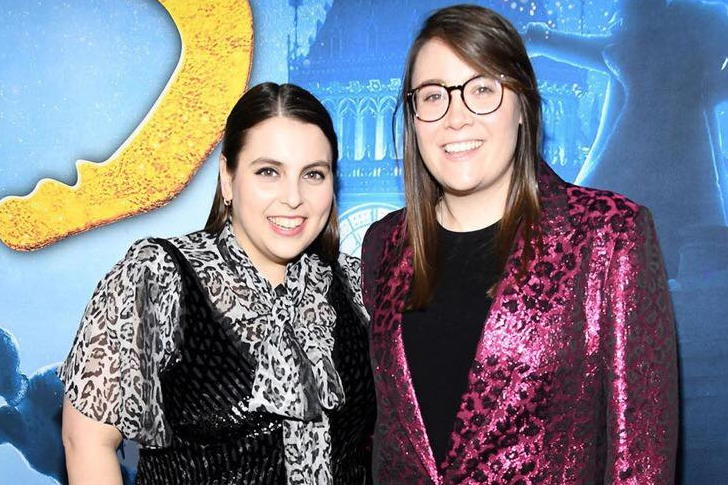 Actress Beanie Feldstein of Lady Bird and Booksmart fame has been dating her girlfriend, film producer Bonnie Chance Roberts, for two years. While the duo made their red-carpet debut at the premiere of Cats in New York last December 2019, they drew more attention at the Golden Globes the following month, when many people learned of their relationship for the first time.
Roberts met Feldstein on the set of the 2019 film adaptation of Caitlin Moran's How to Build a Girl. While we don't have a clue how exactly they found themselves drawn to one another, we assume there must have been a strong connection upfront, as Feldstein once shared in an interview that she wasn't the type to have an interest in dating before she met Roberts. She even credits Roberts as "the best person" she has ever met.
DENIS O'HARE & HUGO REDWOOD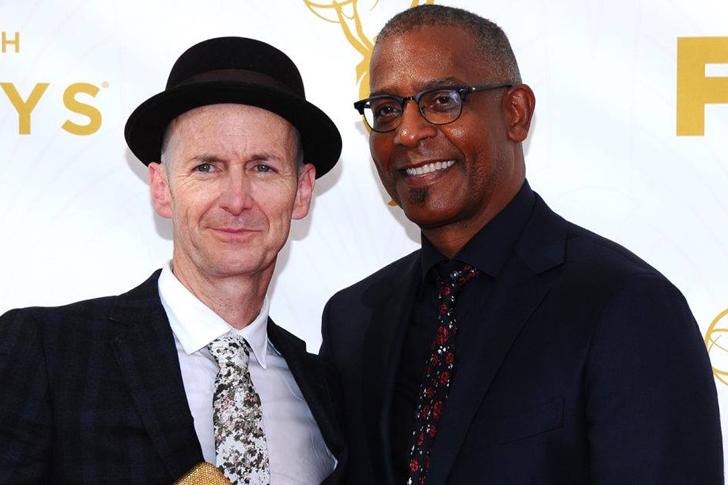 It's finally true love for True Blood actor Denis O'Hare and his husband, Hugo Redwood. The star, who plays Russell Edgington on the popular HBO show, announced back in 2011 that he wed his longtime partner. Using the social media platform Twitter, O'Hare shared the good news to his fans just days after same-sex marriage was approved in the state. He also posted a photo of himself and his handsome groom at the courthouse with witnesses, such as family, close friends, judges, lawyers, and more.
In 2012, the couple announced another good news: they were ready to adopt a 17-month-old baby boy named Declan, and the child had been living with them since he was two weeks old. However, the two reportedly faced challenges as they became Declan's legal parents two years later. Still, they were nothing short of ecstatic! One thing is clear, though— love definitely conquers all.
SEAN HAYES & SCOTT ICENOGLE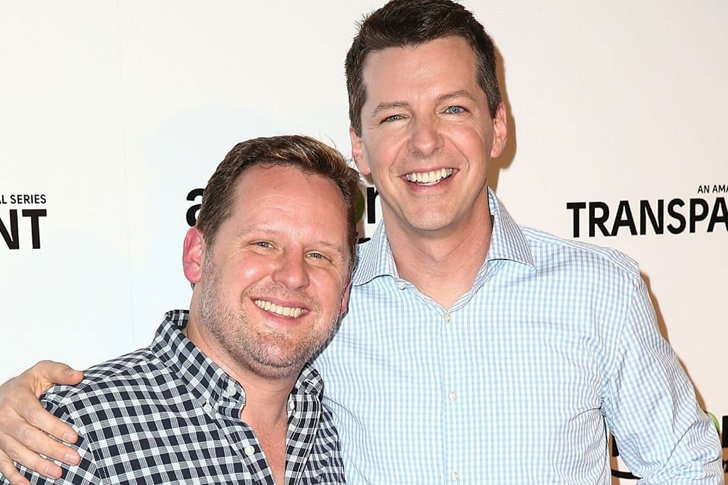 Sean Hayes, who earned a degree of fame for playing Jack McFarland on the hit sitcom Will & Grace, is happily married to his husband, Scott Icenogle, whom he calls "Scotty." The two met through the talk show host Ellen DeGeneres when Icenogle performed as a deejay on the set of DeGeneres' show. The twosome dated for eight long years before walking down the aisle back in 2014. They have also made a series of lip-sync videos that went viral on the internet, and Icenogle even served as music supervisor for Hayes' project, Lazy Susan.
While the award-winning actor said he was "proud and honored" to portray his iconic Will & Grace character for 11 seasons, he added that the thing he is most proud of is being himself and "expressing open love with my husband." After three decades in Hollywood, he has finally found his happy place— at home with Scotty.
ALI KRIEGER & ASHLYN HARRIS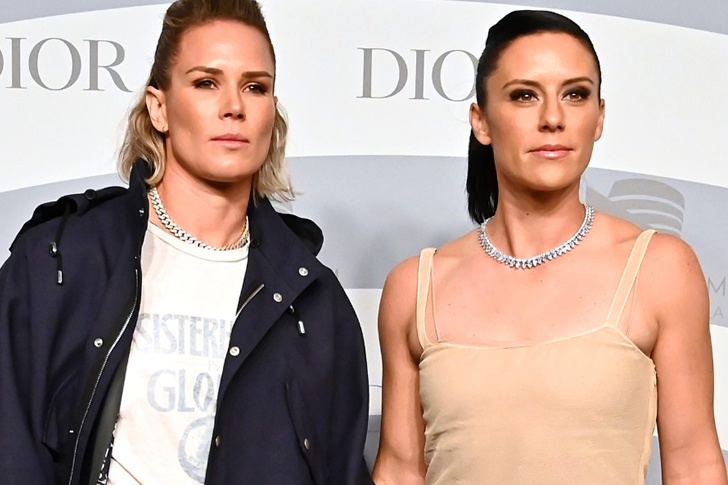 U.S. Women's National Team's defender Ali Krieger and goalkeeper Ashlyn Harris are one of today's most beloved couples. The pair first met back in 2010 while training at the USWNT camp, where they instantly became good friends. Krieger credits Harris for being "so captivating" and "confident" to the point she always wanted to be around her.
Not long after, the two athletes began a romantic relationship, which they initially kept as a secret out of fear of losing their endorsement deals, even though their fans had already suspected that they were a couple. After nearly ten years of dating, they officially exchanged "I do's" over the 2019 holidays in a wedding that also served as a reunion for their fellow USWNT team members. It was Harris who popped the question to Krieger on a beautiful day at Clearwater, Florida, and the rest is history.
ROBBIE ROGERS & GREG BERLANTI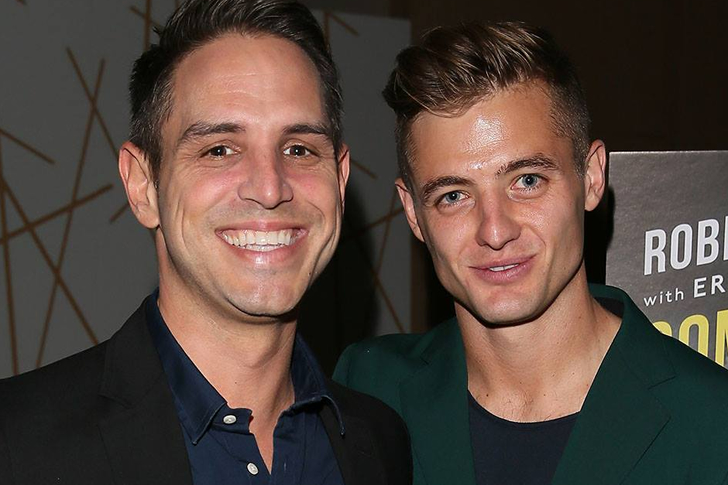 Greg Berlanti, the famed producer with credits such as Supergirl and Riverdale, couldn't have scripted his own love story. It's so beautiful, as if he'd written it himself! It all began back in 2013 when a mutual friend offered to introduce him to Robbie Rogers, a professional soccer player who joined the L.A. Galaxy.
The duo started out as friends, but when Rogers invited the producer to be his plus-one at the ESPY Awards, their friendship eventually blossomed into romance. Berlanti, who doesn't even watch sports, wouldn't normally attend. However, when Rogers invited him to the event, he saw it as an opportunity to get to know each other deeper. On the other hand, the soccer player also knew from the beginning that there was "something that drew me toward him." The lovebirds officially wed in 2017 and welcomed two kids together: their daughter Mia and son Caleb.
CHEYENNE JACKSON & JASON LANDAU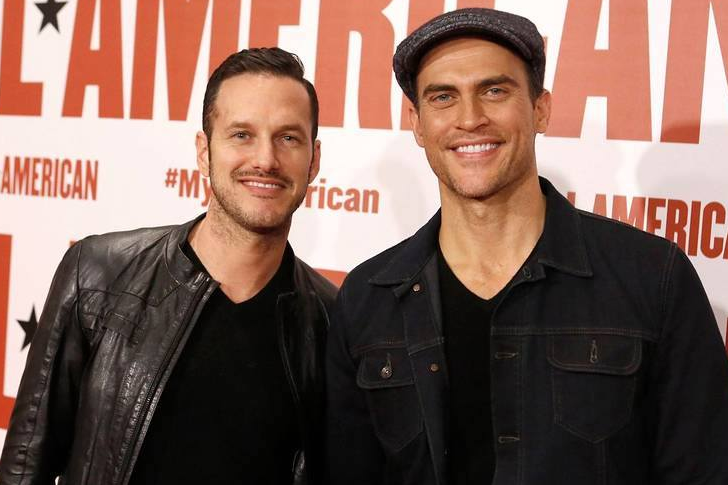 We're pretty sure you're familiar with Cheyenne Jackson, whose face you might recognize from popular shows and films such as 30 Rock, American Horror Story, and Glee. He even spent a tremendous amount of time performing on Broadway in musicals like Thoroughly Modern Millie and All Shook Up. However, did you know he has a husband?
Jackson reportedly met his husband, Jason Landau, during a difficult time in his life. The actor shared that the two share a common ground regarding their personal lives, which he credits as a helpful factor in forging their relationship. The pair got engaged by February 2014, only a few short months after their first meeting, and tied the knot shortly afterward. They now have two kids together, twins Willow and Ethan, who occupy their time. It sounds like Jackson and Landau are certainly enjoying the parenting life!
ROBIN ROBERTS & AMBER LAIGN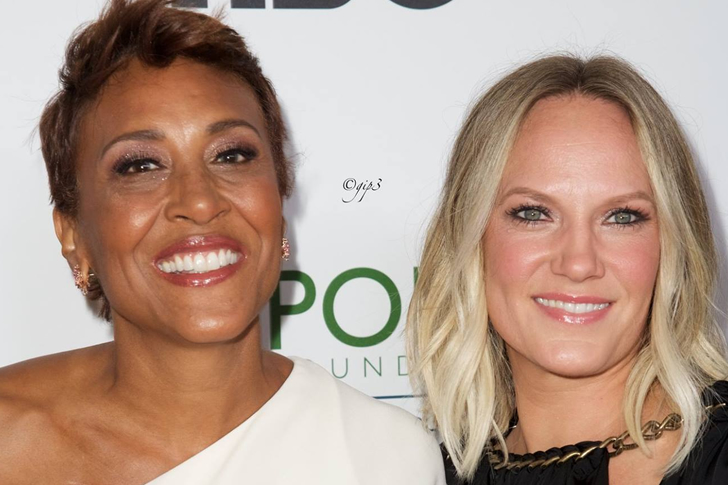 Robin Roberts and her longtime sweetheart Amber Laign have one of the show business' most solid relationships, having celebrated 16 years together. One of the things the Good Morning America co-anchor credits for their strong relationship is their living situation, living apart for most of the time. Laign reportedly lives in Connecticut full time, while Roberts spends five days a week at her Manhattan apartment close to the GMA studios.
The 60-year-old previously shared about her love life in an interview with Ellen DeGeneres in 2014. She said that she and Laign chose not to live together, and it's only during the weekends when they spend quality time together. While they have an unconventional living arrangement, they still travel a lot and have enjoyed several vacations. In fact, they frequent Key West, which they describe as their "happy place."
ANDREW RANNELLS & TUC WATKINS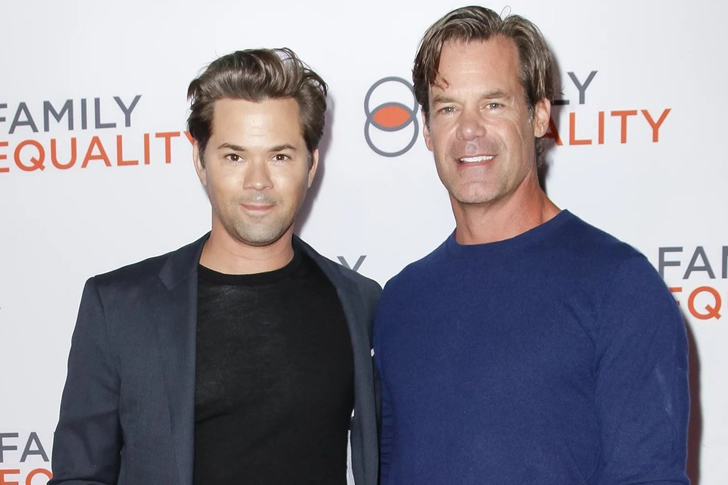 Having first met playing as a couple back in the 2018 Broadway revival of The Boys in the Band, Andrew Rannells and Tuc Watkins soon realized that the spark they felt was starting to become real. They went on to portray a couple in the Showtime dark comedy show Black Monday, and the onscreen pair eventually became offscreen lovers.
The twosome began dating toward the end of The Boys in the Band's run on Broadway in 2018, but it wasn't just a private romance that expired on closing night. They have been in a serious relationship ever since, coming out loud and proud as a couple in separate Instagram posts. Since then, their social media feeds and interviews have become public records of their life as a family, with posts ranging from their twin's birthdays, goofy selfies, and family trips and investments.
STACY LONDON & CAT YEZBAK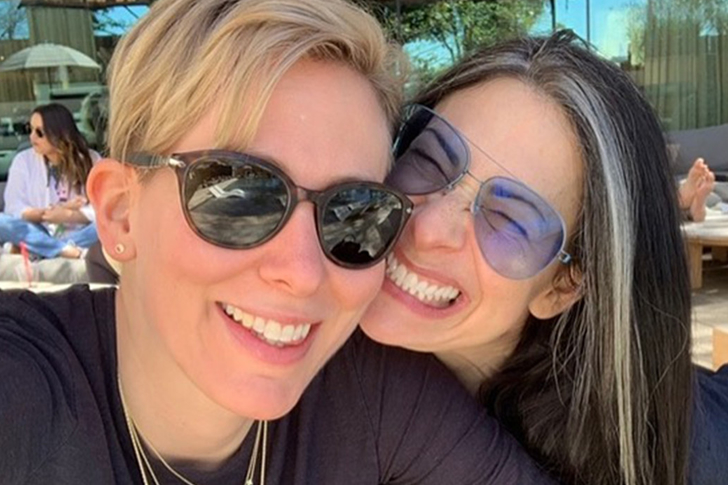 Stacy London is widely credited for her work in What Not to Wear. While she publishes a variety of topics on Instagram, she made headlines in late 2019 when she shared a photo of herself and Cat Yezbak. London accompanied the picture with a lengthy caption, introducing her girlfriend to the world.
It's no secret that the American author is smitten with the woman in her life, but her fans are curious about how they met. According to Gossip Gist, Yezbak is a music artist who hails from Ireland. London also revealed that she met her girlfriend back in the summer of 2018 at a fundraiser event for Cynthia Nixon in New York, saying she wasn't ready for a serious relationship at the time, but she and Yezbak still stayed in touch. From there, the pair eventually went on their first date and have been inseparable ever since.
TRISTIN CHIPMAN & EMILY SALIERS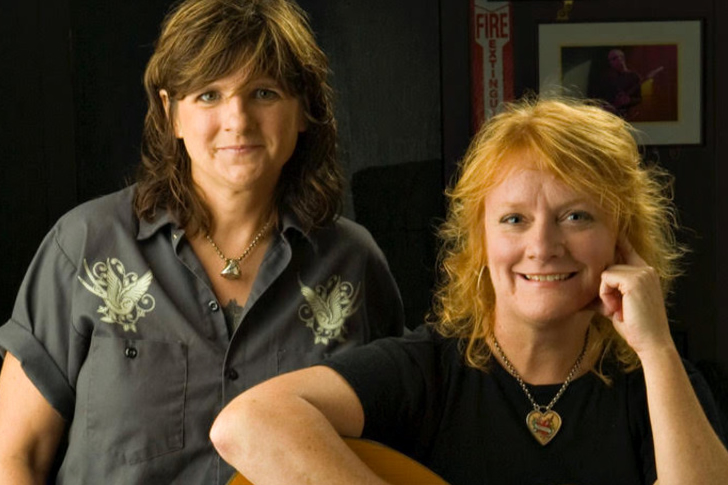 Indigo Girls' Emily Saliers tied the knot with her longtime partner Tristin Chipman back in 2012. Chipman, who is active in the music industry in Toronto, has been dating Saliers for a decade. The two met when Chipman worked as a tour manager for Saliers' musical duo, where they soon became friends and slowly fell in love. At a concert at Vancouver's Vogue Theatre, the singer told the audience she and her partner got hitched in New York. At the time, equal marriage was not yet legal in their home state of Georgia.
It is not known when exactly the musician couple made it official, but Saliers added they did not want to rush getting married in Canada. The 58-year-old artist had also been lobbying lawyers to change immigration laws so she could sponsor Chipman to work in the US. Meanwhile, when asked about their daughter Cleo, the couple said they feel extremely happy to be parents.
BRAD GORESKI & GARY JANETTI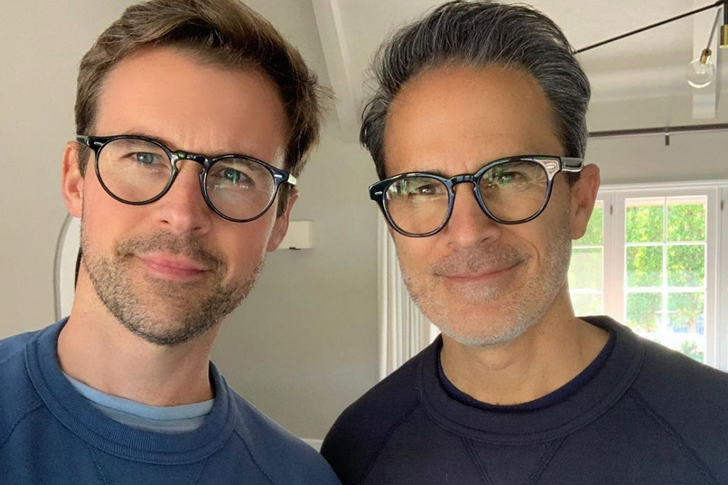 Brad Goreski has earned his breakthrough by actively working in the entertainment scene, and that's also where his husband, Gary Janetti, works. The pair have been happily married since 2017, and until now, they appear to be going stronger than ever. Unlike Goreski, Janetti works mainly behind the scenes, serving as a writer for The Naked Truth and Family Guy. He has also executive produced the sitcom Will & Grace and co-wrote the British show Vicious, which aired for three years from 2013 to 2016.
While the lovebirds have been married for a few years, they do not yet have any kids together. However, they share a dog named Penelope, which they credit as their baby. For now, it seems that both of them are firmly focused on their respective careers and are happy with their decision to do so.
Jane Lynch And Jennifer Cheyne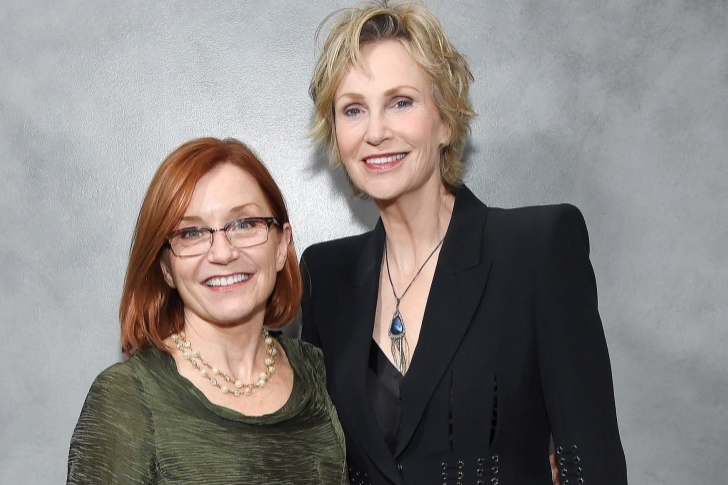 For her start in the acting scene, Jane Lynch began on stage. Along with performing on a couple of theater productions here and there, she also found her way into the improvisational comedy troupe, The Second City. Well, she polished and improved on her comedic chops from there on out. Since then, Lynch has become a successful actress/comedian, having worked on projects such as Glee, Two and a Half Men, Criminal Minds, and Talladega Nights: The Ballad of Ricky Bobby.
Of course, like many of us, the actress has someone she loves spending time with. Well, that person is none other than her girlfriend, Jennifer Cheyne. While Lynch has found success in front of the camera, Cheyne opts to stay behind the scenes, notably as a screenwriter. Having finished her masters in screenwriting via online class, Cheyne has also said that she's recently been working on two screenplays. Perhaps this duo is already planning to collaborate on a movie soon.
Maria Bello And Dominique Crenn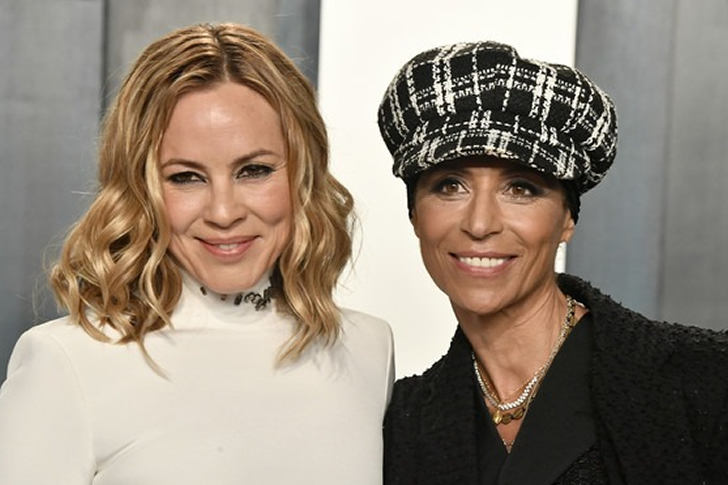 While she did finish her studies with a degree in political science, Maria Bello also had quite a fascination for acting. Still, it's safe to say the knowledge she acquired through those years came in handy in many of her on-screen roles. Polishing her chops as a stage actress, Bello has since worked on projects such as NCIS, Goliath, A History of Violence, Prisoners, and Touch.
Near the end of 2019, the NCIS actress announced that she was getting engaged to Dominique Crenn. Currently the only female chef in the US to receive three Michelin stars, she was already quite accustomed to the culinary arts at a young age, thanks to her mother, who was also a cook. Well, after some time working on her skills, Crenn finally made it big in the business. By 2011, the chef opened Atelier Crenn, followed by two other establishments a few years later: Bar Crenn and Petit Crenn.
Sam Champion And Rubem Robierb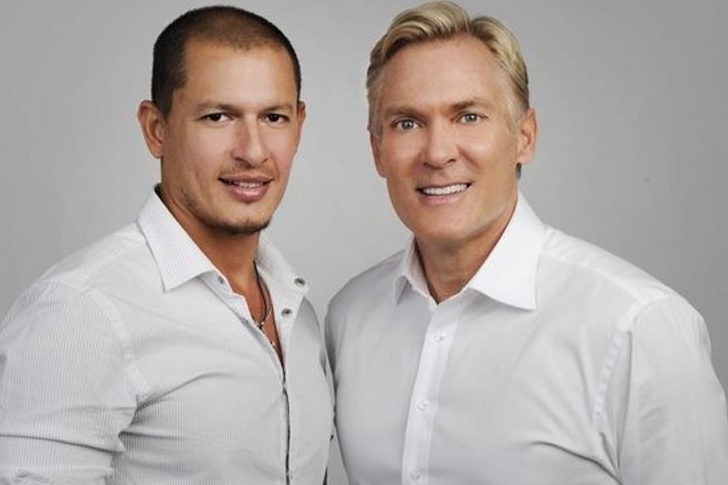 It's definitely a good habit to check the news every day. Along with keeping up to date with current events, it also helps to keep track of the weather. Well, one such weather reporter who deserves credit for helping us do exactly that would be Sam Champion. Along with providing the week's forecast, Champion also works as a newscaster. With that said, some programs he has appeared on include Good Morning America, Today, and AMHQ.
After years of being together, Champion finally married his long-time partner, Rubem Robierb, back in 2012. An artist, photographer, and sculptor, Robierb's works often provide a symbolic representation of things, allowing those who see the art piece to give their own interpretation. With that said, in 2019, two of his recent works have garnered quite the buzz, especially the one he titled Climate Meltdown. By the looks of things, it's safe to say he still has other creative tricks up in his sleeve.
Kal Penn & Josh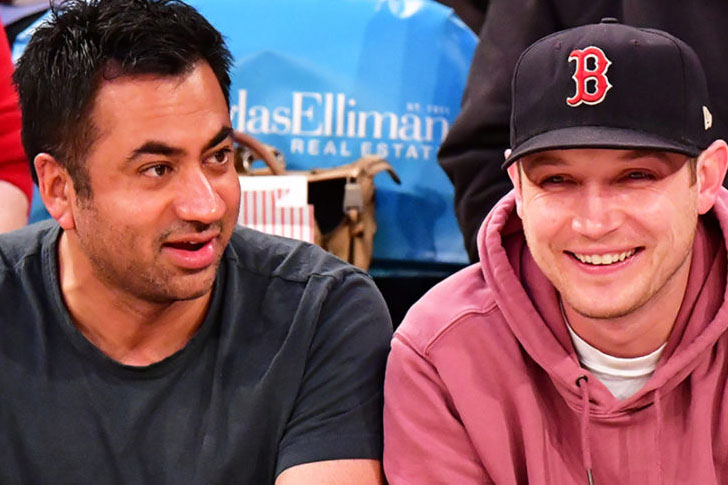 Kal Penn is not just an accomplished actor, but he has also served under the Obama Administration. He is also in a relationship with his partner, Josh, for 11 years. The Harold & Kumar revealed that he was engaged to him as well. In his book, You Can't Be Serious, Penn talked about how his relationship with Josh began. This is the first time that the actor spoke about his personal affairs. It was because Josh and his family preferred to be away from the limelight.
In his book, Penn talked about their first date which involved beer and watching NASCAR on TV. Though he was a bit doubtful about how their relationship would play out. Eleven years later and they are still together! To his credit, Penn balanced his desire to share his personal life to his readers while keeping some details private for his family. For sure, his newly released book will be talked about by his fans across the globe.
Abbi Jacobson & Jodianne Balfour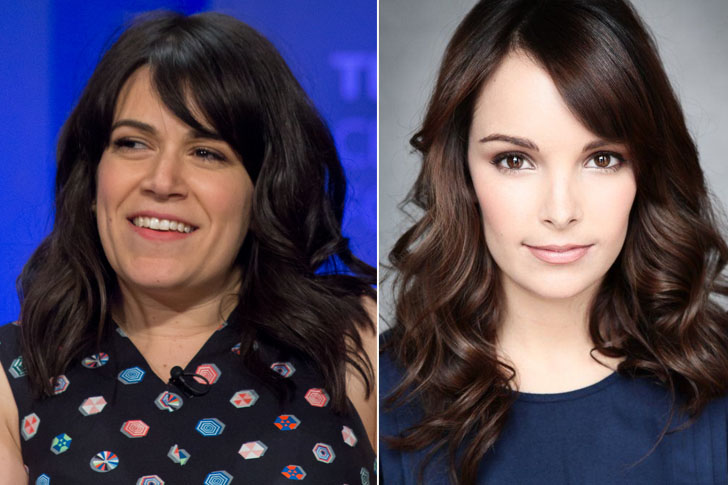 Actresses Abbi Jacobson and Jodianne Balfour have recently celebrated their first anniversary of dating. The pair shared the news on their Instagram accounts and racked up thousands of likes from their followers. Balfour, who is best known for her role in Bomb Girls, has been quite active in Hollywood. She has been given credit in various shows such as Quarry, For All Mankind, and The Crown.
Jacobson, on the other hand, found fame in her work in Broad City. She was one of the brains behind the popular show. She revealed her sexual preferences back in 2018. What's surprising was that this was the first time that the pair shared that they were dating! Their Instagram posts were filled with love, happiness, and photos of them sharing a kiss. Kudos to these two lovebirds for sharing their sweetness with their fans. We can't wait for what the new year brings to their relationship.
Jussi-Pekka Kajaala & Adam Rippon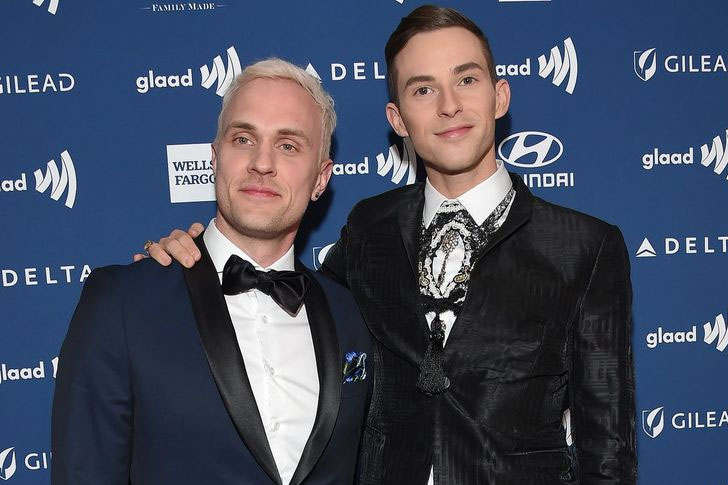 Olympic skater, Adam Rippon, had been celebrating recently, and for good reason. His fiancé, Jussi-Pekka Kajaala, is finally in LA after a year of being away from him. The pair met through a social media dating app and after a few months of DMs, they finally got together. Kajaala works as a real estate agent back in Finland. The couple revealed that they got engaged last year. Rippon was not really looking for love at the time. However, with his spectacular performance in South Korea, there were plenty of suitors approaching him.
The Dancing with the Stars celebrity found love with Kajaala, so it won't be surprising if they get married soon. Since these two are quite successful in their own fields, their investment money is sure to be going to a house of their own in LA. It's just a matter of time before they find a place they can call their own. Fortunately, they have plenty of support from their loved ones.
Jaymes Vaughan & Jonathan Bennett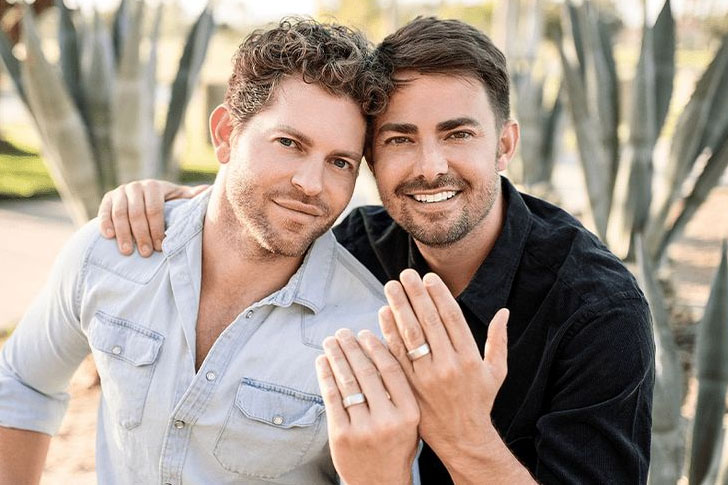 Mean Girls actor, Jonathan Bennett, has been engaged to TV anchor, Jaymes Vaughan, since last year. The two are busy planning where their wedding will take place. They originally planned to get married at the Palace Resorts in Mexico, but they were rejected. According to the star, the owner of the resort did not like the idea of his place being the venue for a same-sex couple wedding. Vaughan was determined to make their union quite loud because of this and decided to move their venue at the UNICO Hotel instead.
The couple first met when Vaughan was slated to interview Bennett. It was love at first sight! Three years into their relationship and they are ready to settle down. Bennett appeared in a recent Hallmark movie that had an LGBTQ+ theme — he felt it was a step in the right direction. To their credit, they are planning on making their wedding that more special for the LGBTQ+ community.
Stephanie Allynne & Tig Notaro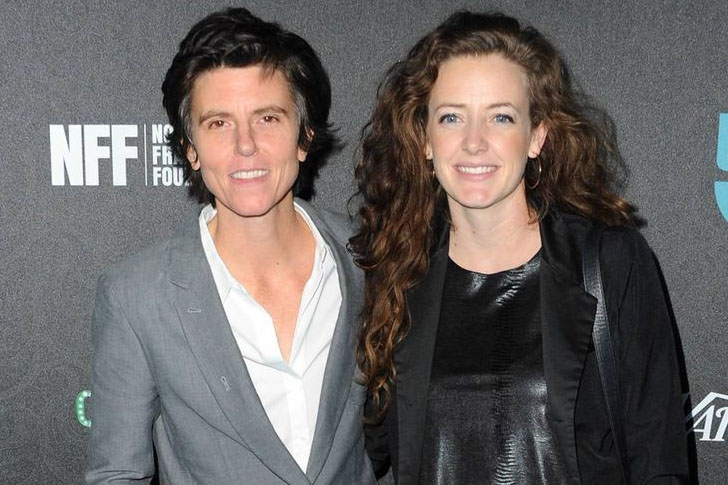 Army of the Dead star, Tig Notaro, is always gushing about her wife, Stephanie Allynne, whenever she can. This is not surprising given that she gives her credit for turning her life around. Notaro went through plenty of rough patches back in the day, but after reuniting with her co-star, she found love once again. The couple announced their engagement in 2015 and tied the knot in the same year. They have welcomed twins in their relationship, born via surrogate.
Allynne, who portrayed Nat in The L World: Generation Q, also starred in Indebted. The investments they've put into their relationship and their kids have strengthened over the years. You can tell that they are loving the life that they have built based on their social media accounts. The comedienne has never felt this good and it is all thanks to her Stephanie. It seems that these two are really made for each other!
Matt Dallas & Blue Hamilton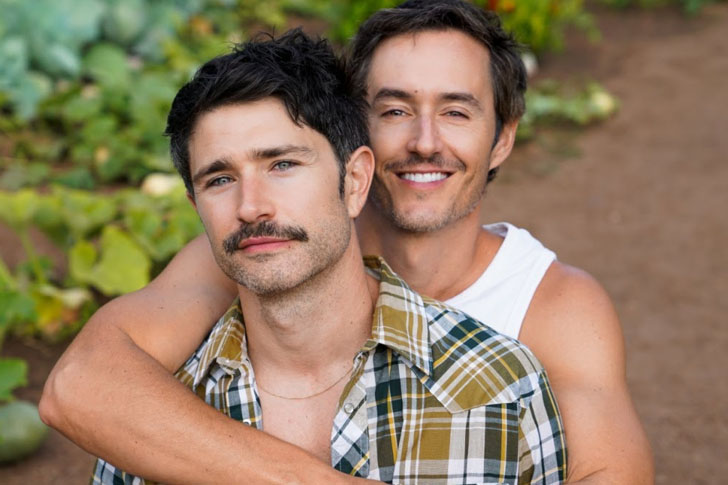 Matt Dallas rose to fame for his role in the hit series, Kyle XY. He started dating singer-songwriter Blue Hamilton in 2009 and they got married in 2015. The gorgeous couple also welcomed a son via adoption. Their little boy, Crow, has been their pride and joy ever since they first saw him. The pair have been using their investment money to ensure that their little one has everything he needs.
Aside from their respective careers, Dallas and Hamilton have their own YouTube channel called Matt + Blue. The couple had been open about their relationship and how their son, Crow, changed everything for them. Now they are showing what it is like to be two dads for their young son. They do plan on having a sibling for Crow, but they are taking things slow. For now, the couple is savoring each moment they have for their little one.
Quinn Wilson & King Princess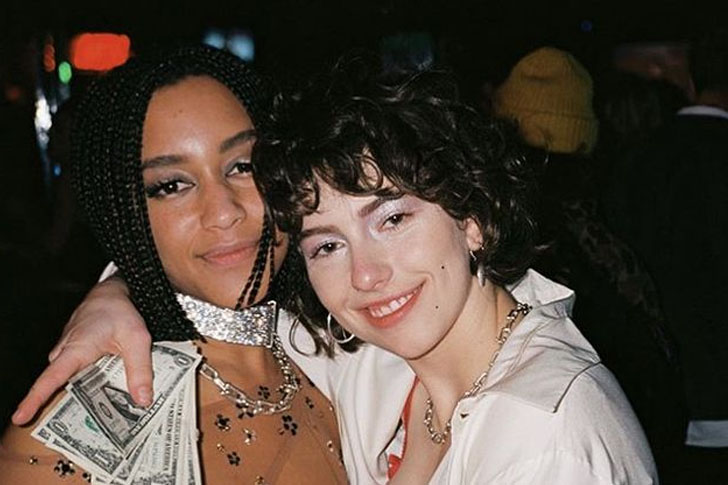 The relationship between Quinn Wilson and King Princess started out via Instagram. Mikaela Strauss, or King Princess as she is best known, DM'ed creative director Quinn Wilson saying that she loved her work. Wilson replied to her message and after a few days, the cute pair went on a date. These two creatives hit it off right from the start! Two years later, Wilson is making a name for herself by working with artists like Lizzo.
Princess, on the other hand, is enjoying her singing career as well, which means that they won't need to apply for any personal loan anytime soon. The pair have grown over the years, and Strauss admitted that she now dresses better because of Wilson. They are both laid back about their relationship though there hasn't been any talk of settling down just yet. What's sure though is that their shared closet will grow even further over the years.
Kristen Stewart & Dylan Meyer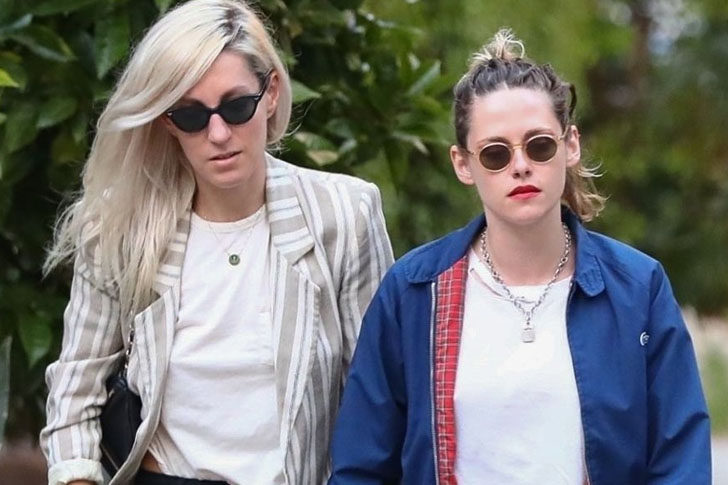 Kristen Stewart has grown to be a versatile actress. The Panic Room star had her fair share of relationships (Robert Pattinson and Rupert Sanders), but her heart found a home in Dylan Meyer. The pair first crossed paths on a project that they were both working on years ago. Even though they had known each other for six years, it was only recently that their friendship turned romantic. To their credit, they were able to keep their relationship under wraps before they were spotted packing PDA on a date.
To put the rumors to rest, the pair stepped out together to make things official. Today, they are happily engaged to one another and are looking forward to planning their wedding. Stewart, who took on the role of Lady Diana Spencer in the movie Spencer, could not help but gush about her partner. Meyer hasn't been shy about showing how much the Twilight star means to her on her IG account.
Dewey Do & Bobby Berk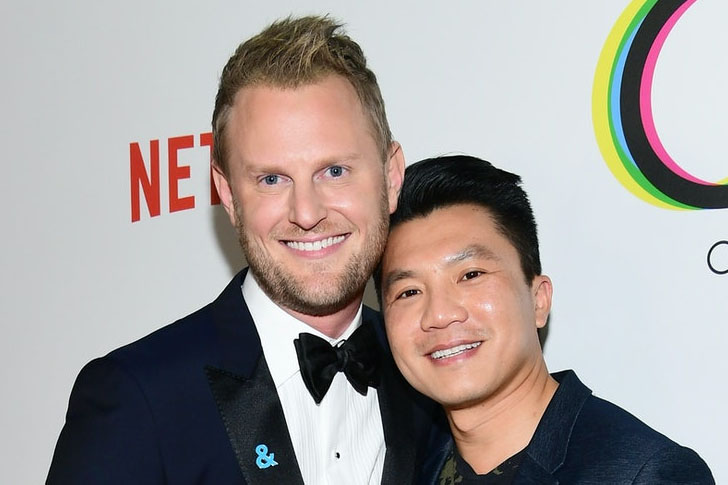 Dewey Do and Bobby Berk are enjoying married life. Berk, who is best known for being part of the show, Queer Eye, has kept mum on how the two first met. The designer started dating Do in 2004. Do works as an oral and maxillofacial surgeon. He studied at the University of Connecticut Health Center where he earned his degree. It is probably during his residency in New York City when his and Berk's paths crossed for the first time.
Fast forward to today, and the pair are enjoying eight years of wedded bliss. Both are doing great in their respective careers. Having children is part of their plan but so far, they are keeping things under wraps. It seems that they are taking their sweet time before they start raising a family of their own. For sure, they won't have any problems adding a little one to their family.
Austin P. McKenzie & Kevin McHale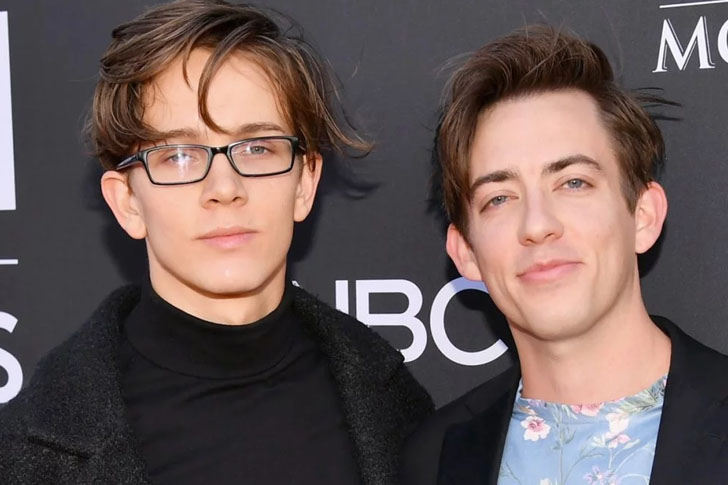 Kevin McHale is one of the fan favorites of the hit musical TV series, Glee. He has shown the world his acting chops and his impressive vocals. McHale has even shared his personal life with his fans through his social media accounts. The actor had a Covid-19 scare with his partner, singer-songwriter, Austin P. McKenzie last year. McHale accidentally gave him salmonella poisoning after serving him undercooked food. Fortunately, McKenzie was able to recuperate, but does this mean they will be using their investment money on take-outs?
Aside from their personal lives, their professional lives are doing quite well too. In fact, McHale helped direct one of McKenzie's songs for his new album which got rave reviews. These two creatives are really showing the world what they are capable of and we are here to applaud their efforts. For sure, McKenzie's newest album is going to fly off the shelves once people hear his new songs.
Jessica Betts & Niecy Nash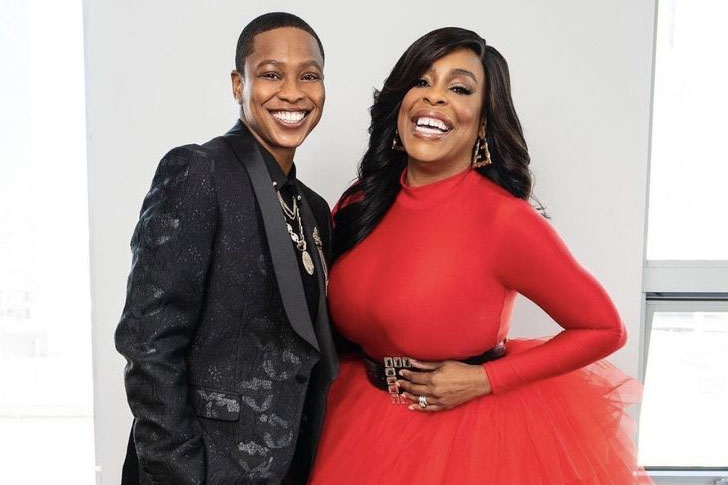 Niecy Nash just tied the knot with her partner, Jessica Betts, last year. This announcement stunned her fans who did not realize her preferences. This was not her first time getting married. Nash was married to two men before she exchanged "I do's" with Betts. The actress shared that she and Betts started out as friends and that this helped lay the foundation for their relationship. The Claws star admitted that her children were shocked when they heard the news but they are supportive of their mother.
In an interview in TODAY with Hoda and Jenna, Nash stated that she was quite happy with her "hersband", Betts. She felt like this was the first time that she was really seen. To her credit, Nash did not need to state her gender preferences publicly. She felt that it was the right moment for her to find love in her friend. No doubt that these two are going to have a strong relationship in the long run.
Miles Heizer & Connor Jessup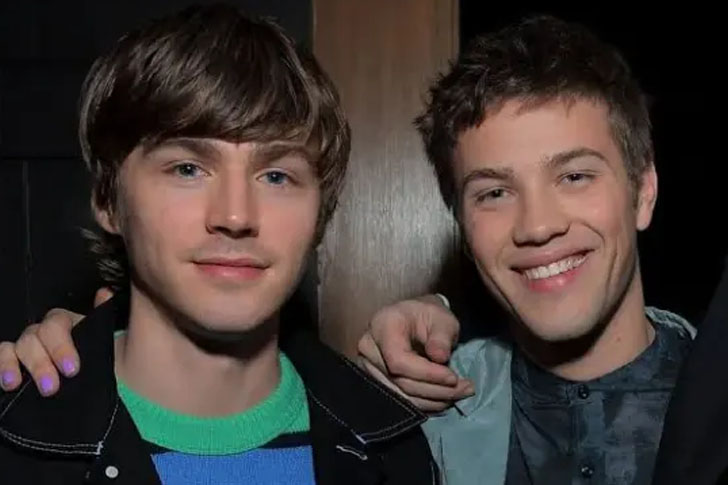 Netflix is not just a streaming platform for movies and series. It can also be a place where actors find love unexpectedly. This was true for Miles Heizer and Connor Jessup both of whom found fame in Netflix. Jessup got attention for his work on the series, Locke & Key, while Heizer is recognized for his work in 13 Reasons Why. Jessup stated their meet-cute wasn't that exciting, but it helped him be more confident about his sexuality.
Their investments in their work have certainly paid off as both are enjoying fame in Hollywood. Outside of it, these two are just like regular couples who go on dates, though they keep things private as much as possible. Miles has shared his love for art and music with his fans, and now he's sharing it with someone he loves. The pair are just too cute together!
Heather Matarazzo & Heather Turman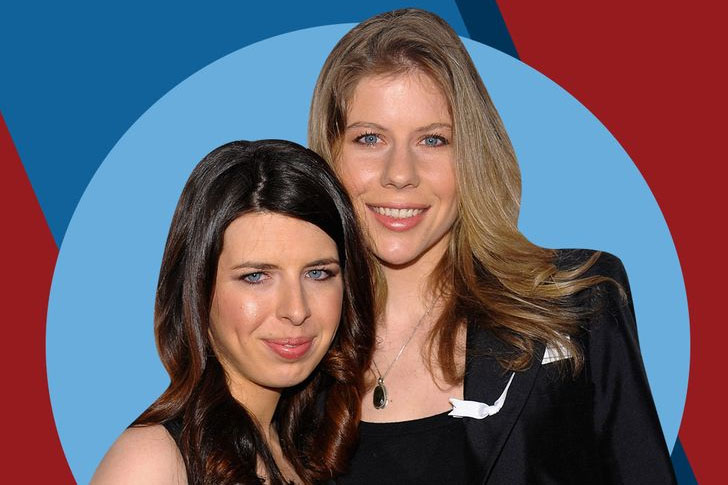 Heather Matarazzo has left a mark with her performance in The Princess Diaries. She has also made headlines when she proposed to her partner, comedian Heather Turman in 2018. The beachside proposal was simple but sweet and earned a resounding "Yes!" from Turman. The couple worked together in the film, Stuck, back in 2016. Matarazzo was a star of the show while Turman worked as its producer and writer. Their relationship turned romantic after a while. Both made it official through Instagram.
Turman has been sharing her own point of view about their relationship in her own IG account. It was filled with nothing but love for Matarazzo. She gave credit to the actress for all the hard work they have been doing together. They are certainly a match made in heaven as they both share the same passion in their creative field. No wonder they are ready to seal the deal to be with one another till death do they part.
Mark London & Jonathan Van Ness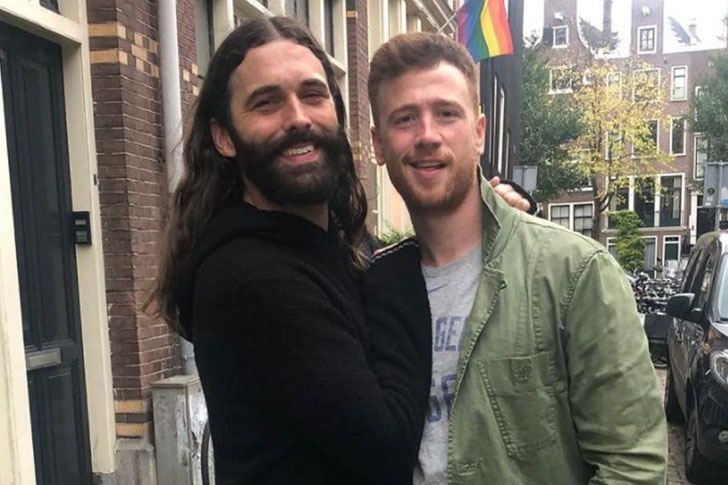 The Queer Eye member, Jonathan Van Ness, was not one to put his personal relationship out in the open. He has kept things under wraps but he has recently announced that he got married to his partner, Mark Peacock, in secret. Van Ness shared some interesting tidbits about how the two started out. It appeared they went on a date while the actor was in London for a comedy tour. That first date was followed by more dates, and soon Peacock was joining Van Ness and his family for vacations.
The actor also stated that Peacock was with him during his ups and downs which made his wedding to his best friend even more meaningful. The couple shared snaps of their secret wedding to Instagram and their followers wished them success. For sure, their investments in their relationship paid off.
Bridgett Casteen & Dot Marie Jones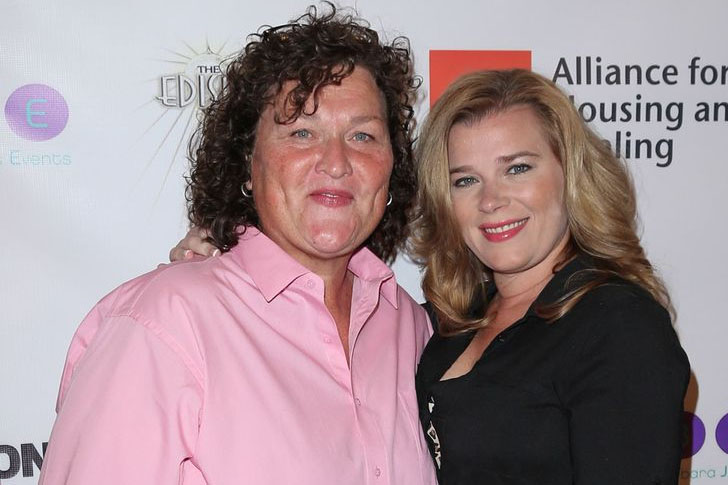 Dot-Marie Jones made a splash with her acting in the hit TV musical, Glee. She gave life to the character of Coach Shannon Beiste. Aside from that, Jones is enjoying married life with her long-time partner, Bridgett Casteen. The pair tied the knot in 2013 and have been together ever since. They have three children between them, all of whom are growing up with independence and confidence. Their wedding came as a surprise to their friends whom they invited for a holiday party. Little did they know that they were there to bear witness to their nuptials.
Their marriage has its ups and downs like the others, but one scary moment was when Casteen suffered from a stroke. Fortunately, she was able to get back on her feet after getting surgery to seal a hole in her heart. The two have enough investment money to help them live a comfortable life with their family. For sure, they will have more memorable moments together in the years to come.
TR KNIGHT & PATRICK LEAHY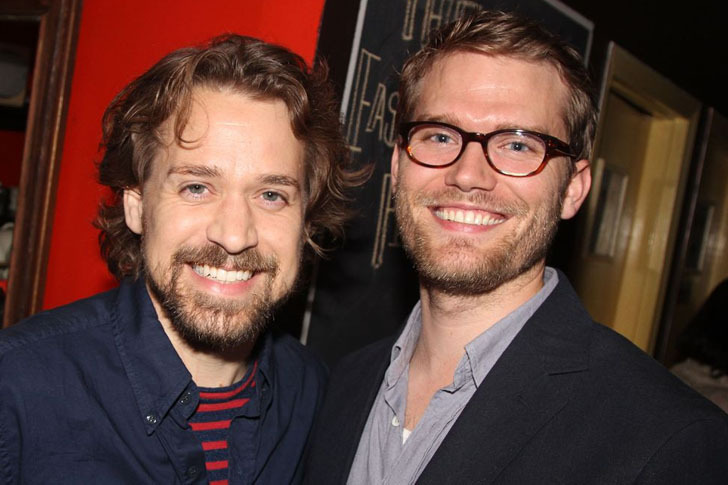 T.R Knight earned his prominent degree as Dr. George O'Malley. He was an intern in the first season of the show. Though his work wasn't quite what he had hoped for, his love life was. Knight has worked on Broadway in The Good Wife and The Catch after leaving the show. Knight married his three-year partner, ballet dancer and writer Patrick Leahy.
They met at a dinner party held by mutual friends in New York. When Knight acquired a job on Broadway shortly after, he used it as an excuse to move closer to his partner. Leahy and Knight had been dating for three years when they decided to pledge to each other formally. They exchanged vows in 2013 and have been together ever since. Knight highlighted that the more people become true to themselves, the stronger they will be. He said it was "amazing" that his marriage was legal, pointing to his wedding band.
FORTUNE FEIMSTER & JACQUELINE SMITH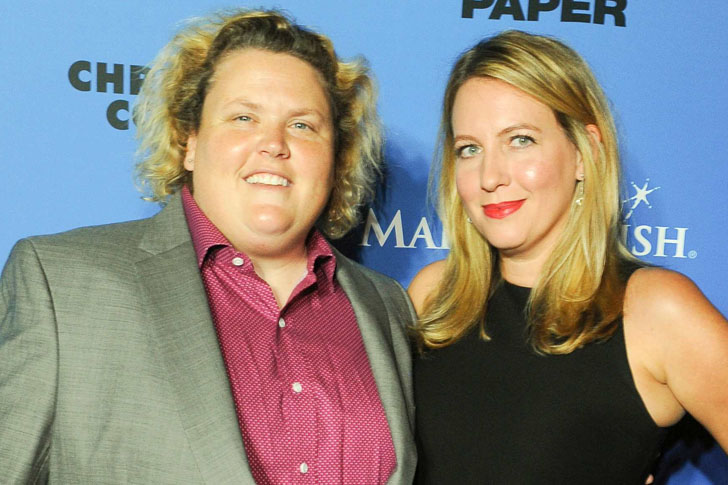 Fortune Feimster married her partner, Jacquelyn Smith, in a stunning wedding in Malibu, California. During a trip to Big Sur, California, Feimster proposed to Smith on January 5, 2018. She adored Smith's hand with a giant engagement ring.
Smith, a Michigan native, earned her bachelor's degree from Michigan State University. On the other hand, Feimster moved to Los Angeles in 2003 to pursue comedy professionally. Feimster made her first foray into the mainstream when she appeared on the Last Comic Standing. As a result of her appearances on After Lately and Chelsea Lately, Feimster became a comic to watch. Feimster is a well-known comedian and actress, and Smith works as a teacher. Yet, the two have a passion project together in their spare time. Celebrity partners remain anonymous. But, Smith is a person you can follow on social media. She has public Instagram and Facebook accounts besides her LinkedIn one.
MADISON BAILEY & MARIAH LINNEY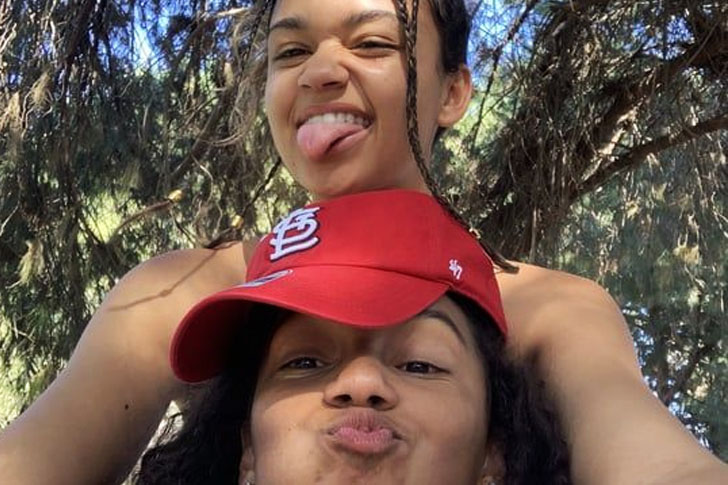 We've been gushing over Madison Bailey and Mariah Linney's adorable romance since they made their love public. The Outer Banks star and UNC basketball player initially met on TikTok. Linney posted a video about the actress. Bailey was flattered, so she began following Linney on Instagram. They exchanged messages, then met in South Carolina — and the rest is history.
Bailey's work on Netflix's Outer Banks has garnered a lot of notice. She has also appeared in several other important credits. She starred in the Shudder remake of Creepshow. On the Outer Banks, Bailey plays Kiara, an affluent woman who is also a socialist and activist. Linney and Bailey have found each other to be their eternal homes. After a year, the relationship appears to be stable, and the two are looking forward to a long future together. Who knows, maybe they'll tie the knot in a few years. The adorable couple has made it evident that they intend to stay together for a long time.
BD WONG & RICHERT SCHNORR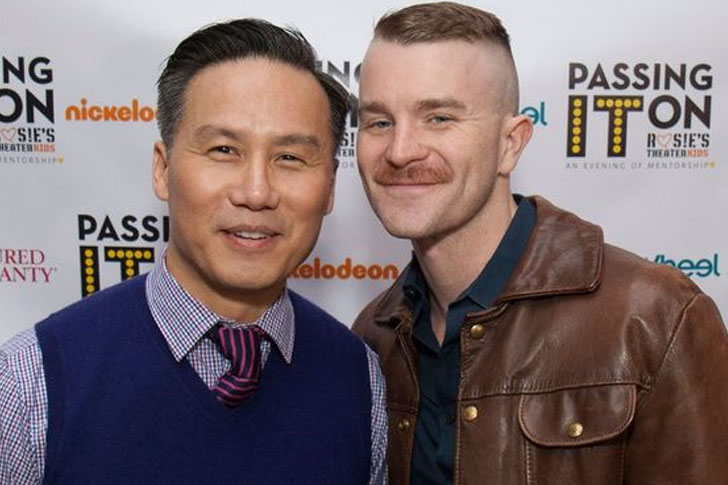 BD Wong rose to prominence and earned a Tony Award as Song Liling in M. Butterfly. He has a string of investments and is one of Hollywood's finest performers. Aside from being an excellent actor, Wong is an outspoken supporter of the LGBTQ community.
He is best known for his ten-and-a-half years as Dr. George Huang on the long-running crime drama. He's also starred in the Jurassic Park film series and the USA Network's Mr. Robot. On the other hand, Schnorr is the New York Public Library's director of digital media. The two met at a singles mixer hosted by an online dating site in New York. Since then, Schnorr and Wong became inseparable. They decided to marry before their family and friends eight years later. Every day spent with his husband is a blessing to Wong, and love always triumphs for them.
RAVEN-SYMONE & MIRANDA MADAY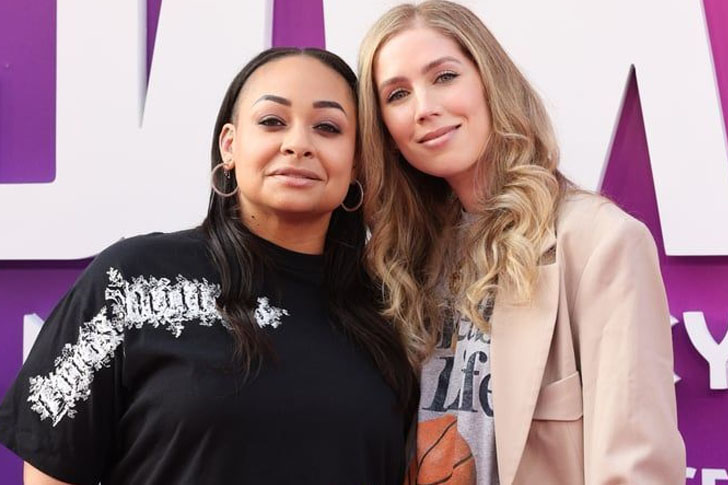 Raven-Symoné didn't come out from her preference until she left Hollywood to attend the Academy of Art University for college. She claimed that her road to self-acceptance started while she was a child star. Interestingly, she was already getting TV credits at the age of three.
Symoné and Maday have been together since they met at a karaoke event several years ago. Shortly after the two met, the actress announced that she was moving to New York and that she invited Maday. The couple married in June 2020 in a private ceremony sponsored by Raven's longtime mentor, Debbie Allen. Following the wedding, Maday hyphenated her last name to incorporate Symone's. Miranda Pearman-Maday is Maday's new name, which her new wife mentioned in the caption accompanying their good news. Their love story is stormy, but Miranda claimed that she's always known Symone was 'her person.' From the looks of it, they will be wives for the rest of their lives.
BRANDI CARLILE & CATHERINE SHEPHERD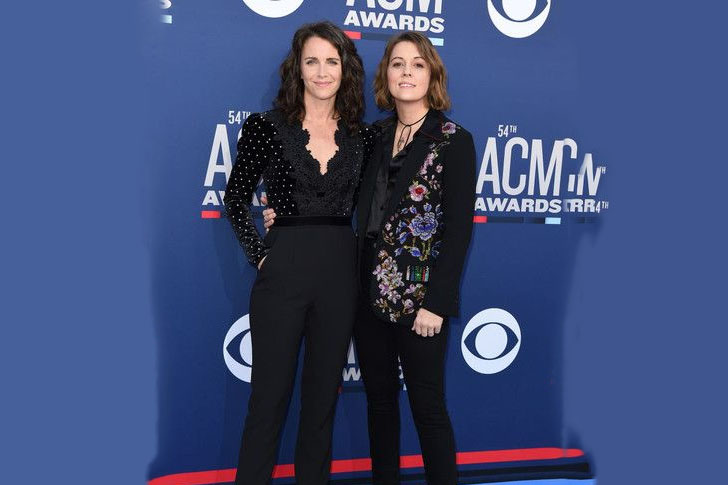 Brandi Carlile and Catherine Shepherd were together for eight years. Yet, their relationship is just becoming sweeter. Their shared passion for action and interest in charity initiatives brought them together. While Carlile had a public life and career as a singer, the couple opted to live quietly in a rural Washington investment estate. They occasionally allow followers to take a glimpse into their lives through Instagram.
Shepherd was in charge of The Beatles' Paul McCartney's charitable efforts at the time. After reading about Carlile's project, she asked if she could give McCartney's memorabilia to Carlile's Fight the Fear campaign. Sparks flew right then and there, and everything else just fell into place. They communicated for approximately a year after that. Carlile claims she thought she was talking to a 65-year-old woman the entire time. But, she acknowledged that it was a unique way to fall in love.
You've Reached The End