A Peek Inside the Most Over-the-Top Celebrity Homes

People, especially fans of rich and famous celebrities, would love to have a nice view of their idols' lives – where stars reside, who they're friends with, and their lifestyle has always caught the public's interest and curiosity. Most expect these crazy rich personalities to live in extremely luxurious houses and have extravagant lifestyles. But, you might find it shocking that there are celebrities who live their lives contrary to what you might expect. Celebrities, as you know, earn high incomes. In fact, some are overly fortunate to have millions to their name, given their salaries plus additional investments away from acting. However, despite earning large sums, there are famous stars who decided to spend their lives in a less-extravagant manner. This might mean spending less on wants, such as real estate, clothing, or gadgets.
It might come off as shocking, but here are some celebrities who chose to live in humble dwellings but, of course, with great home security. These houses are far from the giant mansions we have grown accustomed to seeing with celebrities, but are beautiful abodes, nonetheless.
BRANDON BOYD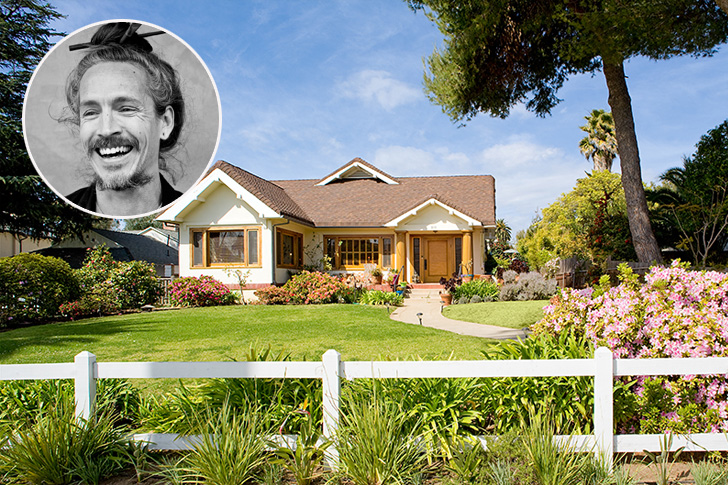 Brandon Boyd is a singer-songwriter. He is the frontman of the American rock band, Incubus. The singer is known to be a man of many talents because, other than the previously mentioned feats, he is also an author and a visual artist.
It is widely known for songwriters to isolate themselves from the world when they get inspiration to compose songs and stay inside the comfort of their luxurious homes – and Brandon definitely belongs to the group. He prefers to stay at home as an attempt to keep away from Hollywood's drama. Brandon chooses to have his situation at home low-key. Most of his time is spent in his home in Santa Monica that cost him $2.5 million. This price for a house may seem very expensive, but it is, in fact, a low cost if you compare it to the price range of properties in that area. He made this investment because it has a yurt he planned to convert as an art studio.
ELLEN POMPEO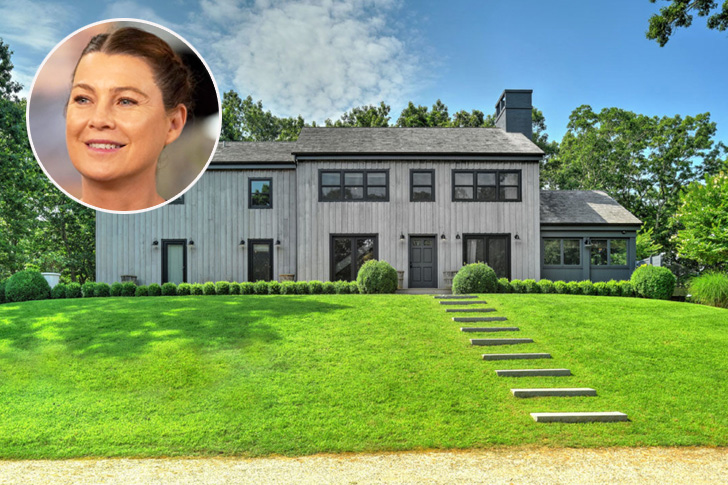 Ellen Pompeo is remarkably worth $40 million, so she has the privilege to do and buy almost anything she wants. However, she chose a concept similar to Matthew McConaughey's idea on airstream trailers, and she had designed a humble home that could give her contentment and comfort. Pompeo had decided to get her creativity into action and build the most of what she can make from her trailer's compact space.
For many years, she had been a part of Grey's Anatomy, and to have a hold of the total paychecks she had over the years would be something big. With Pompeo's income from her role in Grey's Anatomy and other shows, she could have settled to redecorate or hire other people to do all the hard work. Instead, she impressed people for being hands-on. She was given credit for her skills in designing and, at the same time, for not failing to incorporate a humble vibe into her new home.
WENDY WILLIAMS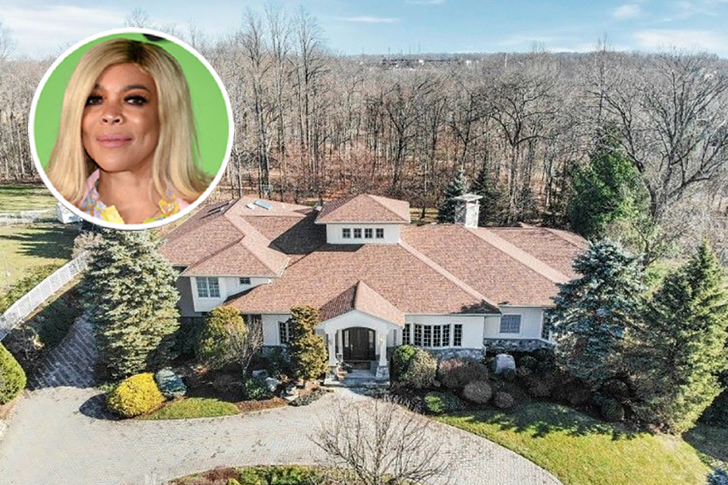 Wendy Williams is a famous American television host, businesswoman and author. Wendy's foray into television led to the successful launch of her nationally syndicated daily talk show, The Wendy Williams Show. Her books include the New York Times bestseller The Wendy Williams Experience, and she writes a weekly column for Life & Style magazine.
Williams married to her first husband, Bert Girigorie, for five months in 1994. Williams and her second husband Kevin Hunter had a son, Kevin Jr., in 2000. In April 2019 Williams filed for divorce after it was reported Hunter had fathered a child with another woman. After her divorce, eager to dump the former home where she lived with Hunter, she has reduced the asking price of her previous residence from $1.895 million to $1.699 million. However, Williams has finally sold her home at the price of $1,475,000, and she lost a bundle on the property the erstwhile pair purchased in 2009 for $2.1 million.
LAUREN CONRAD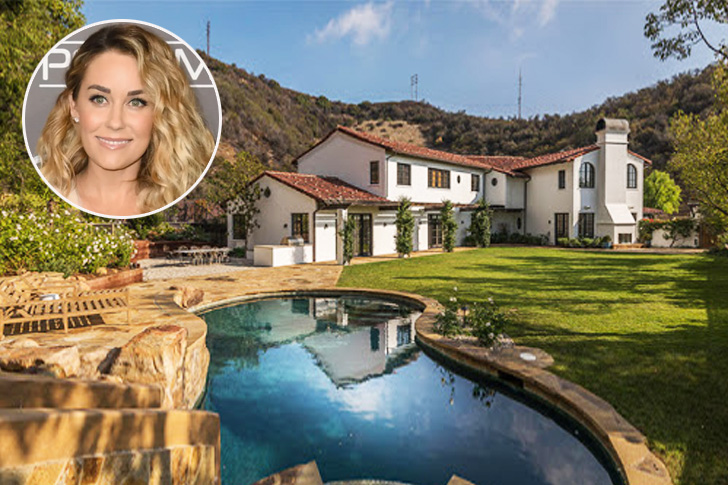 Lauren Conrad is a fashion designer. She is also a reality star and a television personality. Since 2004, when her life was documented in the series Laguna Beach: The Real Orange County, her name became famous and widely known. Her reality show, The Hills, also contributed her great credit, but since then, she stayed out of the spotlight to focus more on fashion.
Considering her fame, people expect her to have a very expensive house that would complement her lifestyle. But contrary to this, she chose to move to Beverly Hills in a three-bedroom condo as the picture shows in 2013. The condo was worth $4.4 million. It was not cheap, but the condo is far from the homes other stars usually buy. Now, she has built her own business and earned enough to purchase some properties like her Brentwood home. Though the house is gorgeous, it seemed to be too simple for her that she listed it for sale in 2017.
DEMI LOVATO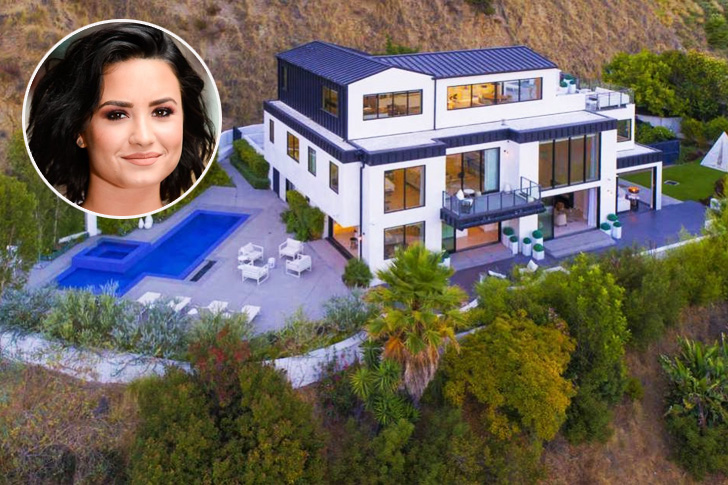 Demi Lovato started as a Disney prodigy and is now undeniably one of the biggest stars in the pop industry over the last decade. When it comes to her earnings, she had always been a humble person. Demi is worth over a whopping $15 million, but the home she resides in is a small West Coast condo. Though her condo has a compact space, it still has that lavish touch to it. After all, she is Demi Lovato.
This home of hers is located in LA, which she bought not just for herself but also for her family. She purchased this place of residence years ago and still treats it dearly. Today, the singer owns numerous properties and houses under her name, but this condo of hers is her perfect definition of cozy as it also provides her with home security. The pop star goes home to it whenever she's in LA.
MICHAEL DOUGLAS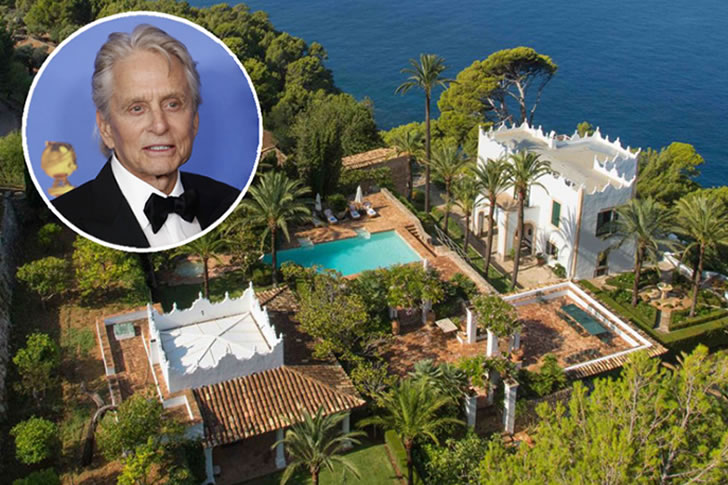 Michael Douglas, the son of Kirk Douglas, is an American actor best known for his roles in films like "Wall Street", "Fatal Attraction", "Wonder Boys" and "Behind the Candelabra." In 2000, He married the actress Catherine Zeta-Jones. Their old home is like a palace near the sea, which boasts breathtaking views and covers more than three gated and lushly landscaped acres with a total of eight bedrooms and eight bathrooms among the roughly 7,300-square-foot main house, a two-story guesthouse, a two-bedroom caretaker's cottage and a one-bedroom apartment.
This couple have slightly reduced their considerable residential footprint in New York State's fancy-pants Westchester County, selling a more than 15,000 sq. ft. Bedford Corners mansion for almost $20.5 million. After that, Douglas and Zeta-Jones moved 20 miles southeast to a modest mansion in Irvington, which costs them only $4.5 million.
CHARLOTTE RONSON & NATE RUESS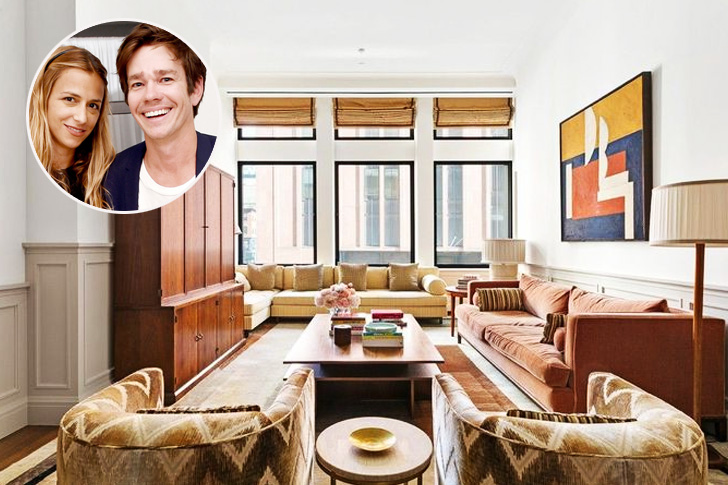 Ever since, fashion designer Charlotte Ronson had been living in Manhattan. She lived in a humble apartment and was known to be enjoying her stay there as she also shares her home's decor online. Charlotte gave a sneak peek at her apartment, from its flooring, walls, to its furniture. The celebrity even demonstrated how she saves space, considering that the place was not so roomy. However, after having a baby with Nate, she upgraded her room but still chose convenience and comfort rather than something grand and luxurious.
All in all, the space in their new home is still compact. However, it is quite bigger than Charlotte's previous home. The house is spacious enough to make way for their baby's things like toys and clothes. They have chosen to integrate a minimalistic design to their apartment and have generally kept it smart, making anyone who walks in feel at home.
TIM COOK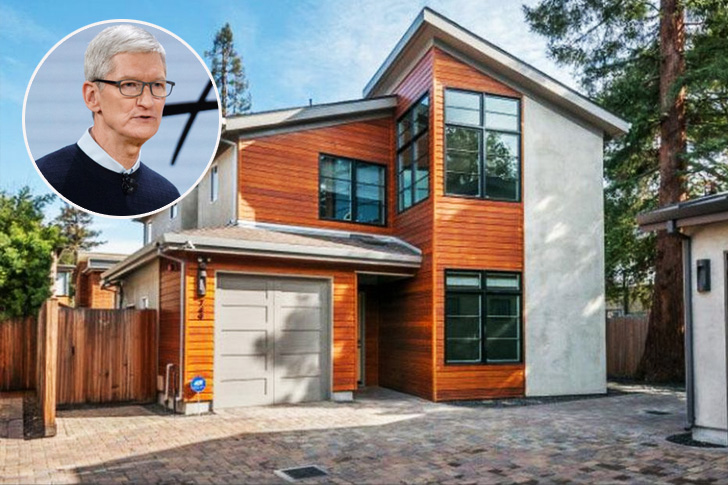 Tim Cook is famously known as the CEO of one of the largest companies in the world, Apple. Tim is worth an incredible $625 million. Very opposite to what is expected from him in terms of his choice of home, he opted to live in a pretty and modest house located in Palo Alto, California. The Apple CEO had chosen to live a life of modesty, with a condo as a home that has only four bedrooms and a tiny yard.
Cook believes that the way of living he had chosen is a constant reminder for him of where he had come from before he reached all the success he has now. And for Cook, money is not what motivates him. He just enjoys his work and decides to focus on that aspect. Also, he doesn't get caught up with his bank account as well as his credit report, probably.
VINCENT KARTHEISER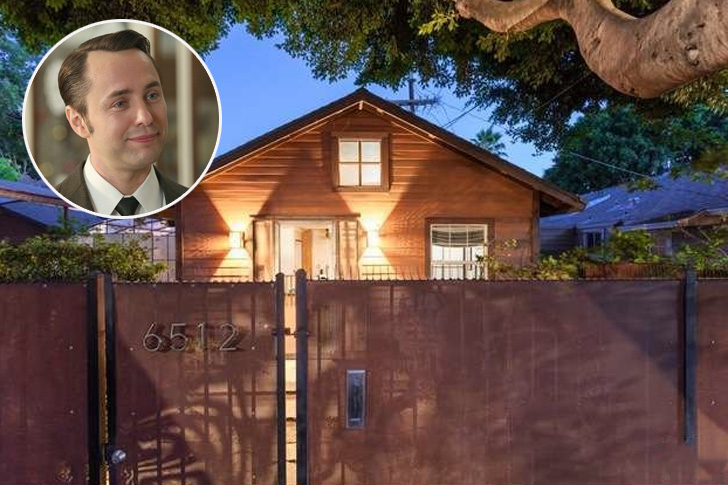 Vincent Kartheiser is known today as the husband of Alexis Bledel. They met on the set of Mad Men. The couple started dating in late 2012 and were married in California in June 2014. But, before the actor was married to Alexis, he had been living alone with a minimal life in his own pad.
He lived for over ten years in his cool tiny bungalow. Though his home was compact, it wasn't just that; it was also designed in a clever way with techniques that help save space. An example of this would be his double bed. Whenever he would want to sleep, he needs to pull it down from being suspended in the ceiling until it reaches his aesthetic flooring. Though his place was compact, he is undeniably proud of it. However, he had left his bachelor pad when he started a family with his wife, Alexis. Still, although he could definitely afford a luxurious life, he moved to a place with at least a bedroom for his kid.
MAMA JUNE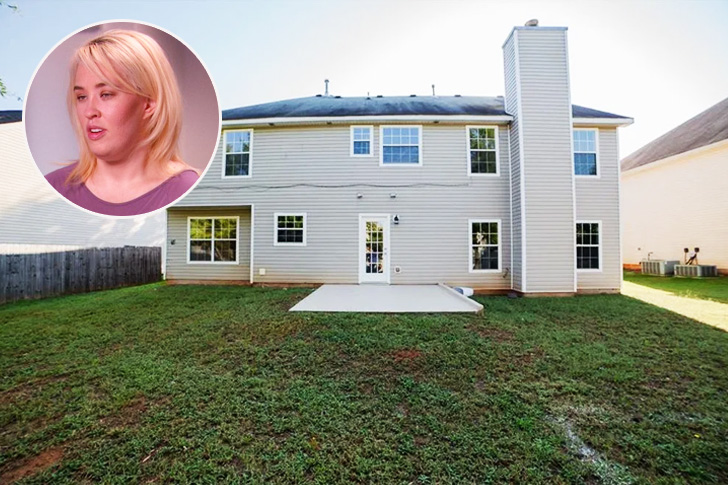 Mama June is the mom of Honey Boo Boo. She is a reality TV star who had appeared in various reality shows, and one of these is the Toddlers & Tiaras, where she played the role of a pageant mom. Later on, Mama June and her family were given a show of their own, and it was called Here Comes Honey Boo Boo. In another TV show, Mama June: From Not to Hot, her weight loss journey was aired as the show's content.
Mama June had earned fame and an incredible amount of money, credits to these reality shows. Though she earned a lot and reached a net worth of $1 million, the star did not spend so much on her home. Though her house looks expensive, it only cost her a bargain price of $148,000. Her house is a suburban home that has four bedrooms and is quite a nice place to settle.
ROSIE O'DONNELL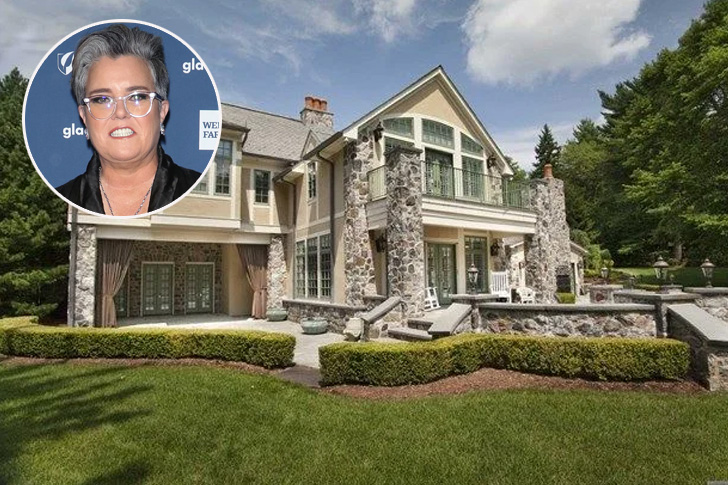 Rosie O'Donnell is an American stand-up comedienne, actress, author, and media personality. She was born in Commack, Long Island, New York, on March 21, 1962. Her own daytime talk show, "The Rosie O'Donnell Show" was highly successful, and won multiple Emmy Awards. She also appeared in the sports comedy-drama "A League of Their Own" alongside stars like Tom Hanks, Madonna, and Geena Davis.
With her successful and long-spanning showbiz career, the actress gained numerous properties under her name, which is information you would probably see in her credit reports. Because of this, she also had a reputation for being a real estate mogul. But among these luxurious and incredible houses, Rosie O'Donnell chose to buy a small and modest home along the Hudson River. There is no doubt that her home is still stunning, and although its size may seem average, what's important is that it can provide its inhabitants a cozy and comfortable feeling rather than just being grand and spacious.
JOSEPH GORDON-LEVITT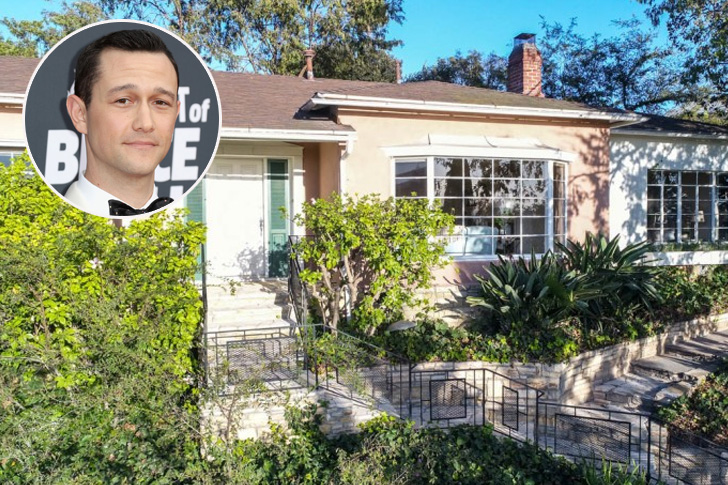 Joseph Gordon-Levitt has been in the industry since he was young. Since then, he had been providing entertainment to the viewers. As a child actor, he became famous for roles in shows like 3rd Rock From the Sun and movies like 10 Things I Hate About You. Throughout his career, Joseph Gordon-Levitt has won numerous awards, including a Primetime Emmy. Until now, he is a prime Hollywood actor –and one of those who agree that style is worth more than the substance.
In most instances, when deciding for a house to buy the term, 'style over substance' seems to make great sense. Far from the other A-list personalities who own extra and grand homes like those in Franklin Hills, his home is not the humongous type as it looks very much like those average on the outside. The home cost him $3 million as he bought it to be remodeled, so when you take a look at the house's interior, it is as stunning as a palace beginning from its flooring, walls, ceiling, and up to its pieces of furniture.
WOLF BLITZER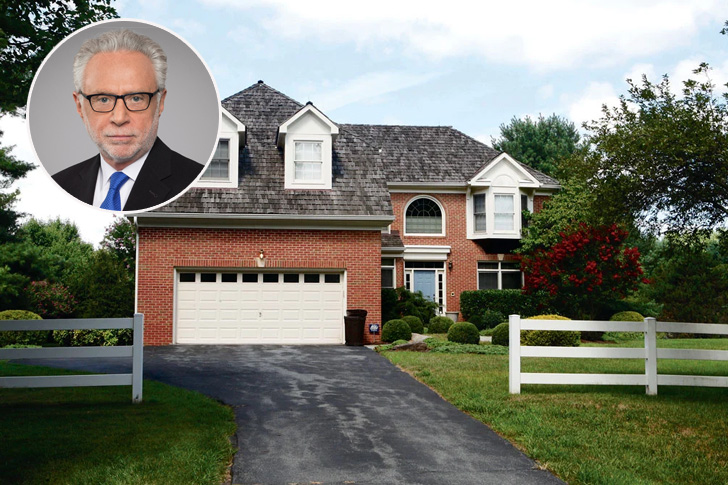 Wolf Blitzer is a famous newsman known for his appearances on television as he supplies his in-depth articles to the public. Blitzer has been a reporter for CNN since 1990. He is highly regarded for his expertise in U.S. politics as well as international affairs, particularly, in matters of the Middle East. Blitzer is estimated to be worth $16 million, yet he chose a pretty ordinary-looking family's home. The broadcast journalist and his wife purchased a home in Bethesda, Maryland.
Yes, the house's location is very convenient for Blitzer, but he could definitely manage home finance and to purchase a larger house if he wants. Instead, he had chosen a house that costs $710,000 – which is barely even a large amount for him. He had actually lived in his humble home with his wife since 1990. Blitzer is exactly where he wants to be in his life and did not see a need for a bigger square area.
MEREDITH VIEIRA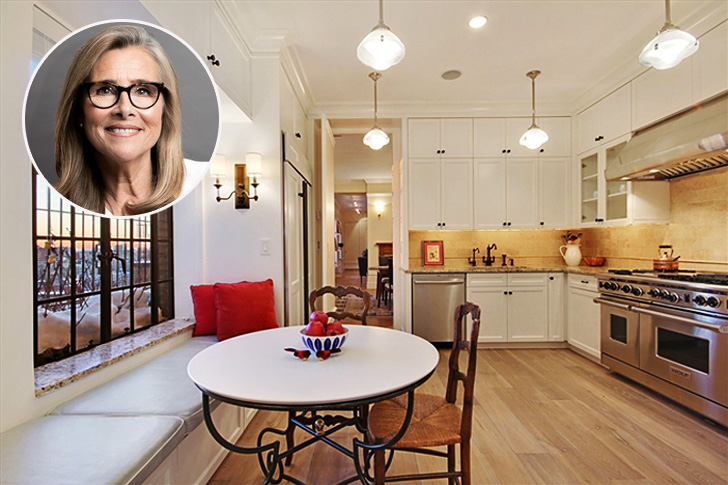 Meredith Vieira is a broadcast journalist and a TV host. Meredith Vieira was born on December 30, 1953 in East Providence, Rhode Island. Vieira is probably most widely known today as a journalist who is a co-anchor on the Today Show on NBC alongside Matt Lauer. Currently, Meridith shows up regularly on our screens in which she earned great credit, making her one of journalism's most recognizable faces.
With her incredible recognition, one would surely assume her house to be a place someone could only dream of living in. However, that is not the case because, contrary to the expectation, her home is not as majestic as you imagine. The TV host is said to be worth more than $10 million, and the home that she bought only cost her $1.1 million. Lena's modest home has a view of the Hollywood sign, and it is located in the heart of LA with three bedrooms. Though this price and the house may seem expensive and huge already, it is relatively small compared to other celebrities' homes.
JACK WHITE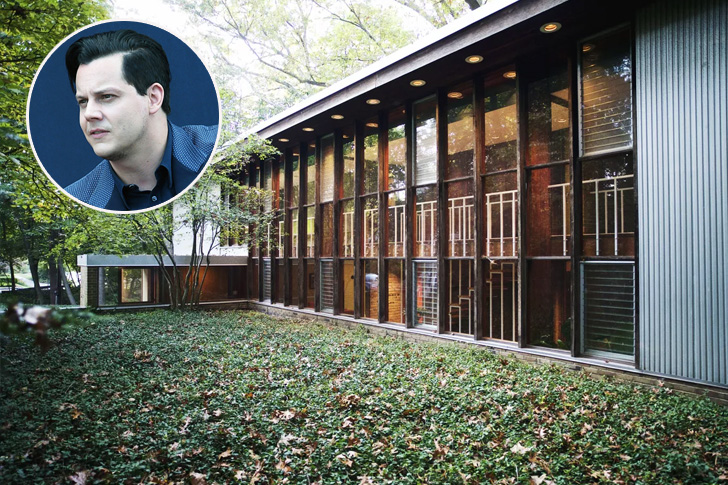 Jack White is an American singer, songwriter, musician, multi-instrumentalist, and producer. He is best known as the lead singer and guitarist of the duo The White Stripes but has also had success in other bands and as a solo artist. He is widely credited as one of the key artists in the garage rock revival of the 2000s. Despite Jack White being a millionaire and having a high net worth, he had chosen to buy a home in Kalamazoo, Michigan, which only cost him $510,000 – a price nothing compared to what he is earning.
Yes, the house's design may not be within the range to be called a simple place, but it definitely is not like those of the typical luxury homes of celebrities. Before Jack White had started his career as a musician, he previously worked as an upholstery apprentice. This fact had led people to think that he somehow has this unexpected interest in architecture. His experience and background for working in the upholstery field are credited for his engrossment in the design of his house.
EMMA STONE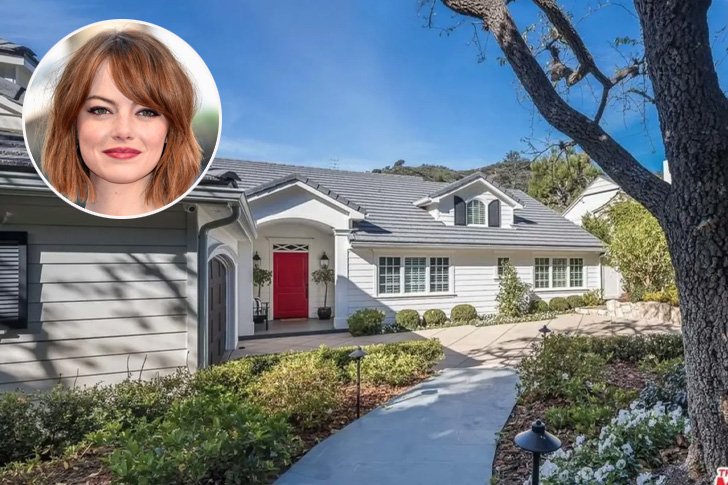 Emma Stone is one of the most loved and well-respected female personalities in the industry. She is Hollywood's red-head golden girl. The recipient of numerous awards and accolades, including an Academy Award and Golden Globe Award, she was the world's highest-paid actress in 2017. Emma had gained her fame at a fast pace, but she remains very down to earth.
In line with this, she had bought the house she always had dreamed of as a reward for all her hard work and effort. The house she bought is a property most could only imagine of having, as it a home in Beverly Hills that cost a whopping $3.3 million. Emma Stone's house has four bedrooms and a usual but comfortable home kitchen. In addition to this, her modest home has an average-sized pool in its backyard and a good home security system. Her home covers a total of 3,000 square feet.
JOHN KRASINSKI & EMILY BLUNT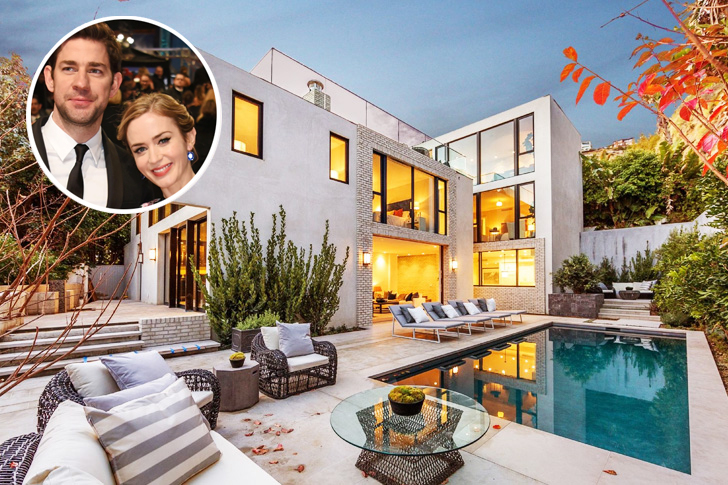 John Krasinski had enjoyed his bachelor days living a simple life with only just a few things to worry about. In fact, he wanted a very simple way of living that his previous pad as a bachelor had little to no furniture. He only kept the basic creature comforts for his needs. Maybe he didn't spend most of his time in that home since he was often out and traveling.
But after marrying Emily Blunt and having children, Krasinski decided to upgrade his house to a quite bigger one with home insurance. They sold their Hollywood Hills home for $6.5 million, and a few months later, they moved into a pre-war townhouse in Brooklyn; they paid $6 million for the 6-bedroom townhouse and spent $300,000 on renovations before moving in. Having a few rooms made him more than glad, and he was content with this house. It is pleasant to have an accommodating home for family and guests, of course, if you have the money.
MICHAEL SYMON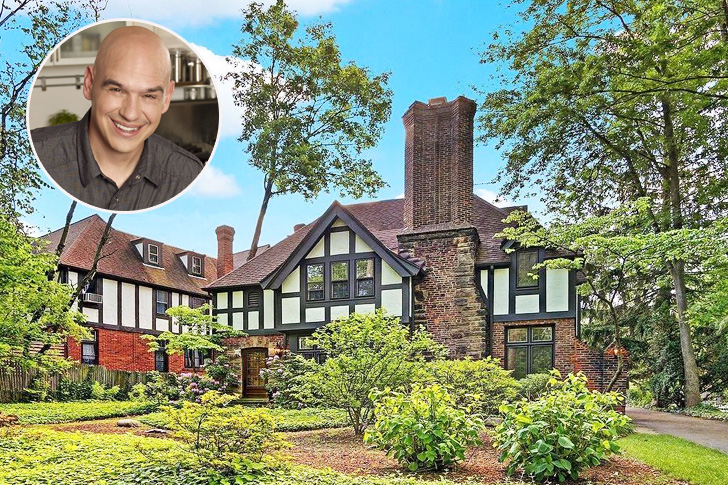 Michael Symon is a chef, and being an owner of numerous restaurants makes it pretty evident that he can definitely afford to buy many expensive things and multiple properties with his money. However, he seemed to have obviously been enjoying the space or area offered by a countryside house. He had a moderately basic interior design, but he had made sure that there would be a phenomenal kitchen.
Michael Symon's home shows off a cozy fireplace with a mounted TV above it. A magnificent kitchen is certainly an aspect which is very important in a professional TV chef's house. Even if he had a whopping net worth of $4 million, the home he had purchased only cost him a mere $500,000. Overall, his house screams simplicity beginning from its flooring and other details too. But, of course, it had a few things to make a statement.
SIMON HELBERG
Simon Helberg is a The Big Bang Theory alum who has provided us with amazement in his role as Howard Wolowitz. Credits to his term in the show, he became worth around $45 million. Simon had a heightening fandom and income. Along with it, he also wanted to find a place where he could settle. And so he bought a humble home worth $950 000 – a mere fraction of his million-dollar mark.
However, he did not stay very long in his first home. He had to move into a larger house because he had built a family of his own together with his wife and kids. They purchased a sprawling, 4,000 square foot, 1930's era Spanish Colonial style home for roughly $6.9 million in 2019. Needless to say, the actor would never forget the first-ever home he bought with his hard-earned money.
PETE WENZ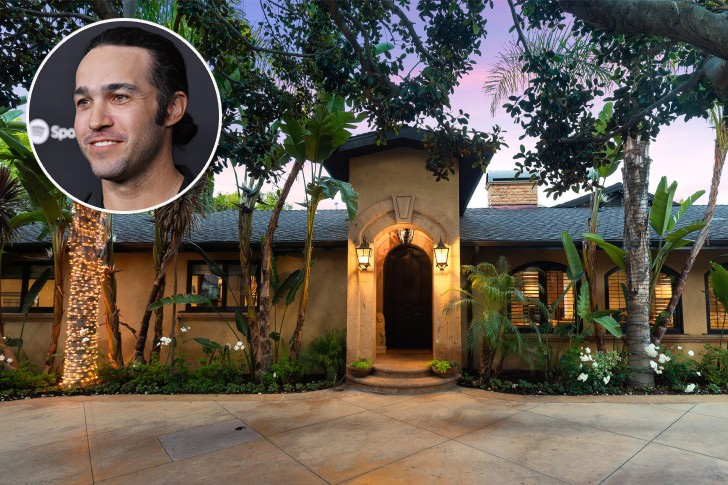 Pete Wentz is part of the band Fall Out Boy, one of the biggest bands the pop-punk world has. He is a remarkably popular rock star with an estimated worth of $16 million. Rock stars in the past have always been perceived with a reputation for enjoying lavish luxury and over-indulgence. However, Wentz strays from the generalization of rock stars since he is far from those expectations. He is unlike your typical rock star as he has his own way of enjoying what he wants in life. He chooses not to overspend, which is evident in his choice of home. Wentz bought his humble residence with investment money of only $1 million.
However, since Wentz got married and built a family, he had sold his previous home. The home he lives in today is still worth a small portion compared to his earnings. In 2019, Pete acquired a new mansion in Beverly Hills for $5.5 million. The property spans over 5,600 square feet and sits amidst estates owned by prominent celebrities in the prestigious gated community known as The Summit. Notable features include a pool, cabana, and formal gardens.
ELIJAH WOOD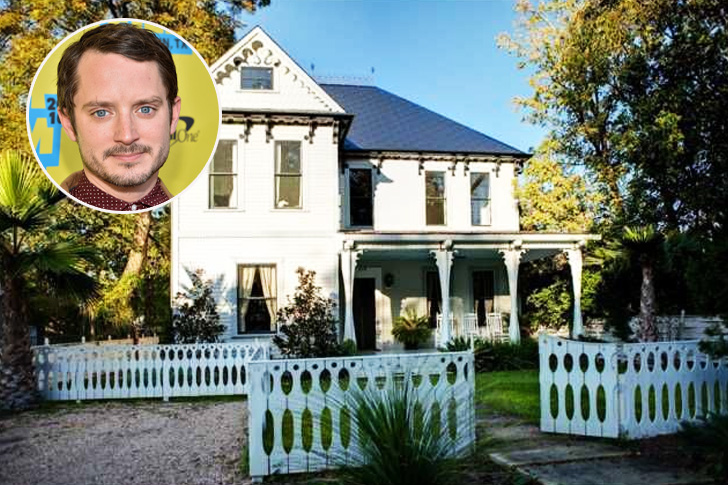 The Lord of the Rings actor, Elijah Wood, earned a humongous amount of money from starring in the said film franchise. Elijah Wood was born in Cedar Rapids, Iowa in 1981. He has been an acter since he was a very young child. Elijah is said to be at least worth $18 million, which is enough insurance for him to be set for life. Despite his very high income, the actor had chosen to downsize his living from a luxurious one down into living in a basic Victorian-style house located in Austin, Texas.
The place he had purchased had a $698,750 bargain price, something way below Elijah's affordability bracket. The actor has not been doing much acting at the moment, and there were sources who proposed that this change is connected to his shifting of focus to his passion for music. It is said to be the reason why he had decided to buy a home in the diverse range of Austin out of all places.
ELLEN PAGE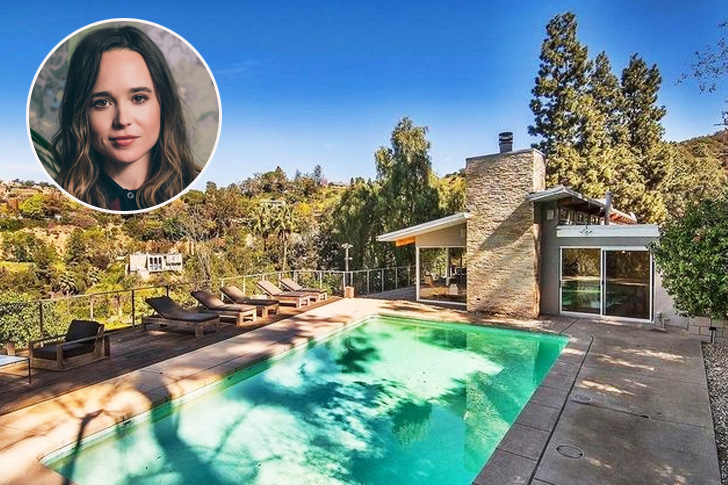 Elliot Page, formerly known as Ellen Page, is a Canadian actor and director. Page first gained widespread attention after starring as a pregnant teenager in the film 2007 "Juno", and appeared in dozens of films including a number of very popular and successful ones like "Whip It", "Inception" and "X-Men". She bought a studio home without even being bothered to show off her incredible net worth. She is estimated to be worth $18 million but still opted to have a home valued at no more than $885,000.
For her, it is more than enough. The actress has become her own financial advisor, as she had just made sure to spend her money wisely. Ellen clearly didn't want other things than what she currently has, and so you can see most of the items inside her house are similar to those found in typical ones. In addition to her cozy home, the actress also has a swimming pool just outside surrounded by abundant foliage. However, Ellen Page has upgraded her house with her partner since they got into a relationship.
TORI SPELLING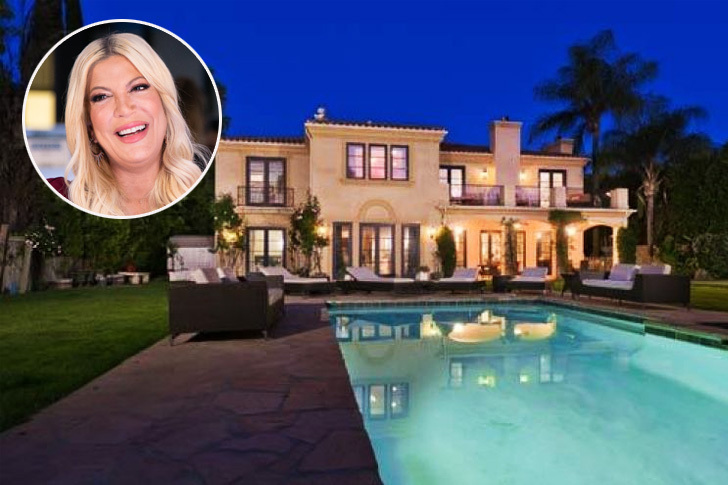 Tori Spelling is probably best known for playing the role of Donna Martin on the 90s TV series "Beverly Hills, 90210". Tori Spelling has a reputation for moving from one house to another. She doesn't seem to stay for long in one place. In 2016, it was reported that Spelling and her family had moved into eight different houses, which happened only in a span of six years – something most of us would find too frequent.
But as an actress and media personality, Tori can live a way of life where she has no problem with the money used to buy these new wonderful houses. But the houses where Spelling and her family have stayed have not-too-luxurious features, to a certain degree, and have a modernized type of farmyard. Spelling has now settled in a new place with an appropriate size for her growing family as she announced that she was pregnant with her fourth baby in 2012.
DAVE GROHL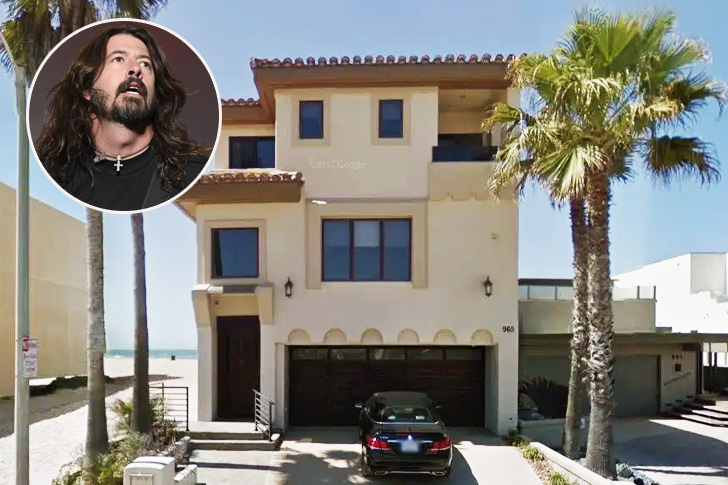 Dave Grohl is a rock star sensation who has enjoyed living in his simple beach home, and he was more than happy with it even though it only had a few embellishments. David Grohl was born on January 14, 1969, in Warren, Ohio. His first concert was a 1982 Naked Raygun show at the legendary Cubby Bear bar in Chicago. He was 13. He has an eye for the simple things in life. What's important for him is the beautiful scenery in front of him every morning.
It is very mind-blowing if you consider that the home he resided in and spent so many years of his life only cost him 3 million dollars while he is worth 280 million dollars. Although just recently, he sold his home and made $4 million from it. The rock star had spent a $3 million investment on buying the beach house, and so, he had earned quite a modest profit if you weigh it up with his remarkable bank account.
NICKY HILTON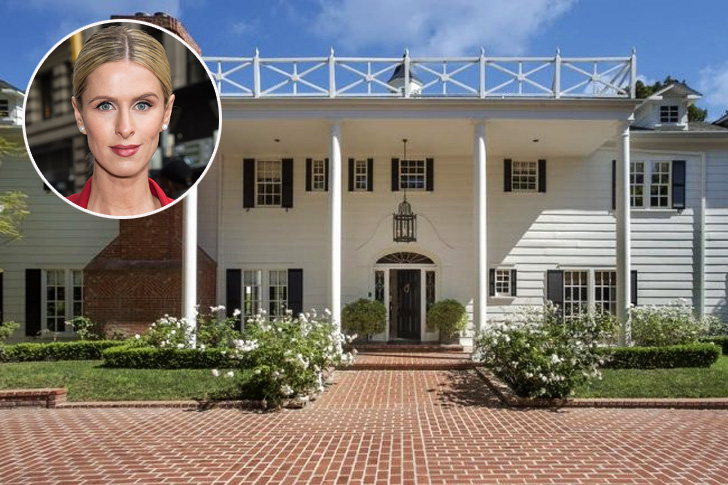 The Hilton family is one of the famous families there is as they have been earning dollars for so long that no one can quite remember when it had begun, and they never held back in showing off their riches. It seems that Paris is more in the spotlight among the Hilton family members as she lives her lavish lifestyle. Nicky, her sister, prefers to live in a little less extravagant way.
Nicky Hilton is connected to two of the most wealthy families in the world. Born into the Hilton family, she is an heiress to a 100-year-old hotel empire. Through her marriage, Nicky Hilton is also connected to the Rothschild family, which held the largest private fortune in the world during the 19th century. Nicky had chosen to buy a three-bedroom home for herself in Los Angeles in 2007. The house that the hotel heiress purchased cost her investment money of $3.8 million, a price considered low for her affordability range. She lived in that home until 2015 when she married her husband, James Rothschild.
DON CHEADLE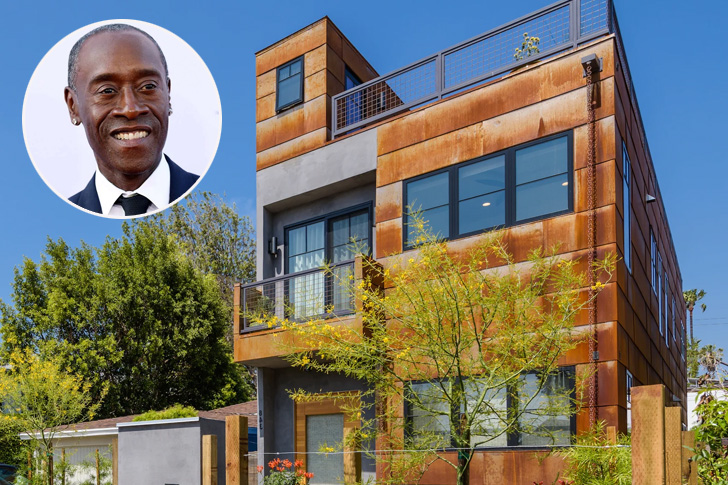 Born November 29, 1964 in Kansas City, Missouri, Don Cheadle is a famous actor and a budding fixer-upper, whose lead role as Rwandan hotel manager Paul Rusesabagina in the genocide drama film Hotel Rwanda earned him a nomination for an Academy Award for Best Actor. Together with his wife, Bridgid Coulter, he is well known for purchasing small houses. Consequently, the pair turn them into eco-friendly spaces and sell them to earn a hefty profit.
The latest house he bought for themselves, which has a price of $894,000, is a 1950s bungalow located in Venice, California. He bought it so he can expand and improve it. The couple was very hands-on on this project, and though it is small inside, they designed it perfectly from the flooring up to its ceiling. This home has three bedrooms and two and a half bathrooms. The large roof terrace is an addition to its unique look, where it presents a very beautiful view of its surroundings.
KATE MIDDLETON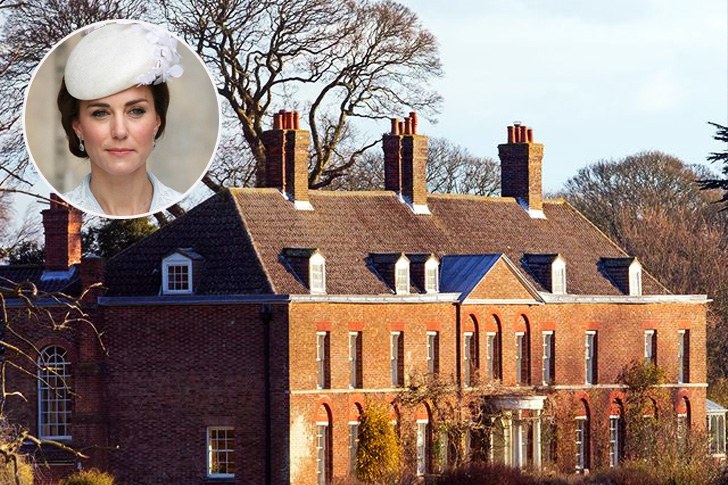 Kate Middleton, also known as Catherine Elizabeth Middleton, and Catherine, Duchess of Cambridge, is married to Prince William. Kate Middleton has had her fair share of luxurious and extravagant mansions. No wonder you will find her on lists of people with lavish homes. Kate is now a part of the British royal family as she is married to the Duke of Cambridge, Prince William.
She is addressed as the Duchess of Cambridge, but before this, she once shared a standard apartment with her sister, Pippa. The sisters stayed in their London home, which was only large enough for the two of them to live in coziness and comfort. The space was affordable and within the price range, but the level of its home security was unknown. Their previous home's price is a definite far cry from where Kate lives now – the Kensington Palace.
PAUL MCCARTNEY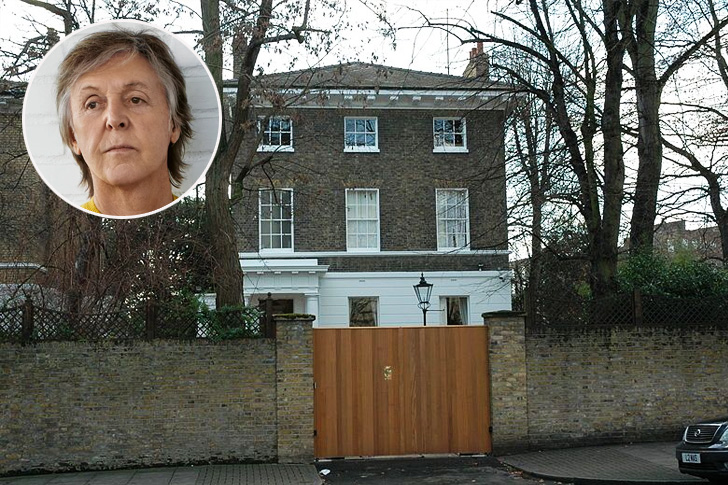 Born on June 18, 1942 and raised in Liverpool, England, Paul McCartney is a former member of The Beatles. He is a musician who is probably one of the most famous in the world. McCartney is said to be worth $1.2 billion, and with this wealth, he has insurance that he can live an extravagant life.
However, the musician does not have much interest in expensive properties. Instead, he chose to live a rather humble lifestyle in one of London's modest homes. Just like all the houses in his street, the place he resides in is all looking pretty. The actor had always been thrifty and always made sure his money would be spent on the right expenses. His friends even call and label him as "cheap" because of his reputation for being frugal. However, actually Paul owns at least $100 million worth of real estate around the globe.
BILL AND GUILIANA RANCIC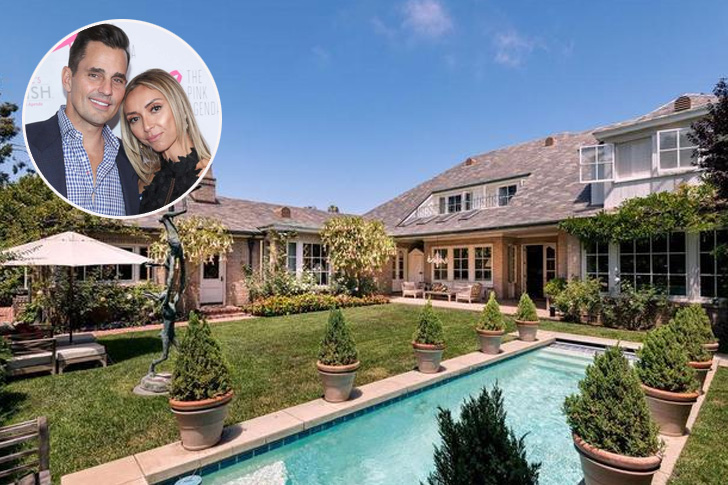 Giuliana Rancic is an Italian-American television news anchor. Her hudband Bill is an entrepreneur who was a competitor on the first season of reality television show "The Apprentice". Bill and Guiliana Rancic is a famous couple. Since both are famous as individuals, to begin with, they first started to receive many criticisms during the beginning of their relationship since no one had thought they were actually real lovers. But, they proved their love for each other and are now married for over ten years.
The couple's combined net worth is estimated to be as high as $12 million. Despite their wealth, they have chosen a different approach than most celebrities in their choice of home. They had a reality show, and as it became successful, they have also earned a fortune. While others would have chosen a house in Beverly Hills, their choice was a brownstone in Chicago that cost them $2.1 million, which they made sure to have a good home security system.
TOM SHADYAC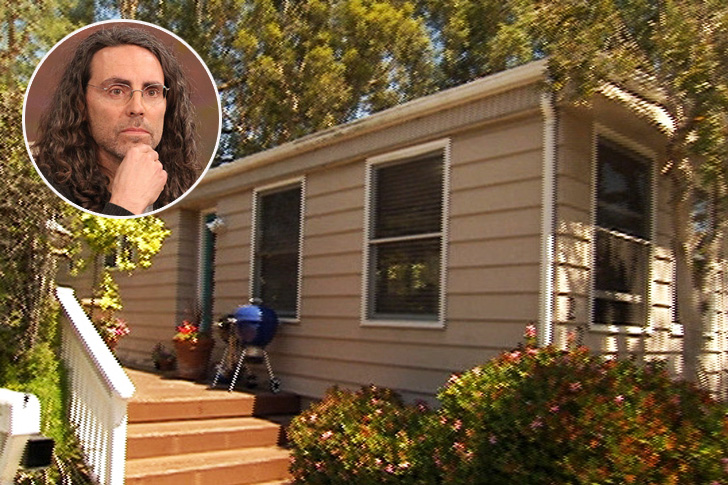 Tom Shadyac is a director of numerous hit movies, including Ace Ventura, Bruce Almighty, and Patch Adams. Born in Falls Church, Virginia, Tom Shadyac graduated from the University of Virginia, and then went on to film school at the University of California-Los Angeles. It is not very easy for a director to keep up with everything and everyone, though it may seem like it. Even with these successful movies that earned him many credits, his choice for a home of residence is a trailer by the Malibu Beach.
In 2007, he had met an accident that took part in his change of perspective in life. Due to this, he gave a large amount, which was three-quarters of his fortune, to a charity. Other than that, he also set up a shelter and home finance for homeless people in Virginia. The director's reason is that he feels wealthier as he gives more.
DEION SANDERS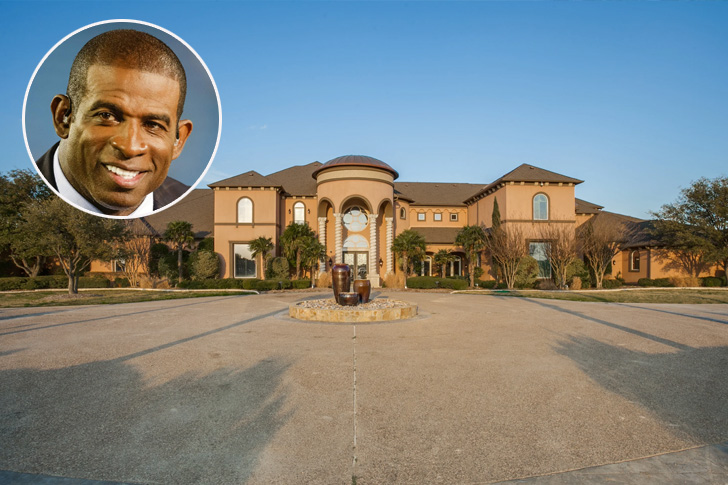 Considered as one of the most gifted athletes of all time and one of the very few who excelled in two professional sports at the same time, Deion Sanders is a super-rich retired NFL star. Despite being an utterly wealthy man, it still does not provide insurance that everything he owns is the biggest and basically the best. Deion, together with his wife, Tracey, have just purchased a vacation house for themselves where they can spend time having the comfort that they need.
The home is neither too big nor too small as it is 600 square feet. Yes, most people don't have the luxury and capability of buying a second home, but Deion's vacation house is a downsized version of what they can afford. Their home proves that size is not the only thing that would matter when it comes to a home, but rather it is also how modest it is and how it can give you a low-key life if it is your choice.
LENA DUNHAM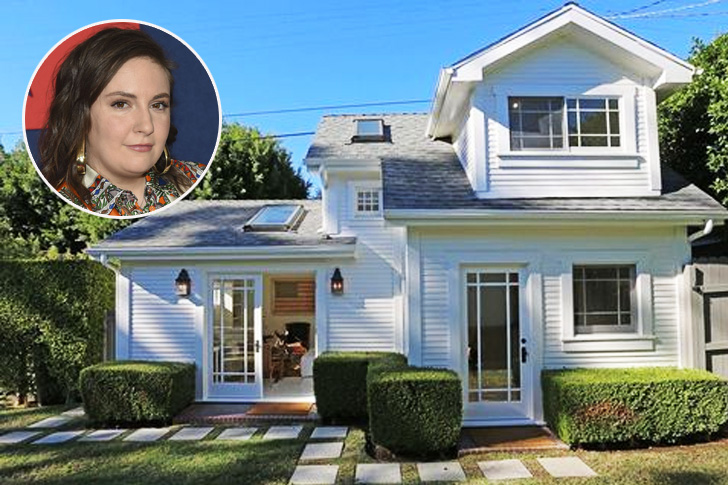 Born on May 13, 1986, in New York City, American actress and filmmaker Lena Dunham gained popularity after taking part in HBO's hit show, Girls, in which she had earned the public's support. During the last few years, she had started to move fast with high steps as she worked her way up the property ladder. Now, her name has been known and is talked about a lot. Lena was never afraid to speak her mind and had no problem with it, and this character of hers gets her into some trouble.
Nevertheless, the people still love her, and she is currently said to have a net worth of about $2.9 million. Her popularity is what made her manage to reach this significant earning. But, before all these, when she was still beginning, Lena first lived in a modest one-bedroom apartment costing $500 000. Today, it is now a great investment worth $2.9 million.
CHUCK FEENEY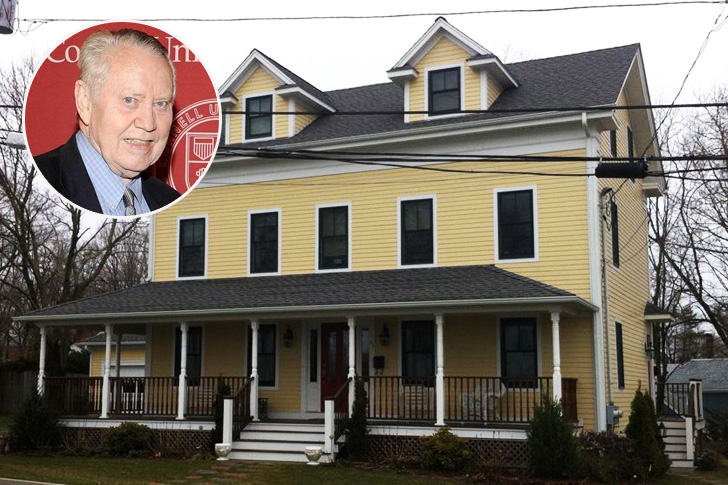 Chuck Feeney is a business entrepreneur. Born in Elizabeth, New Jersey in April 1931, Feeney graduated from the Cornell University School of Hotel Administration and received the Cornell Icon of Industry Awards in 2010. Though he is a CEO and a billionaire, he likes to pretend that his wealth is not worth so much. According to sources, Feeney is worth an incredible $1.5 billion.
Yes, he has an amazing amount of money in his bank and credit cards. But contrary to popular belief, he is one of the few people who are not really into spending huge sums. As a matter of fact, despite having bought numerous properties, he had not lived in any of the houses he had purchased. The businessman chooses to live in his home in San Francisco. However, the place he resides in is not one of the properties he had bought. He rents it instead.
TONY HSIEH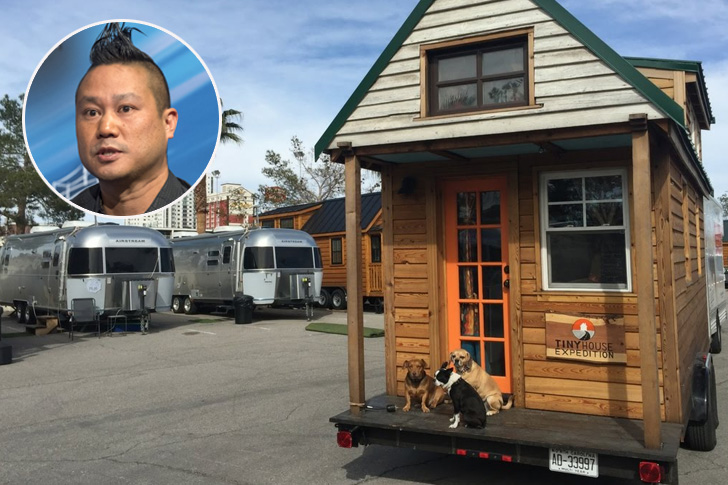 American entrepreneur, author and venture capitalist Tony Hsieh is the CEO of Zappos, an online company of shoes and clothing. He wrote a best-selling book about his success called "Delivering Happiness". Allegedly, Tony is worth about $850 million. Regardless of his riches, he does not like to live in an enormous but lonely place in the LA hills. He would rather live a modest life in his custom Airstream trailer made only for him. This humble home is around 240 square feet of living space.
In Tony's personal podcast, he spoke about his home and said that he does not really care how big a house is. He also said that he had developed a fondness for the house because of the random things that take place in it. Of course, one with great home security is very important. The CEO added that he loves spending time around a campfire during the night.
OLIVIA NEWTON-JOHN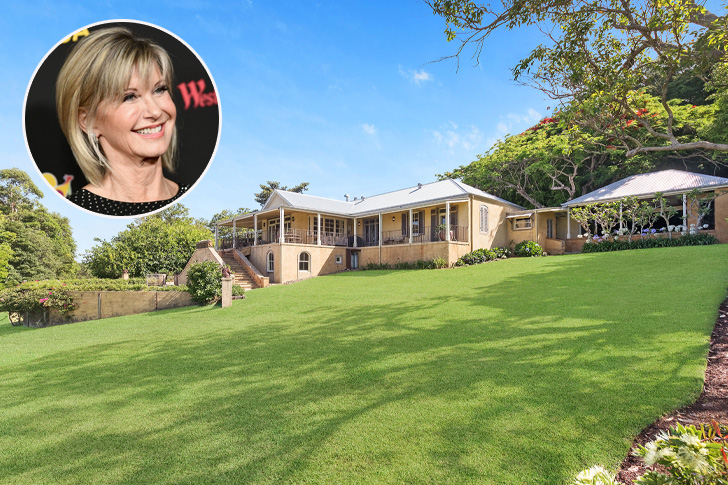 Born in September of 1948 in England, Olivia Newton-John is well-known for the hit musical of 1978, Grease. She has enjoyed both a successful recording career and a film career. It is definitely not a shock to hear that she had already reached a net worth of millions of dollars over her years of struggles and investment in her career.
She had spent her money on a home located in Dalwoon, New South Wales. The house is rather modest for a price of over $5.5 million. It is a farmhouse-style with a rustic vibe and touch, which she personally liked. Olivia's home is consists of three bedrooms with two bathrooms, just enough for her needs. Olivia is worth a total of $40 million, so the price of the residence she had bought is not exactly on top of her affordability range.
JULIETTE LEWIS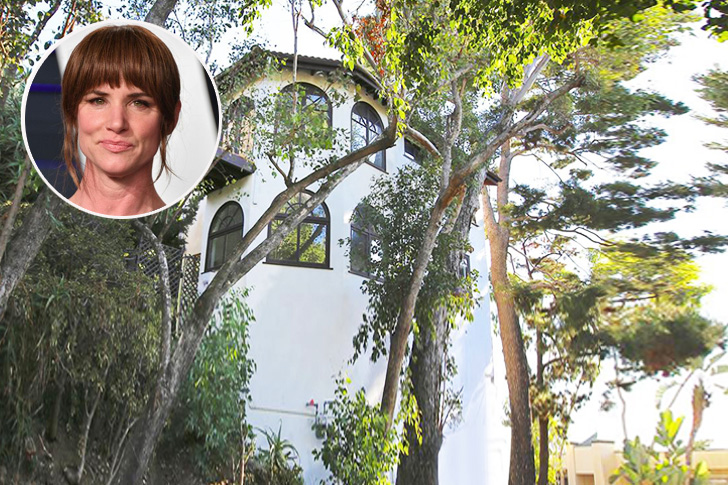 Surely, a lot of celebrity homes have been featured over the years, and most of their homes are luxurious and extravagant. However, the well-known actress, Juliette Lewis, has a house far from the likes of what most celebrities own. Hers is definitely not the biggest. Juliette Lewis certainly likes the place where she resides though the home she owns only has three bedrooms. The reason behind this is because it gives her insurance not to feel super lonely.
Her interior, though, is utterly stunning. Even though it looks like the average Hollywood Hills on the outside, it has beautifully-designed and stylish floors and walls. Loftily perched high in the treetops along a winding street atop a street-level two-car garage, the two-story residence has a small separate studio inside, in 2,475-square-feet. The types of furniture and equipment inside the house are also chosen particularly to complement the interior.
DIANE KEATON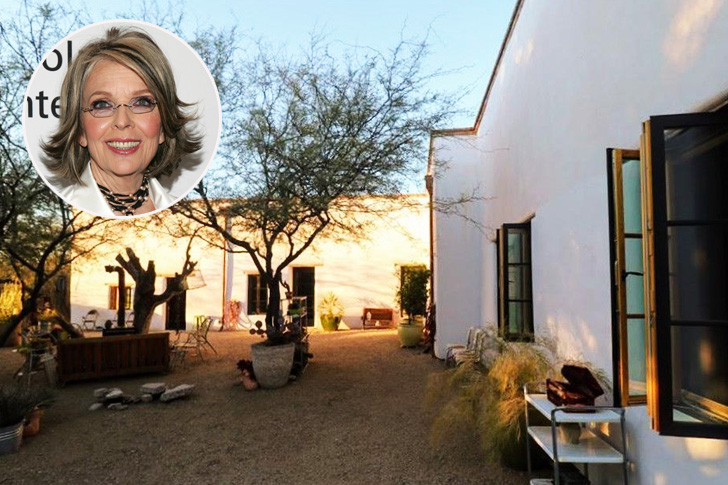 Born on January 5th of 1946 in Los Angeles, California, Diane Keaton was a former Hollywood actress and was one of the most well-known personalities in her time. Diane has certainly made a name for herself thanks to various acting roles, she continues to generate significant buzz even when she's not in front of a camera. Many were shocked that despite her incredible fame, the home she owns is incredibly far from what is expected from a rich and famous personality like her to have.
She had chosen to live in a home in the heart of the Arizona desert. The Tucson home had cost her about $1.5 million – a very charming property with a touch of the 1800s architecture. There is a stunning pool outside where she could spend time to relax whenever she wants. Diane definitely has insurance of being able to afford a home bigger than what she currently has, but she had chosen this house that sits on 1,200 square feet of land.
ANGIE HARMON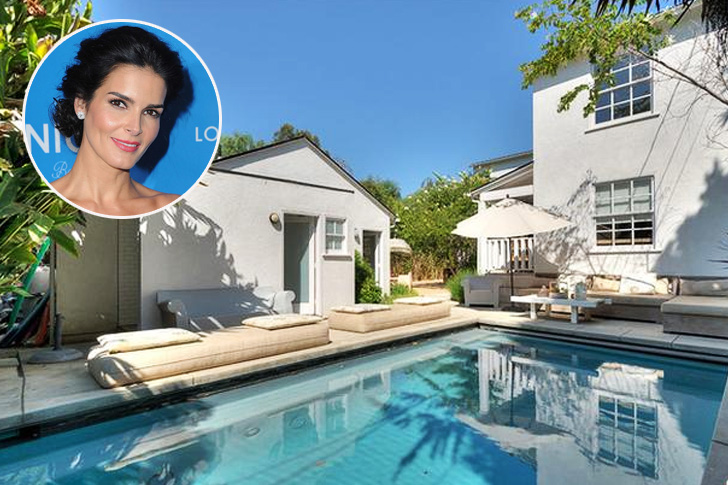 Born in Highland Park, Texas, in 1972, Angie Harmon is an American actress and model who has a net worth of $30 million. She is probably most well-known for her roles on the legal dramas "Law & Order" and "Rizzoli & Isles". The place she used to reside in is a house located in the hills of LA. Her home is small and shack-type, but it has its own degree of loveliness, and it provides a homely feel.
Angie Harmon's house is rather compact, which it tells us about how she would prefer a more modest life far from the electric gates or the superb driveways most celebrity homes have. The house she had lived in and spent a significant portion of her life best suits her needs. However, she put her house on sale in 2013 and sold it for a pretty good deal of $3 million, considering that the land is only 2,300 square feet.
JANUARY JONES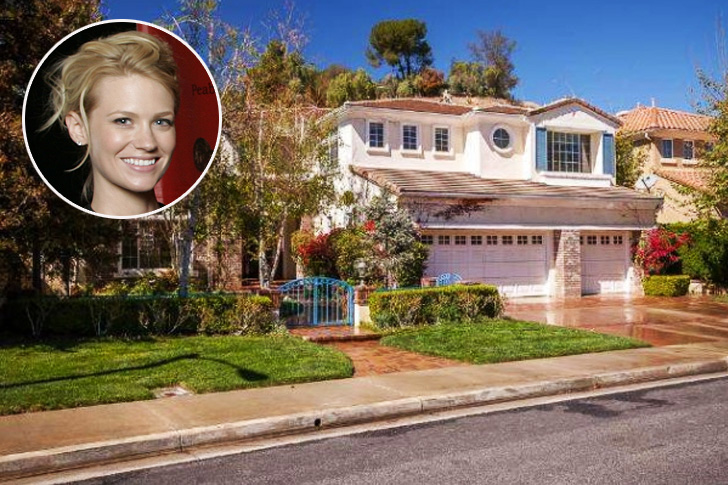 January Jones started in her acting career by playing supporting roles and even had critics who judged her. But she did not let them bring her down. Instead, she made a great effort and investment to prove to her critics that she is more than what they think. Eventually, she made a name in Hollywood. She then began to star in numerous films and TV shows where she had earned plenty of money. But January knew how to hold her wealth like she is her own financial advisor and did not spend it through purchasing lavish houses.
In fact, the property she had bought in 2009 only cost her a mere portion of her earning for $1 million. However, she decided to sell her three-bedroom home located in Los Angeles for about $1.5 million. The Mediterranean-style home has a gated perimeter and was first constructed in 1923. The home features 2,200 square feet of living space, hardwood floors, French doors, and three bedrooms. Located on the famous hillsides of Los Feliz, the residence provides excellent views of the Griffith Observatory and the surrounding area.
SARAH JESSICA PARKER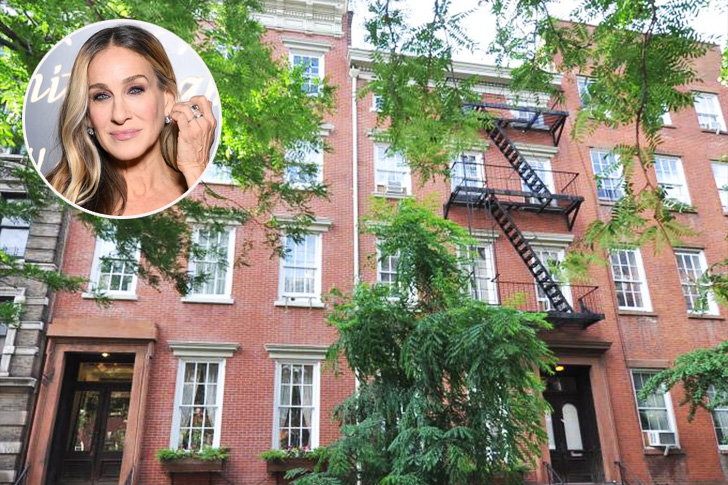 Sarah Jessica Parker is best remembered as Carrie Bradshaw. She received awards because of this portrayal and later became widely popular as she was recognized to be one of American television's greatest female characters. She had shared some similarities with her character, so playing her role was not a very hard investment for her.
Sarah Jessica Parker once lived in a pretty basic house with her husband. But, they no longer reside in that house because the couple sold it since they thought it was small for them. It is true, though. The house was quite compact for a celebrity, and so it took a while for them to find a buyer. Parker's New York townhouse was listed for sale for three years before it was finally sold.
MARISKA HARGITAY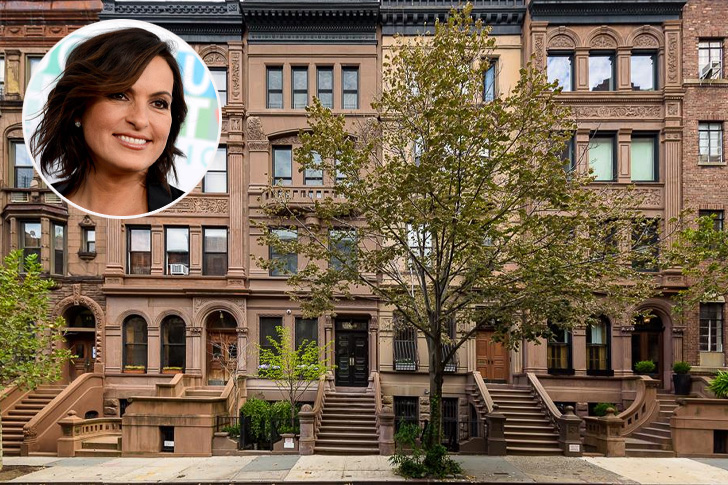 Mariska Hargitay was born Mariska Magdolina Hargitay on January 23, 1964, in Los Angeles. Both her parents were Hollywood stars. Mariska Hargitay herself is best known as Captain Olivia on the drama series Law & Order: Special Victims Unit. She is the show's longest cast member as she starred in it since 1999. The gorgeous actress spent twenty seasons in the previously mentioned series, which means that she earned more than enough money in her bank and credit cards to buy whatever property she wants. She has all the means to acquire lavish things.
Mariska Hargitay has a net worth of $100 million. She purchased a home with her husband in 2012, paying at a price of around $10.7 million. It is a townhouse with six bedrooms, but even at that price, it seems to be small for the likes it. The couple is said to have paid mostly for their Upper West Side location.
HILARY SWANK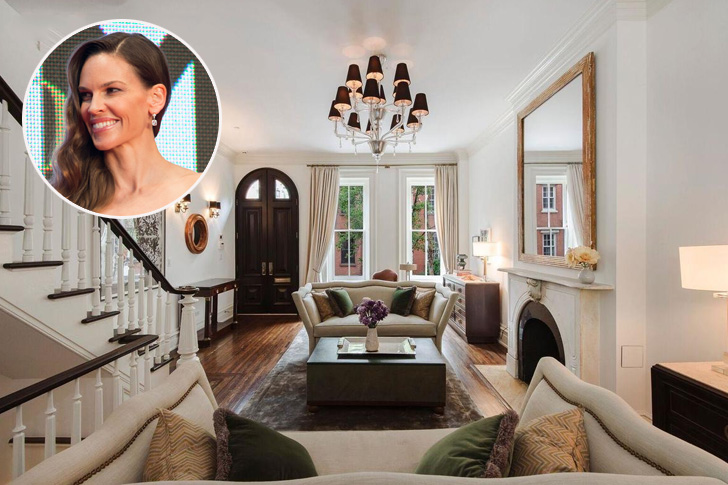 Hilary Swank was born Hilary Ann Swank on July 30, 1974, in Lincoln, Nebraska. She is very famous that she was on the list of the 100 Most Influential People in the World in 2005. The actress and film producer started her acting career in the 1990s and received many awards for her portrayal of amazing characters. This paved the way for her to be recognized in the industry and earn huge sums. It is estimated that she has a net worth of $60 million.
But, despite her fame, she opted for a small and simple apartment. Hilary Swank's home is stunningly modern, although you won't expect it from a very well-known Hollywood personality. Also, she did not purchase this home but rents it instead. She rents her place of residence in New York for $20,000 a month. It is a considerable price already since the rent rate in New York is not exactly cheap, and it also provides the residence home security.
DOLLY PARTON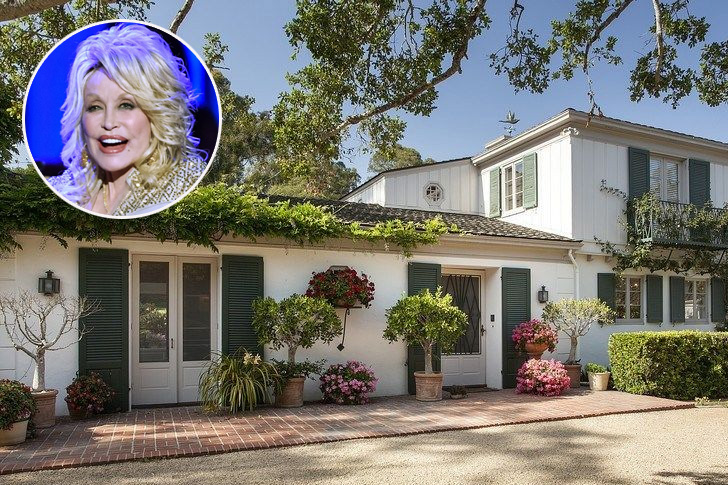 Who would not know the country singer Dolly Parton? She was born Dolly Rebecca Parton on January 19, 1946, in Locust Ridge, Tennessee. Other than being a singer, she is also a talented actress and a businesswoman, and with these various sources of income, she is definitely worth millions of dollars. It is estimated that she has a net worth of $600 million. She had spent her money on various investments like charities and even theme parks, but when it comes to her life, the singer would rather want a not-so-elegant way of living.
Dolly's father was a tobacco farmer. She had shared her family's financial status when she was still not in the industry and describe them as "dirt poor." True to her humble beginnings, he had bought a house for herself in 2007 with a price of $1.2 million. Her home is an adorable bungalow with two bedrooms. Just how Dolly likes it, the house is not very big.
KEANU REEVES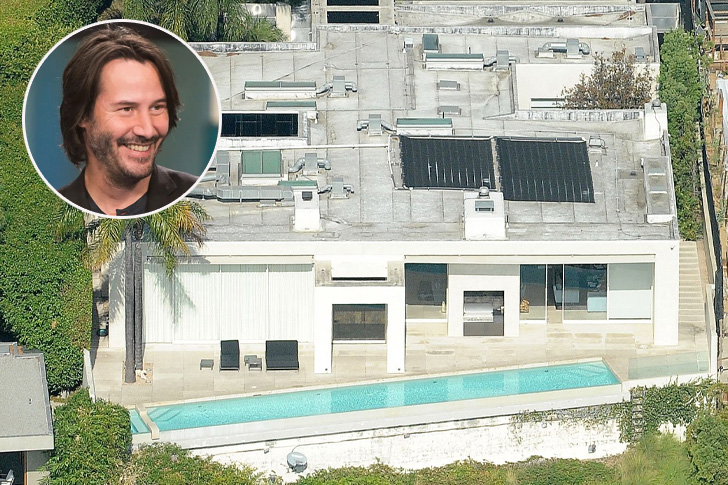 Keanu Reeves was born Keanu Charles Reeves on September 2, 1964, in Beirut, Lebanon. He is best remembered for his credit role in The Matrix. The film grossed $171 million in the US alone and Keanu Reeves earned $30 million. Other than that, he is also known for his donations to many charities. Keanu Reeves is reported to be one of the most generous actors in Hollywood. Recently, he worked as a voice actor in the famous Toy Story film franchise, and it is expected that his new character will be one of the favorites.
The actor had designed his home to be as humble as much as possible. He added glass panels around his house so the compact space can light up, which gives off a modern look. His stylish yet comfy home is made to suit him. As he had said before, calm surroundings make him the happiest.
TOBEY MAGUIRE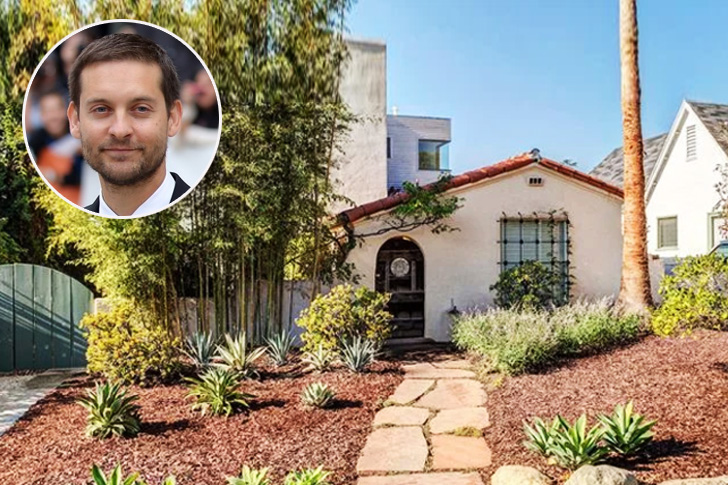 Toby Maguire was born Tobias Vincent Maguire on June 27, 1975, in Santa Monica, California. He is known in Hollywood for his signature blue eyes and promising talent in acting. He had made a mark from his role as Peter Parker in the Spider-Man trilogy. The actor had also starred in many other films, which contributed to his success and a high degree of earnings.
However, he didn't want a huge place of residence with luxurious pieces of furniture like other successful Hollywood personalities. Tobey had bought a house with his ex-wife, Jennifer Meyer. It was a 1920s Santa Monica home that looked pretty simple on the outside. But the couple reportedly spent a generous amount of money and went hands-on in making their home's interior look beautiful and, at the same time, something that suits their style. But when they ended their marriage, they had sold their house and went on their separate ways.
ZOOEY DESCHANEL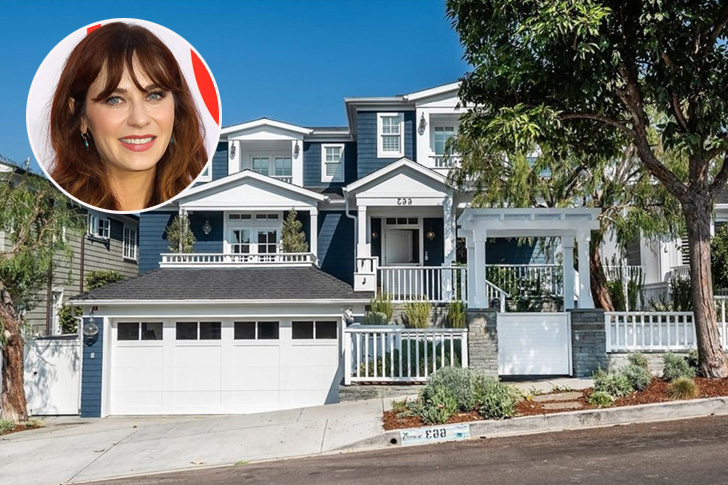 Zooey Deschanel was born Zooey Claire Deschanel on January 17, 1980, in Los Angeles, California. The actress made her film debut in the comedy film, Mumford, in 1999. She had been known on the TV show New Girl in which she had received great credit for her unexpectedly cute character Jess, as well as her remarkable performance in the show.
The actress's previous home is far from the taste of someone who follows trends and cultural mainstream. Though she could definitely afford something grander, her place of residence is far from it. Deschanel purchased her home at the price of only around $1.69 million, which is only a small fraction when compared to her earnings. She had a net worth of $25 million. She married and has now moved to a larger home to start a family. Though it is no shabby place, her new home is not so far from the ambiance her previous residential area had.
JENNIFER GARNER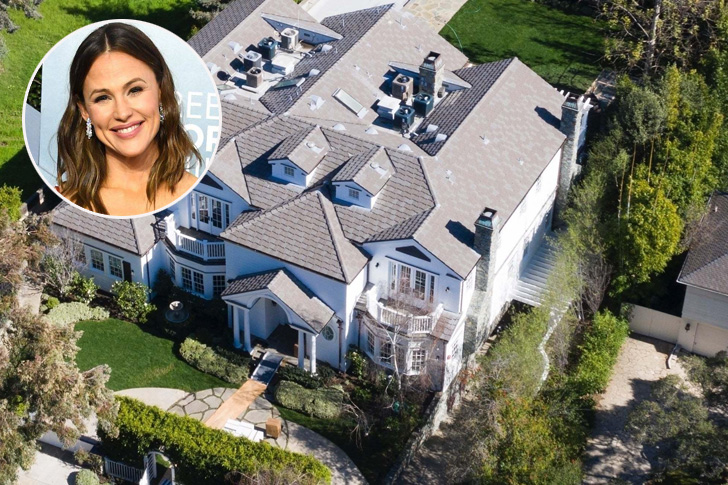 Jennifer Garner is an American actress, producer and entrepreneur. She married Daredevil co-star Ben Afflect in 2005, and they got divorced in 2015. After ending her marriage with ex-husband Ben Affleck to whom she had three children, Jennifer Garner decided to buy a house where she could live with her kids. The actress purchased an empty area where she could build a home in Brentwood, California.
Instead of an extravagant mansion like most Hollywood celebrities have, she opted for a modest family home with enough space for herself as well as her two daughters and one son. It looks great, especially with their family having a tradition of decorating their humble abode during holidays. Even though Jennifer Garner's house isn't as grand as the standard celebrity homes, she made sure that their place of residence can provide them the home security they need. What is important to her are the moments she spends with her loving children rather than a big-sized mansion.
SARAH MICHELLE GELLAR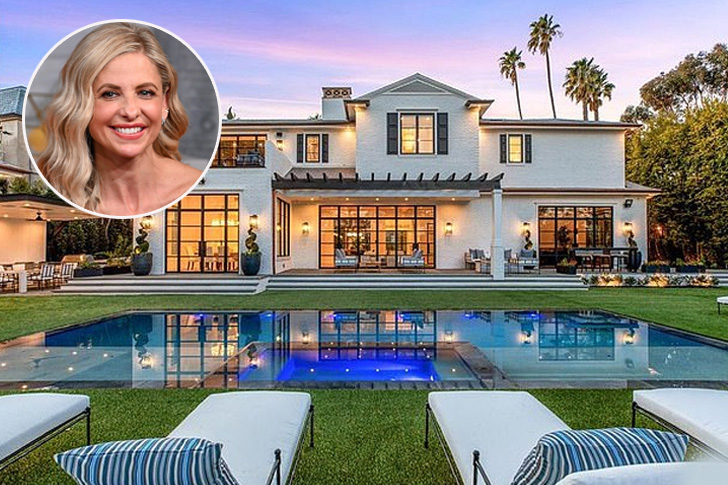 Sarah Michelle Gellar is an American actress and entrepreneur. She had starred and portrayed some iconic roles like Buffy Summers and Daphne Blake. she had also earned five Teen Choice Awards for starring in the iconic drama series, Buffy the Vampire Slayer. This only proves how talented and committed the actress is to her career. There is no doubt that she is worthy of all the credits and recognition she had received over the years. However, after marrying, she gave more focus on her family.
The home she lives in with her family consists of five bedrooms. This house is not as big as expected, and its space is, in fact, only enough for their whole family as they have downsized their living. Sarah Michelle Gellar's home might not qualify as impressive compared to other homes of Hollywood personalities, but it is certainly already a dream to many.
PHAEDRA PARKS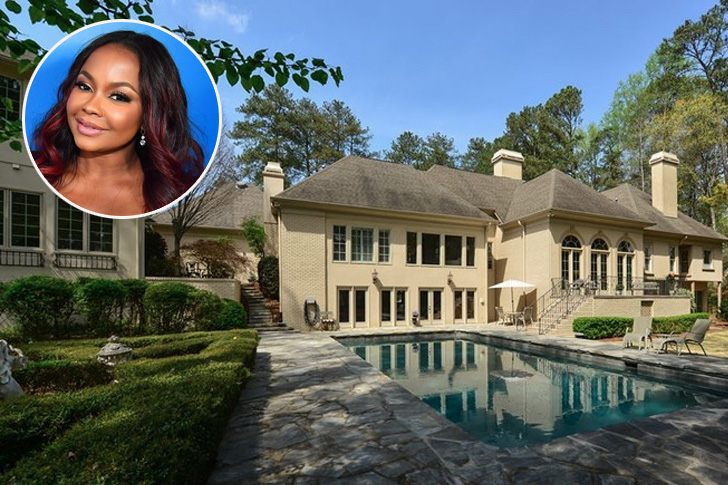 Phaedra Parks is well-known for being one of the cast of the reality television series, The Real Housewives of Atlanta. She is one of the show's original casting, and so she had already made high earnings from it. Besides being a TV celebrity, Phaedra Parks authored the bestselling book "Secrets of the Southern Belle: How to be Nice, Work Hard, Look Pretty, Have Fun and Never Have an Off Moment".
The famous personality had been captivated by a certain house's French provincial architecture that she had grown to love it. This home had a dollhouse style as it was very small, which complemented its roofing. She bought this compact home in 2013 for a low cost, given her price range. The house price was about $845,000, which, as we all know, is very cheap compared to the homes of other celebrities. Although just recently, she had earned quite a profit for selling her modest home.
FRED ARMISEN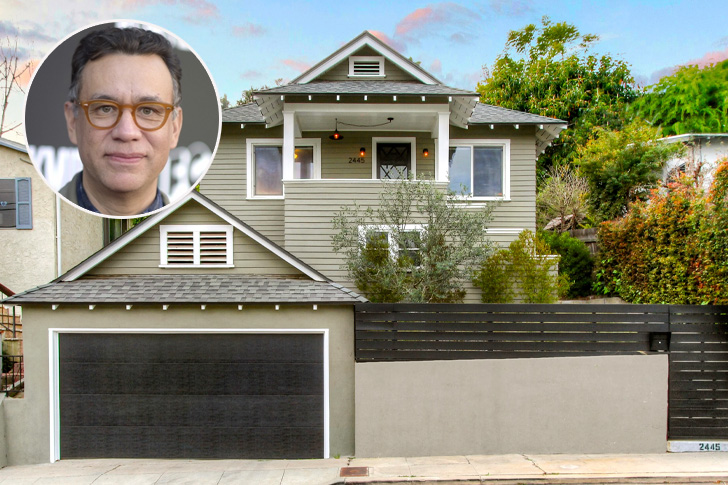 Fred Armisen was born Fereydun Robert "Fred" Armisen on December 4, 1966, in Hattiesburg, Mississippi. Initially, Fred Armisen was a bandleader and drummer of the 8G Band. Later, his interests switched to acting. He is an incredible actor who earned credit for his choice of bizarrely strange character portrayals. Because of the actor's amazing talent, he became very successful in his career, which put him under the spotlight. However, he still prefers to spend some time away from all the attention of the media and the public. This may be one of the actor's reasons for his choice of home.
He had bought a house that looks so simple on the outside that it seems somehow dull and boring. But, Fred spiced things up for his home and transformed its interior into a hipster paradise. From this, he just knows that this is the home he would enjoy spending his life's most significant moments.
CHRIS DAUGHTRY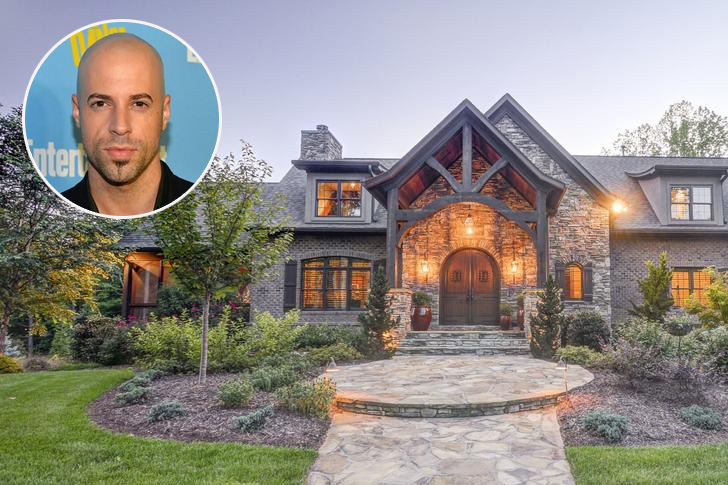 Chris Daughtry was born Christopher Adam Daughtry on December 26, 1979, in Roanoke Rapids, North Carolina. When he was 16, he was determined to become a musician. At present, Chris Daughtry has become one of the American Idol contestants who became successful after making a mark and now has insurance of having a spot in the music industry. After his start in the show, he became very famous. However, even with his fame's height, the country singer chose to live in a humble home together with his wife and children.
Their home is modest, yet it is beautiful enough for a family. His current estimated net worth is an incredible $10 million, but his home only cost him $699,000 – something quite cheap, given his affordability range. He can absolutely purchase a more huge and expensive home; still, he chose this home. The singer no longer resides in that house, but he surely has many memories as he spent the best moments of his life in that place.
ADRIAN PETERSON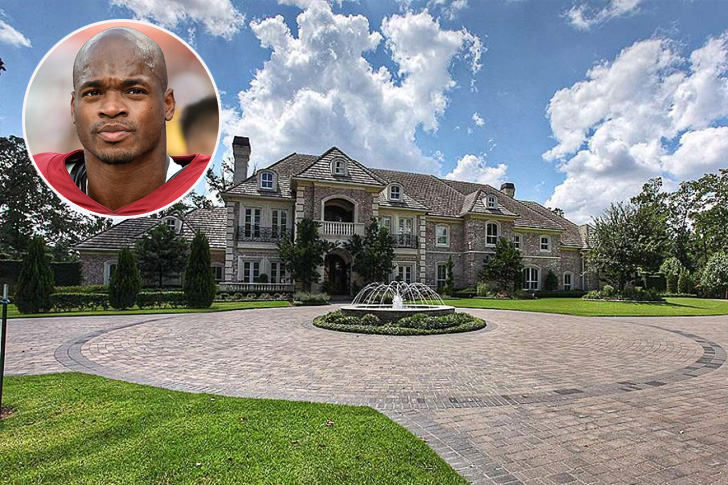 Adrian Peterson was born Adrian Lewis Peterson on March 21, 1985, in Palestine, Texas. He is a successful and famous legend as an NFL player. Throughout his career, he had managed to get an impressive credit and reputation. With his net worth, it is undeniable that Adrian can purchase any property he would want, but he does not really care much about expensive things. He has an estimated worth of about $30 million and more. But even so, he prefers to live in a $665,000 home with his family.
Seemingly, he is one of the people who, despite their wealth, still choose a home filled with memories than an expensive one. Adrian and his wife's priority above all are their children, and the house they live in suits them well since it is in a very good neighborhood and has a good school district too. Sadly, their family moved to another house, but it will be easier for his work.
KESHA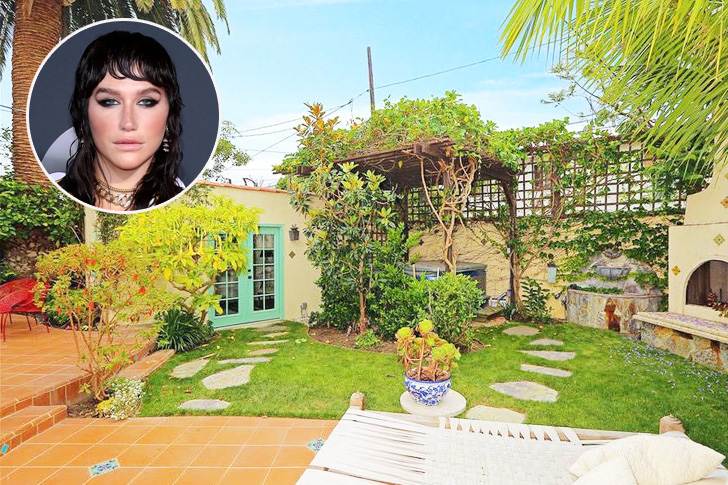 Kesha was born Kesha Rose Sebert on March 1, 1987, in Los Angeles, California. People often think of the hit singer-songwriter Kesha as a party girl since it has always been her image. This leads to people thinking that Kesha would fancy a huge and lavish house so she could host extravagant parties. Surprisingly, Kesha purchased an understated bungalow for herself that only cost her $1.6 million. By the way, that price is only a small portion of the amount she could actually afford with her income, considering her increasing fame.
It seems that the wild party girl favors a simpler and quiet life rather than a luxurious one. However, in 2015 she had upgraded her home to a larger one suitable for two or more persons. Though Kesha now has a larger home, she still wanted a quiet life with a great home security system and still kept a lowkey lifestyle.
SNOOP DOGG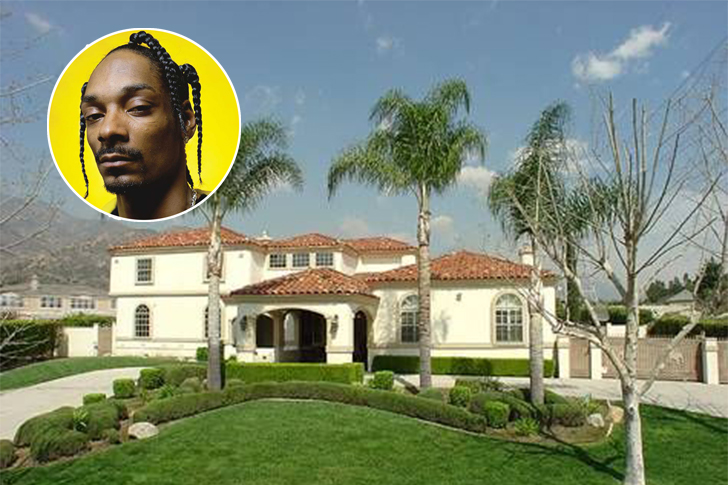 Calvin Cordozar Broadus Jr., better known by his stage name Snoop Dogg, is an American rapper, singer, songwriter, producer, media personality, entrepreneur, and actor. Snoop Dogg was born on October 20, 1970, in Long Beach, California. He started rapping in sixth grade and became one of the best- known figures in gangsta rap during the 1990s. Until today, many people believe him as one of rap's true legends.
His house is located in Blaisdell Ranch, Claremont. Purchased with 3,700 square feet originally, Snoop expanded his crib to 6,500 square feet. Aside from the gorgeous high ceilings, marble floors, 5.5 baths, the Snoop Dogghouse hosts a basketball court, pool, movie theater, and home recording studio. Today the home is valued at $2.5 million. The Mediterranean-style home was featured on a late episode of MTV Cribs, where Snoop gave a tour of his grand estate to audiences at home.
CHRISTINA RICCI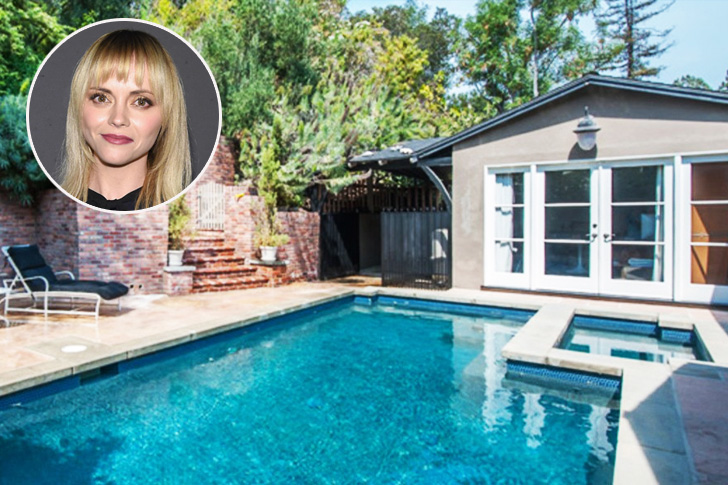 Since Christina Ricci was born on February 12, 1980, in Santa Monica, California. She had begun her acting career at a young age, most of her life has been under the public eye. Besides, Christina joined the RAINN group as the National Spokesperson on April 25, 2007.
The actress is currently thought to have a pretty high net worth of around $18 million, which is not very easy to accumulate since most cannot even hit a million. Some people would think that she'll opt for a home that will represent her wealth. However, she appeared to be humble and does not want to show off her riches everywhere. Christina chose to incorporate a cute, old-fashioned style into her home. With only a fraction spent out of her high degree of income, she bought a house for herself that costs around $1,505,000, which to most people, is already a crazy expensive price for a home.
LEA MICHELE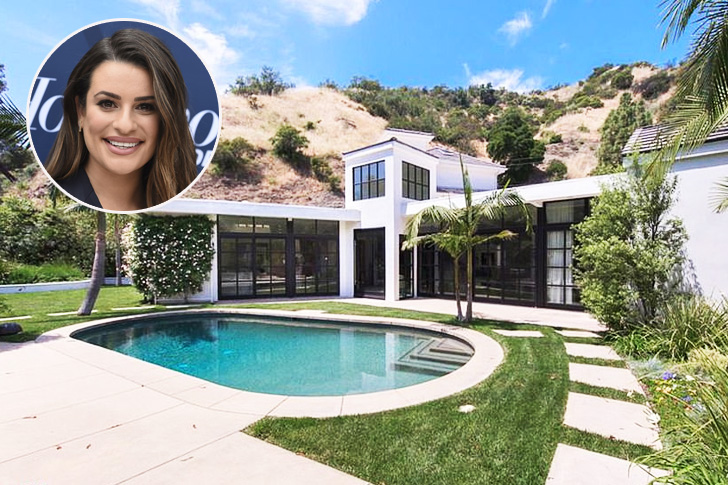 Lea Michele was born Lea Michele Sarfati on August 29, 1986, in The Bronx, New York. She is a Glee album, and being a part of the musical drama was what brought her to fame. Even when she was at the peak of her career, she opted to pick a cute and compact bungalow as her home.
Lea had spent the money she earned from television casting and appearances to purchase that bungalow. It was pretty clear that she liked plants and so her home was covered in greenery. Lea's residence also has a pool outside, perfect for the hot days in Los Angeles. She now moved into a new home bigger compared to the previous bungalow that she had sold for $1.825 million. Although her new is larger now, it still is not the monstrous type of big, and it kept the same vibe and home security as the previous home that she cherished.
KEIRA KNIGHTLEY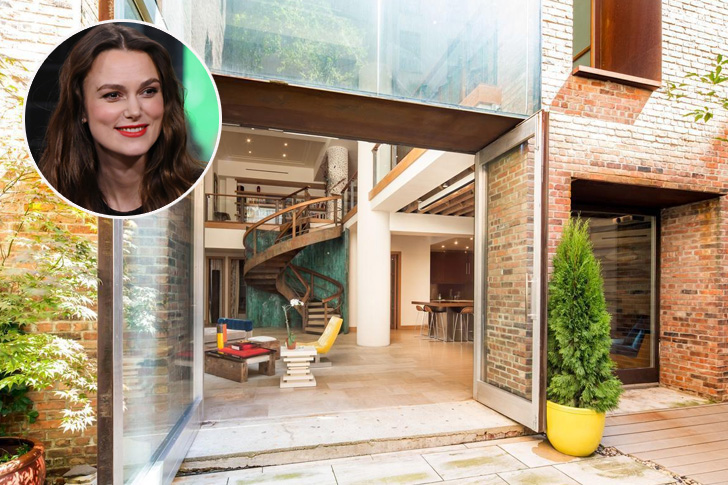 Keira Knightley was born Keira Christina Knightley on March 26, 1985, in London , England. She is a British actress famous for her starring roles and for being nominated for various awards. Her first major role was in Star Wars EpisodeⅠ: The Phantom Menace(1999). She had reached the peak of her popularity when she had started to take part in the comedy-adventure film Pirates of the Caribbean: The Curse of the Black Pearl. Other than that, she had also starred in independent films, and overall, she had earned great credit.
Keira had millions of total earnings throughout her career but still opted for a loft in New York, and it only cost a fraction of her wealth, which is $2.2 million. This home of hers is not as big as the usual houses of Hollywood stars. However, her home seemed to be not big enough because she eventually decided to sell it. The property took around seven years to be sold.
CHER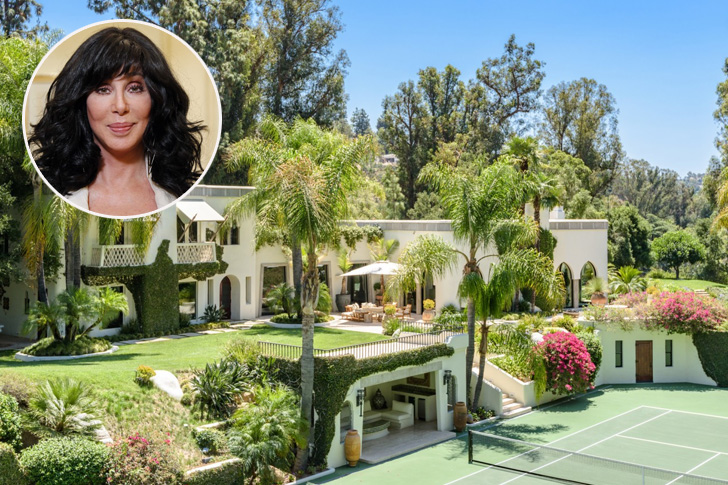 Cher was born Cherilyn Sarkisian on May 20, 1946, in El Centro, California. Cher is a living legend who is one of the biggest artists in the music industry of all time. She also pursued acting in the 1980s and won an Oscar for her role in Moonstruck. So it's not surprising that she owns a lot of magnificent homes around the world. But what is utterly shocking is that the musical artist had once owned a house that costs no more than $900,000.
The house was a small cottage in Beverly Hills, a place which, according to sources, is very close to her heart. The home was a welcome retreat for her family, with ivy-lined walls and four bedrooms. This humble Tudor-style cottage is indeed a magnificent place, perfect for those who want a real estate investment that will allow them to escape from the world's hustle and bustle.
CARRIE UNDERWOOD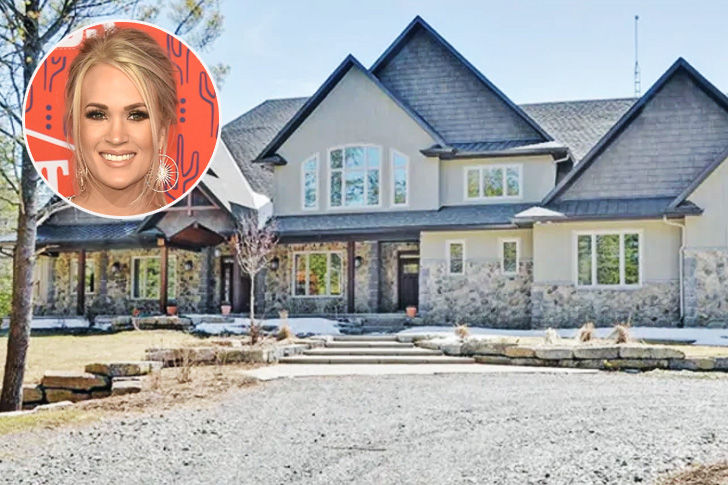 Carrie Underwood was born Carrie Marie Underwood on March 10, 1983, in Muskogee, Oklahoma. She is a singer-songwriter. In 2004, Underwood decided to try out for American Idol and became famous after winning in the fourth season of American Idol in 2005. Her debut paved the way for her to place number one on the Billboard Hot 100 chart. Underwood's debut album sold very well that she became country music's best-selling solo female debut album in history.
With these accomplishments, the singer made large sums to her credit. Thus, she has become capable of purchasing a luxurious mansion for herself. But her decision is contrary to this expectation. The life she is currently living is simple, and she spends it with her family in their home in Ottawa. Her home is pretty large, but she keeps it modest to complement her family's lifestyle. It isn't as fancy as what other famous singers' houses are.
MEGHAN MARKLE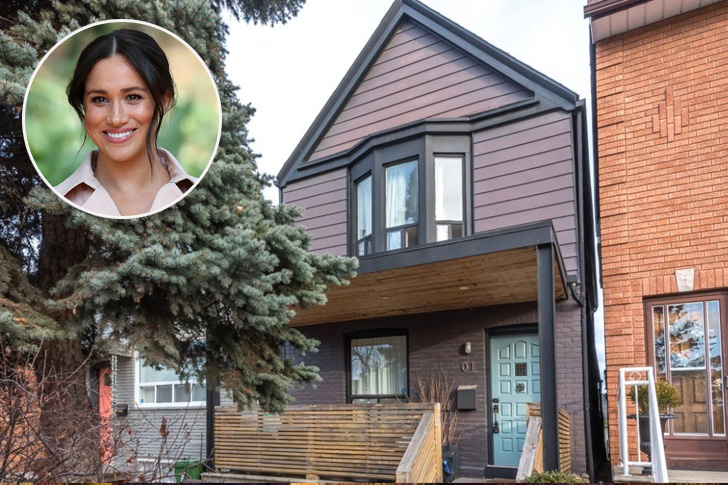 Meghan Markle was born Rachel Meghan Markle on August 4, 1981, in Los Angeles, California. She l 00anded her first role on General Hospital while she was still a college student at Northwestern University in 2002. She is a former Hollywood actress who had started her career from 2011 to 2017, and on May 19, 2018, she was appointed as the Duchess of Sussex. She is the wife of the royal heir of the throne, Prince Harry. Currently, the duchess is enjoying this point in her life.
Together with Prince Harry and their son, she appreciates having a private life spent in their Frogmore Cottage in Windsor. This home had just recently undergone roof repairs and other renovations. But before Meghan had met and got married to Prince Harry, she spent her days in Toronto, Canada, in a far modest home that she had enjoyed living in. Her previous cottage was listed for sale and was sold for $1.3 million.
ROBERT PATTINSON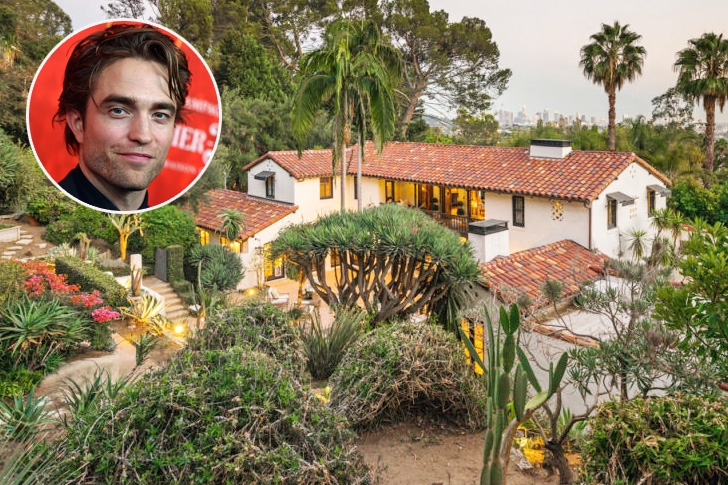 Robert Pattinson was born Robert Douglas Thomas Pattinson on May 13, 1986, in London, England. He is estimated to be worth over $100 million – all credits to the Twilight film series, where his role was one of the most loved characters. He sure was not a massive fan of the role he depicted in the film, but the actor definitely received an appreciable benefit from it.
Pattinson looked for a comfy home for himself and purchased a new Hollywood house for $2,176,500, which, of course, is just a small fraction of what he can afford to buy. The house is somewhat similar to that of a Spanish residence, and it includes a small outside pool wherein he can relax whenever he wants. Patterson had a well-publicized breakup with ex Kristen Stewart and has not yet started a family. An upgrade in his home is expected when he decides to expand his life into building a family in the future.
BROOKE SHIELDS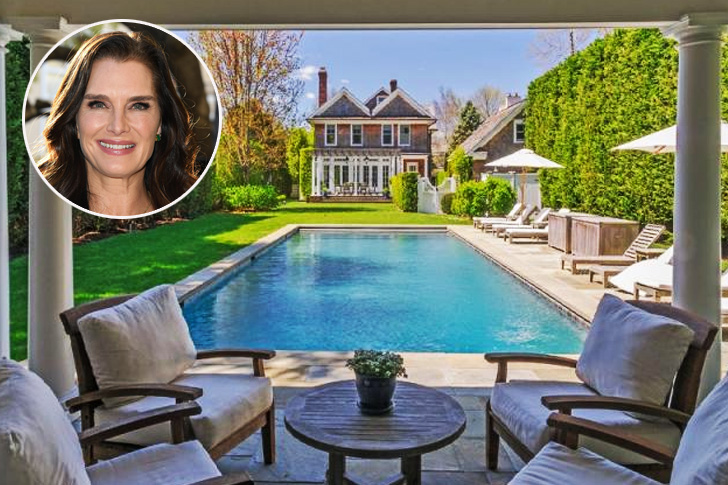 Brooke Shields was born Brooke Christa Shields on May 31, 1965, in Manhattan, New York. She is an actress who immediately started a career in acting after beginning as a model at a young age. During her teenage years, she became one of the most sought-after models. At the age of 12, Shields landed her leading role in Louis Malle's film Pretty Baby(1978). Today, she is considered one of the most famous actresses in Hollywood.
Back in 2013, Brooke and her husband Chris Henchy had a thorough investment planning. The couple bought a cottage and renovated it completely with the hopes of making it a good place for their children to grow up. They have two daughters, and they find that space a good place to reside. The house wasn't cheap, considering its location, but it was considered the perfect family house. It isn't small, but since the couple is famous, people expect them to have a more extravagant place of residence. When Shields does not do on-screen projects, she stays in their modest home for comfort.
BLAKE LIVELY AND RYAN REYNOLDS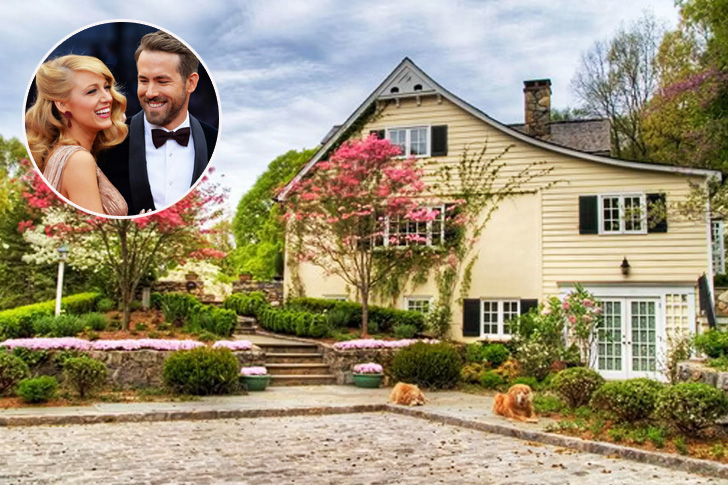 Blake Lively and Ryan Reynolds are already popular on their own – and even more as a couple! They first met while filming the movie Green Lantern in 2010. When they found themselves both single by the fall of 2011, they started dating. In the following year, Blake Lively and Ryan Reynolds got married. They are one of Hollywood's most beautiful couples, and with their fame, they could have almost anything.
Lively and Reynolds' combined net worth from their investment in their impressive careers is estimated to be around $90 million. With this, they can surely afford a huge, contemporary home, yet instead of spending too much on expensive things, they have chosen to tone it down a little bit. They agreed to raise their children in a more simple and humble abode. They live in a simple country home with their family, far from the city. But they also have a place in New York and are even neighbors with Martha Stewart.
DARYL HANNAH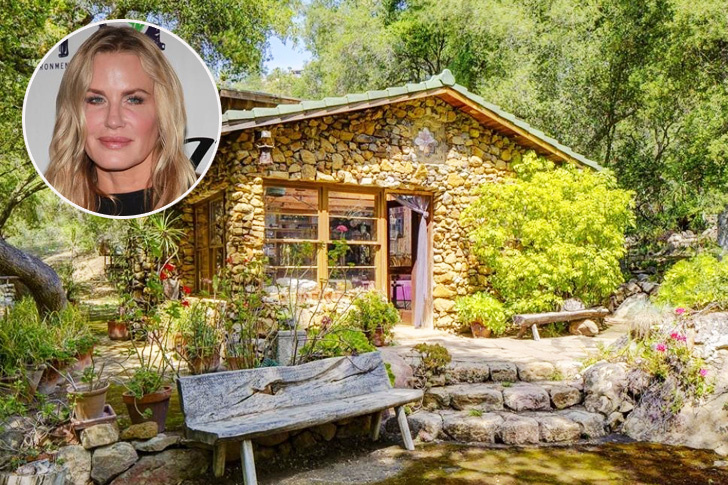 Daryl Hannah was born Daryl Christine Hannah on December 3, 1960, in Chicago, Illinois. She is a famous actress known for starring roles in films, including Blade Runner, Summer Lovers, and others. She made her film debut in the Brain De Palma film The Fury(1978). Along with her rising fame because of her amazing talent, she is also an environmental activist. She finds campaigning for people to shift into a healthier lifestyle as a worthy investment of her time and efforts.
Daryl would appreciate a lovely home that is parallel to her love for the environment. In line with this, the home she chose is a Malibu woodland compound. She had made sure that the materials used in this house would not have any negative impact on the environment. Her home's location has a picturesque view, and there are also three stone buildings, all incorporated with eccentric-designed wood accents.
SHAQUILLE O'NEAL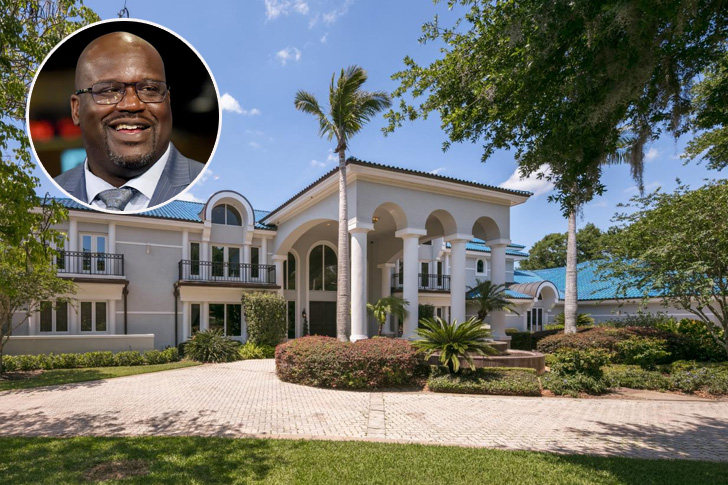 Shaquille O'Neal was born Shaquille Rashaun "Shaq" O'Neal on March 6, 1972, in Newark, New Jersey. Everyone knows who Shaquille O' Neal is, and it is not a secret that the basketball legend owns more than one house. It is widely expected for him to possess a mansion with many rooms, and numerous cars are a bonus to it. However, it is quite surprising for Shaq, someone who is worth $250 million, to buy a house that only cost him $235,000.
It is a modest five-bedroom house with four bathrooms in Mount Dora, Florida. What's more surprising other than its cost and him being extremely rich is that he was never known for his humble lifestyle. The house seemed to be far ordinary-looking than all the other properties he owns. Maybe he had investment planning prior to buying a home and had decided to tone things down a bit after realizing that he does not need more space than what he already has.
SELENA GOMEZ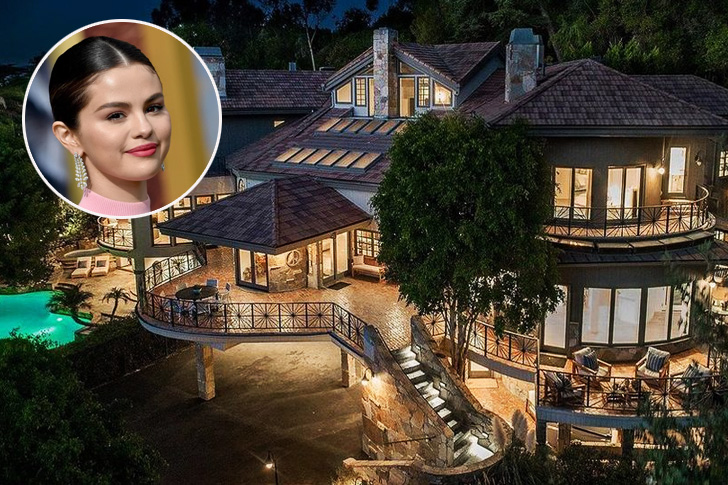 Selena Gomez was born Selena Marie Gomez on July 22, 1992, in Grand Prairie, Texas. She is a famous singer and actress. Her career had begun when she made appearances in the TV series Barney & Friends. Her big breakthrough came when getting involved with Disney. The show Wizards of Waverly Place on which she was cast as Alex Russo became a hit and she earned numerous nominations and awards. Other than that, Selena had other film credits, which led her to become one of the most well-known celebrities with an incredible high net worth.
Even so, the actress did not opt for a mansion with many rooms, since it was too big for her as she lives on her own. Instead, the pop star had chosen a charming Californian bungalow. Her home's beauty cannot be denied despite not being the best celebrity house in terms of its size. But there is really no need for a humongous place when you're living alone, right?
MADONNA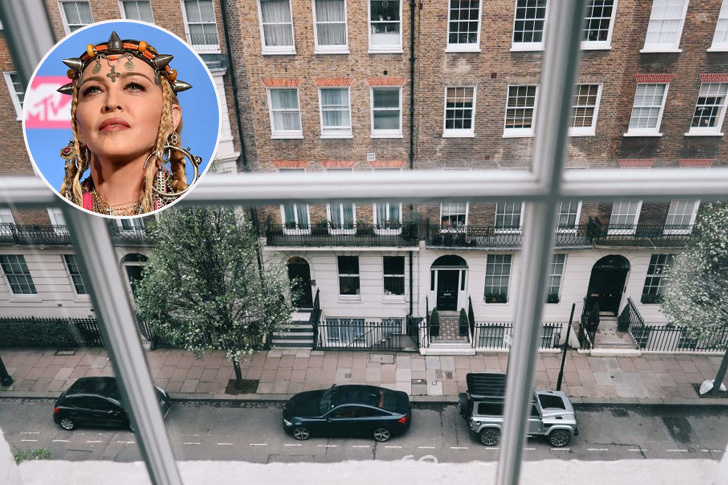 Madonna was born Madonna Louise Ciccone on August 16, 1958, in Bay City, Michigan. No one seems not to know Madonna. Her name is so famous that you probably had already heard of it, whether you are a fan or not.Because of her incredible popularity, she had earned a very impressive amount of money for investment planning and purchasing numerous properties for her portfolio. She is estimated to have a net worth of $850 million.
The Hollywood star once had a London flat as her home – and it was definitely not a place you would expect a very wealthy and famous personality to reside. Any London property would be costing a lot of money; this flat is more on the simple side. The star's modest home only consists of four bedrooms, which anyone would be very glad to have. But as for Madonna, the place is just a little portion of what she can afford.
MATTHEW MCCONAUGHEY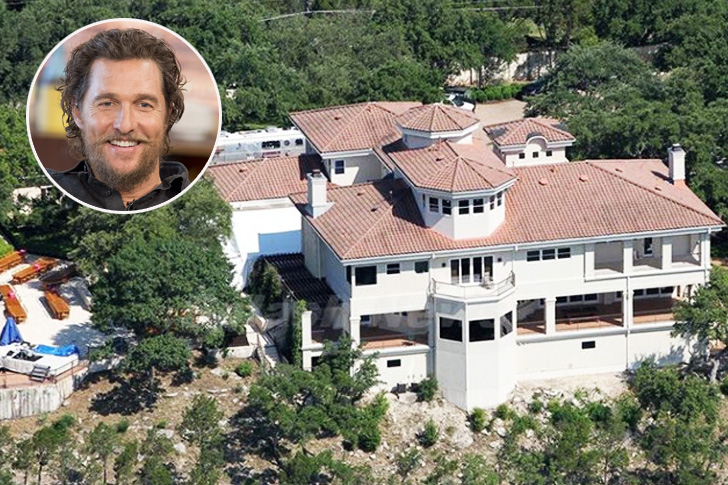 Matthew McConaughey is an American actor and producer. He was born Matthew David McConaughey on November 4, 1969, in Uvalde, Texas. McConaughey and Camila Alves tied a knot in 2012 and the couple have three children, Levi Avles McConaughey, Vida Alves McConaughey and Livingston Alves McConaughey.
The actor himself has spent a portion of his life living in a trailer. He has, without a doubt, moved on from his days living in a trailer. But, he shared not very long ago that he had always preferred to live in more compact places and added that it is, to a certain degree, more relaxing than larger ones. Obviously, the award-winner actor had always appreciated a simple life without having too many things to worry about. However, as he started to build a family and certainly enhanced his home. Still, he is reported to have kept his hobby of converting airstream trailers and finds enjoyment in it. Yes, it may be costly, but after all, he is incredibly worth $95 million.
JENNIFER LAWRENCE
Jennifer Lawrence was born Jennifer Shrader Lawrence on August 15, 1990, in Indian Hills, Kentucky. In 2005, Jennifer Lawrence was scouted by a model agent in Union Square. Then she stared her acting career. She is one of the most famous personalities in Hollywood up to this day. The Hollywood star has a wide fan base who thinks she is the hottest actress in the industry. She had starred in many of Hollywood's hit films, which made her famous, and now, has reached high in her career.
The actress has made a lot of money and is very wealthy, however, her choice of home is not parallel to her status. She opted for a certain degree of minimalistic style for her home, which suits her. She bought her house in 2014 with a price range considered very low for an utterly rich person like her – it was just $879,000.
WARREN BUFFETT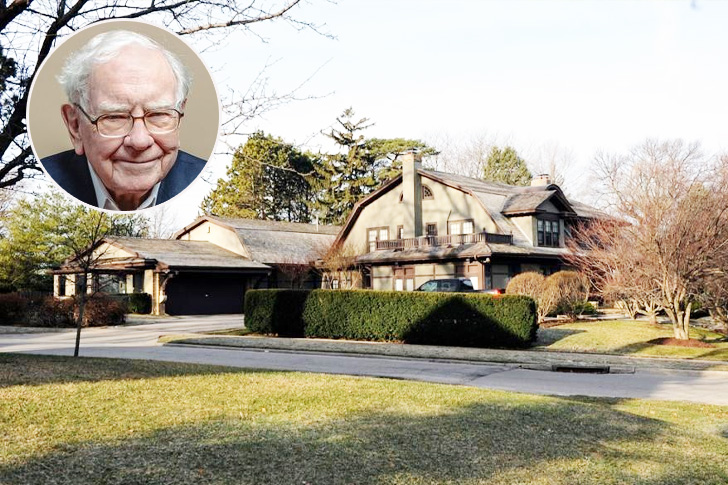 Warrant Buffett was born Warren Edward Buffett on August 30, 1930, in Omaha, Nebraska. This year, he has been 91 years old. He is one of those extremely rich people. He is estimated to have a net worth of 76.2 billion dollars. Despite having a high finance degree, Buffett had immensely kept a humble spirit.
The house he brought in 1958 only cost him $38 000, and it was only a small value compared to what he can afford if he were to really flex his wealth. That house would be worth around $250 000 today, and moving out or selling the property has never crossed his mind because Buffett would choose the good memories he has made there rather than riches. Buffett gives what he has to others through donating billions of dollars to charities. He also takes part in the Giving Pledge and chooses to share half of the wealth he owns for notable causes.
LENA HEADEY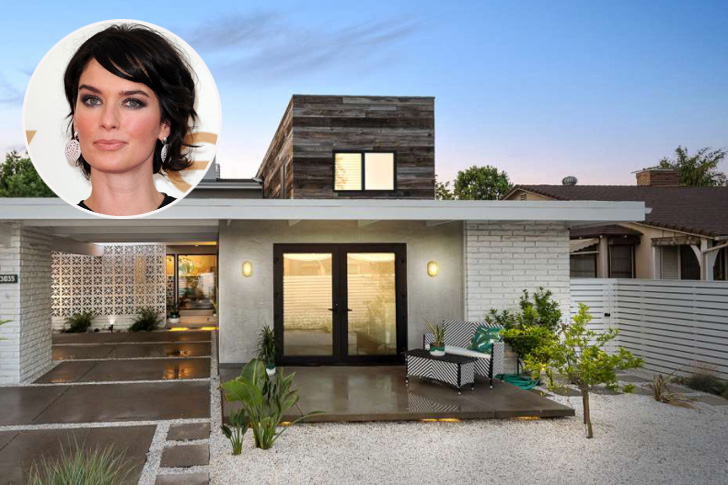 There is a great chance that you have heard about the famous HBO series, Game of Thrones, as it is one of history's biggest TV show. While the series had already come to an end, its iconic characters live on in fans' hearts. And there is no doubt that the personalities behind them will have insurance of staying under the spotlight.
One of the actresses behind Game of Thrones is Lena Headey. Lena Headey was born Lena Kathren Headey on October 3, 1973, in Hamilton, Bermuda. Since the show has high views, its casts were also credited so much. But even at the height of Lena's fame, she had chosen to live in a small bungalow in San Fernando Valley. She can definitely afford whatever thing she would want to buy, but the home she had bought only cost her a humble price of $790,000. Though her home is small, you should take note that it looks unique and cool.
You've Reached The End